HAMMER TO NAIL'S BEST FILMS OF 2021 – Part 1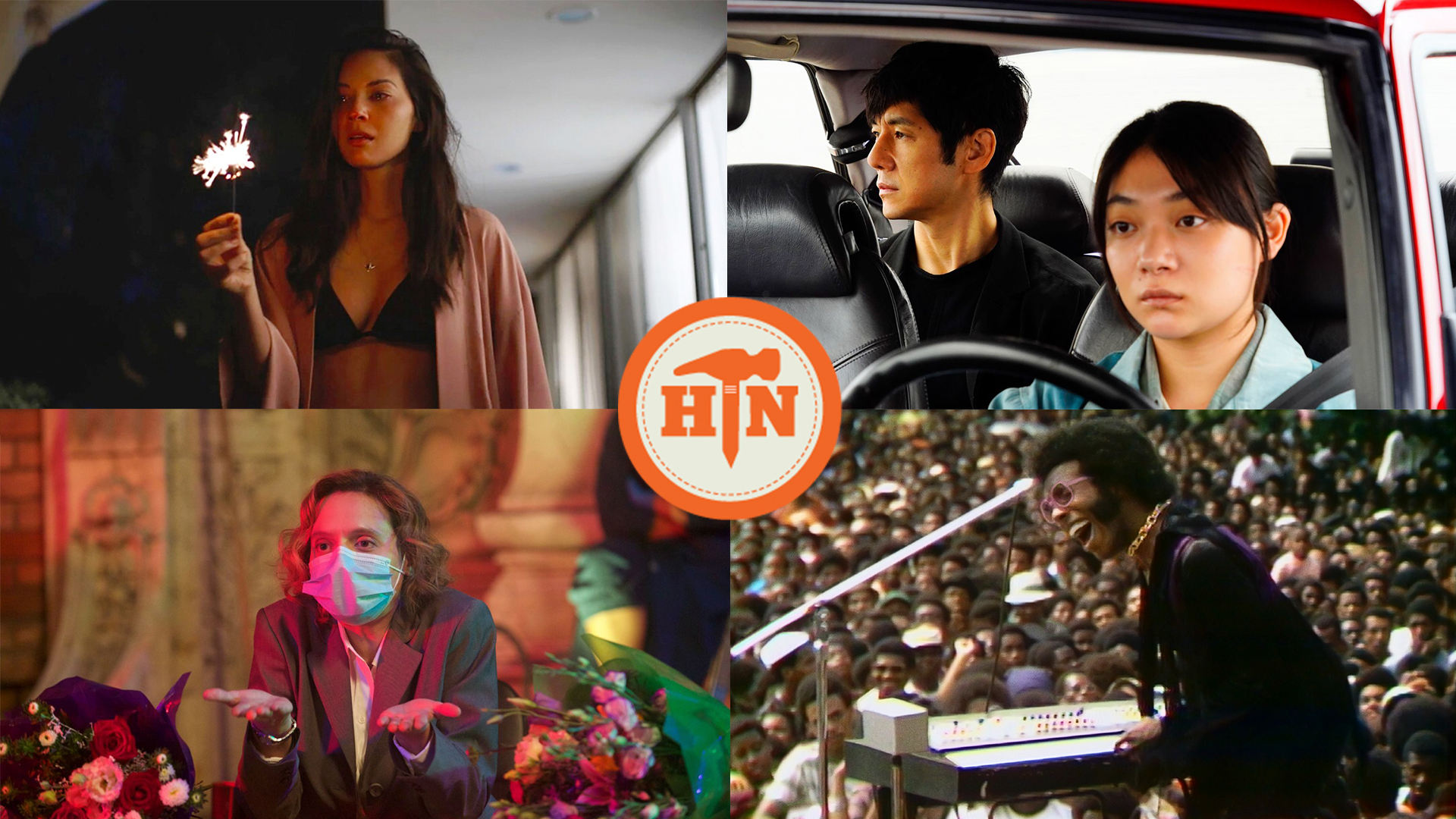 As 2021 dawned, we found ourselves as a nation more consumed by the political drama unfolding around us than any narrative created by filmmakers. Truth was, for a while, far stranger than fiction. Eventually, however, we returned to something resembling a kind of long-lost normal, with movie theaters reopening as pandemic restrictions eased. It was nice, fully vaccinated, to once more enter a cinema–my first theatrically screened film being John Krasinski's A Quiet Place Part II. Other big spectacles, such as Luca, Black Widow, Free Guy, No Time to Die, and The Eternals would follow, with smaller indie films sprinkled in, though most I saw at home from the comfort of a screener link.  None of those big-budget extravaganzas ended up on my own Top 10 lists, however fun they may have been to watch in the cinema. But there were plenty of films that moved me (some to tears) and will surely move others. Here at Hammer to Nail, we offer up the favorites from a great number of our critics (part 2 coming next week). We have each selected one or two under-the-radar films from our lists for special emphasis.
FICTION (listed alphabetically)
C'mon C'mon (Mike Mills)
CODA (Sian Heder)
Drive My Car (Ryûsuke Hamaguchi)
The Killing of Two Lovers (Robert Machoian)
King Richard (Reinaldo Marcus Green)
Mass (Fran Kranz)
Passing (Rebecca Hall)
Petite Maman (Céline Sciamma)
Prayers for the Stolen (Tatiana Huezo)
There Is No Evil (Mohammad Rasoulof)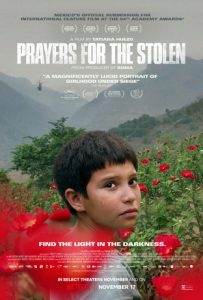 Out of tragic circumstances can come beautiful art, and Tatiana Huezo's Prayers for the Stolen ("Noche de Fuego" in Spanish) shows us how it's done. Adapted from Jennifer Clement's eponymous 2014 novel, the film marks the director's first fiction feature, though she has previously made feature documentaries such as the 2016 Tempestad. Filmed in the town of Neblinas, located 360 kilometers to the north of Mexico City, perched atop gorgeous mountains, Prayers for the Stolen follows the lives of the region's residents—particularly the women—as they navigate the dangers of both military and cartel operations. Given the frequent collusion between the two groups, there's nowhere to run when things turn dangerous, which is most of the time. Despite the oppressive atmosphere, Huezo fills her frame with stunningly beautiful images, the better to contrast with the ugliness not so far below the surface. It's a stunning narrative debut. [excerpt from my full review at Film Festival Today]
NONFICTION (listed alphabetically)
Ascension (Jessica Kingdon)
Attica (Traci Curry/Stanley Nelson)
Citizen Ashe (Rex Miller/Sam Pollard)
Enemies of the State (Sonia Kennebeck)
Gunda (Viktor Kossakovsky)
LFG (Andrea Nix Fine/Sean Fine)
Listening to Kenny G (Penny Lane)
Misha and the Wolves (Sam Hobkinson)
Tina (Daniel Lindsay/T.J. Ma)
Writing with Fire (Sushmit Ghosh/Rintu Thomas)
When I emerged into pop-culture consciousness in the 1980s, rock star Tina Turner had just launched the vibrant second act to her career, with the hit song "What's Love Got to Do with It?" leading the way as her anthem of resurgence. In that moment, I had little idea of all that she had gone through to get where she was, though her 1986 autobiography I, Tina (co-written with Kurt Loder), followed by the 1993 Oscar-nominated biopic about her, also entitled What's Love Got to Do with It?, helped fill in those knowledge gaps. What I remember of the Tina Turner of my youth is a dynamic presence of the airwaves, concert venues and screens (who doesn't love her turn in the 1985 Mad Max Beyond Thunderdome?). Thanks to the new documentary Tina, from directors Daniel Lindsay and T.J. Martin (LA 92), the great diva, now in her eighties, shines in all her hard-earned glory, past and present. What a ride, and what a movie. [excerpt from my full review at Film Festival Today]
FICTION
1  Drive My Car (Ryusuke Hamaguchi)
2  The Green Knight (David Lowery)
3  Bergman Island (Mia Hansen-Løve)
4  Dune (Dennis Villenevue)
5  The Tragedy of Macbeth (Joel Coen)
6  The Power of the Dog (Jane Campion)
7  Violet (Justine Bateman)
8  Red Rocket (Sean Baker)
9  Hit the Road (Panah Panahi)
10  Mogul Mowgli (Bassam Tariq)
Justine Bateman's Violet  premiered quietly at a virtual SXSW. Since then it has gained steam, landing next at Toronto (a rare double-booking that Shiva Baby achieved the year before), and subsequently getting picked up by the embattled Relativity Media. Good on them for choosing Violet as the catalyst to relaunch their shingle. It's a singular film that combines many visual and audio elements, creating a cacophonous experience inside the mind of Olivia Munn's Violet. On paper it shouldn't work, but miraculously it does. Bateman is definitely 'doing a lot' but it never feels gimmicky. It's refreshing to see so many bold choices, making it a stand out amongst a sea of down-the-middle festival offerings. You've never seen anything like Violet before, and yet it is completely relatable, whether she reminds you of a friend, a family member, or even yourself. Munn is perfectly cast as a vulnerable, tough, self-destructive and finally empowered woman and executive, who you can't help but feel for, and root for.
NONFICTION
1  Procession (Robert Greene)
2  Summer of Soul (Ahmir Questlove Thompson)
3  Simple As Water (Megan Mylan)
4  The Rescue (Elizabeth Chai Vasarhelyi & Jimmy Chin)
5  Last Chance U – Basketball (Greg Whiteley)
6  Homeroom (Peter Nicks)
7  Billie Eilish – The World's A Little Blurry (R.J. Cutler)
8  Not Going Quietly (Nicholas Bruckman)
9  Searching for Mr. Rugoff (Ira Deutchman)
10  Beba (Rebeca Huntt)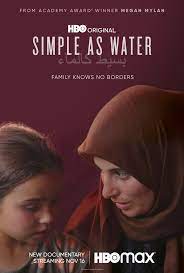 Premiering at a (mostly) virtual Tribeca Film Festival, Megan Mylan's Simple As Water is epic in scope yet intimate in its stories of human connection. Filmed across five countries, it follows the cases of Syrian refugees and their adorable children, though it is not as oppressively sad as it sounds. Despite many obstacles in their path, there is hope and happiness sprinkled throughout Mylan's cinematic portrait. Read my full review, in which I call it a "stunning achievement." Picked up by the inimitable HBO Docs, it should hopefully be getting more awards consideration in the coming weeks.
1  Bad Luck Banging or Loony Porn (Radu Jude)
2  Can't Get You Out of My Head (Adam Curtis)
3  The Year of the Discovery (Luis Lopez Carrasco)
4  France (Bruno Dumont)
5  White on White (Theo Court)
6  The Power of the Dog (Jane Campion)
7  Story of Looking (Mark Cousins)
8  There is No Evil (Mohammad Rasoulof)
9  Wojnarowicz (Chris McKim)
10  Ecstasy (Moara Passoni)
Honorable Mention: Undine (Christian Petzold)
I think I had my mouth open the entire time watching Romanian director Radu Jude's Bad Luck Banging or Loony Porn. To say that I was transfixed would be an understatement. Young filmmakers will find Jude's audacity inspiring and will certainly leave thinking, "wait, one can do that?" Jude is a mix of Pasolini, von Trier, and The Sex Pistols. Bad Luck Banging is the darkest of comedies and a stinging commentary on Romanian society. It is neither lowbrow nor highbrow. Categories such as those cannot contain Jude; he will certainly throw off your artistic taxonomies. Bad Luck Banging is at times crude and at times erudite. For those who like their films tidy, Jude will challenge you. Allow yourself to be challenged. If my praise sounds gushing, so be it. I have breathlessly praised Jude to friends and family — their look is priceless when I reveal the title of my favorite film of the year. I must warn: those who are prudish will be turned off by Bad Luck Banging — the film's title speaks for itself. Those looking for a bold cinematic vision and avant-gardism look no further than Jude. This is filmmaking at its best and bravest.
FICTION
1  Zola (Janicza Bravo)
2  Violet (Justine Bateman)
3  The Novice (Lauren Hadaway)
4  Mass (Fran Kranz)
5  Sweet River (Justin McMillan)
6  Summertime (Carlos Lopez Estrada)
7  Dead & Beautiful (David Verbeek)
8  Dune (Dennis Villenueve)
9  The Trip (Tommy Wirkola)
10  Slumber Party Massacre (Denishka Esterhazy)
NONFICTION
1  Who Killed the KLF? (Chris Atkins)
2  Woodlands Dark and Days Bewitched: A History of Folk Horror (Kier-La Janisse)
3  Pray Away (Kristine Stolakis)
4  Street Gang: How We Got To Sesame Street (Marilyn Agrelo)
5  The Hunt for Planet B (Nathaniel Kahn)
6  A Glitch in the Matrix (Rodney Ascher)
7  The Sparks Brothers (Edgar Wright)
8  Demi Lovato: Dancing with the Devil (Allison Kaye)
9  Summer Of Soul (Ahmir Questlove Thompson)
10  Little Girl (Sebastien Lifshitz)
Honorable Mention: Beyond The Infinite Two Minutes* (Junta Yamaguchi)
*Awaiting US release despite being 100% on RT with 47 reviews
Still making the rounds on the festival circuit is genre-bender Beyond The Infinite Two Minutes. A café owner retires to
his upstairs apartment, only to find his computer is somehow receiving video from two minutes in the future, and from his café. Running back downstairs to his café television, he ends up talking with himself, back in his apartment two minutes in the past. As his friends and co-worker get involved, they devise a plan to place the two screens across from each other and see further into the future. Impossibly shot in one-take (or at least appearing so), Beyond the Infinite Two Minutes features a sharp cast of comic actors (a stage comedy troupe in their first film) and a nimble script that delivers a new twist every 120 seconds. A time-loop triumph full of romance, danger, and gangsters, BTI2M is basically Back to the Future meets Rope as performed by The Kids in the Hall. The effervescent bliss of seeing the exact same conversation three times, once when it exists in the future, then again in the present in the moment, and then over multiple pasts as it plays again and again through the facing monitors overwhelms any logistic gymnastics that might belabor your mind. Many reviewers seem anxious to compare the film to 2017's One Cut for the Dead, but BTI2M hits the ground running, putting us in the twisted mix six minutes in rather than forcing us to flounder through 35 minutes of bland, by-the-numbers zombie gore. The film never takes itself too seriously, and director, cinematographer, camera operator and editor Junta Yamaguchi aims more for Hot Tub Time Machine than Primer, creating the perfect distraction to the endless zoom meeting of the last two years.
1  Red Rocket (Sean Baker)
2  Licorice Pizza (Paul Thomas Anderson)
3  Green Knight (David Lowery)
4  Malignant (James Wan)
5  Drive My Car (Ryusuke Hamaguchi)
6  Memoria (Apichatpong Weerasethakul)
7  The Worst Person in the World (Joachim Trier)
8  Dune (Dennis Villenueve)
9  Titane (Julia Ducournau)
10  The Last Duel (Ridley Scott)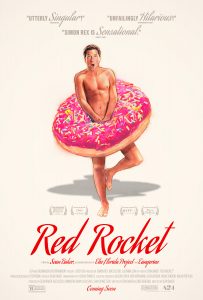 Walking out of Red Rocket, I felt the same way I did walking out of Parasite and Uncut Gems in 2019. It's an indescribable feeling that you can only get from sex, drugs, or a perfect movie. Red Rocket is a rarity, offering absolute peak entertainment and joy. What separates it from your typical comedy is the craft on display. A film this raunchy is usually not so masterful from a directing, cinematography, and editing perspective. Director Sean Baker utilizes 16mm to shoot one of the best-looking films of the year. When I heard Simon Rex would be the star, I was sold. I first discovered Rex through YouTube clips of his rap group Three Loco with Andy Milonakis (who was randomly seated next to me at the NYFF premiere!) Being both a charismatic, good-looking guy, I knew that if he was given the right script he would be great. And yet, I had no idea just how good he would be. This is one of the best individual performances in a film all year. What is so impressive about this performance is that he is just as good in comedic moments as he is in dramatic ones, reminding me of Adam Sandler in Uncut Gems. In both these films, the protagonist is a person who causes stress for both the characters and the audience. By putting these characters in the hands of charismatic, well-liked actors, the audience is conflicted as to how they should feel. This affable, trainwreck-of-a-man causes an internal friction for the audience, captivating them until the very end.