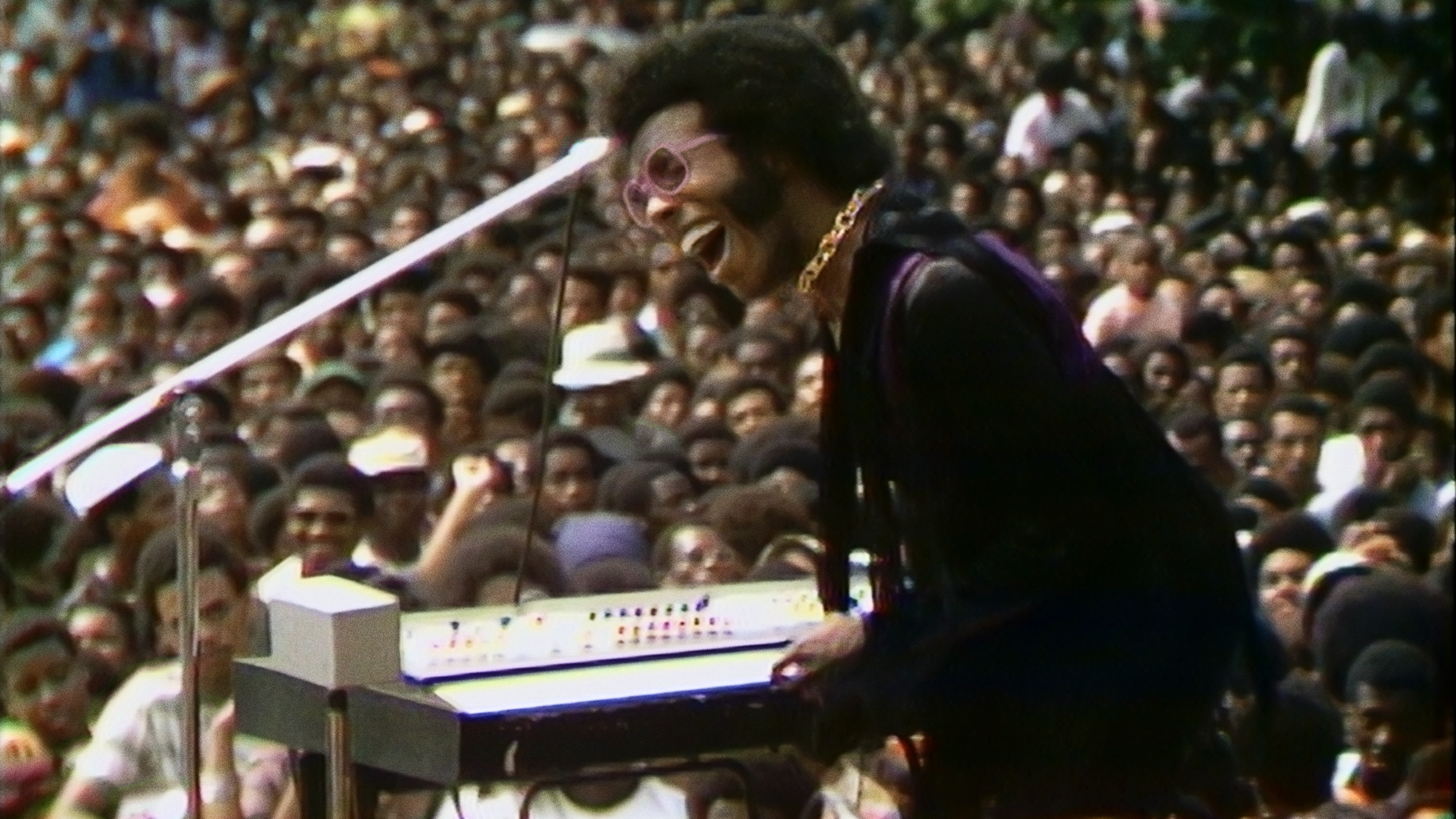 Editors Note: Summer of Soul is now playing in theaters and on Hulu. Below is our review from Sundance 2021.
(The 2021 Sundance Film Festival runs January 28- February 3, all virtually as well as with drive-ins sprinkled around the U.S.. Hammer to Nail is bringing you a ton of coverage so, keep coming back!)
Ahmir "Questlove" Thompson opens his debut documentary Summer of Soul (about a music festival of the same name) with a Stevie Wonder drum solo. The performance is electrifying. Stevie is usually seen on the piano, but unsurprisingly, he is also really, really good at drumming. Thompson plays the drums for the band The Roots, and his opening is one of many directorial choices that make him the author of this spiritual undertaking. To unearth this footage is a miracle in itself, but to give it historical context and present it in such a compelling and relevant way makes it a phenomenal documentary. People will compare it to Gimme Shelter, or the more recent Amazing Grace, but its implications about race make it something more — both an indictment of racial injustice and a celebration of black excellence. Interviewees explain they had never seen that many black faces all at once, and certainly never so many beautiful, talented black performers. At the time, the idea of a 'black Woodstock' seemed completely unmarketable by the white bosses in charge of the media outlets, and so the footage was regrettably buried. This same 'unmarketable' footage, 50 years later, is now bound to start a bidding war sending the value of it into the millions, if not tens of millions. Here we have a tangible example of art appreciating in value over time.
The Summer of Soul concert was held in Harlem's Mt. Morris park, and was organized by a charismatic mover-and-shaker named Tony Lawrence. In addition to booking the musical acts, Lawrence was able to wrangle politicians and activists such as Mayor John Lindsay and Revered Jesse Jackson. The mostly white police force would not provide security, so instead the organizers brought in The Black Panthers, which is reminiscent of the Hells Angels security detail in Gimme Shelter, though tellingly there was no violence at the Summer of Soul. One of the more groundbreaking acts was Sly and The Family Stone — groundbreaking both in sound and in gender parity. One attendee remarks, "To see a black woman play the trumpet made me feel great." Indeed this is a feel-great movie from start to finish, with highlights that include; B.B. King, Nina Simone as well as Mavis Staples and Mahalia Jackson sharing a microphone.
Thompson also follows the camera into the crowd, and onto the streets, where interviews reveal the black reaction to the moon landing. "Nevermind the moon, let's get some of that money in Harlem." The film covers a lot of ground, but luckily Thompson is also a DJ, which explains the breathless editing and tantalizing transitions — though credit should also be given to his editor Joshua Pearson (What Happened, Miss Simone?). Thompson uses a nifty trick of showing attendees the unearthed footage and filming their reactions, which was a favorite technique from The Last Dance docuseries. It works well here, especially in one interaction where a man (who was a young boy at the time of the festival) breaks down into tears with the joy and relief of being able to confirm a memory that he wasn't sure was even real.
Throughout the film we are reminded of the African tradition of 'spiritual possession' which is often expressed through song and dance. In this way, the film is deeply spiritual, and should leave a lasting impact on the viewer, regardless of their skin color. Summer of Soul is not simply a concert film, or a history lesson…it's a massive hit.
– Matthew Delman (@ItsTheRealDel)