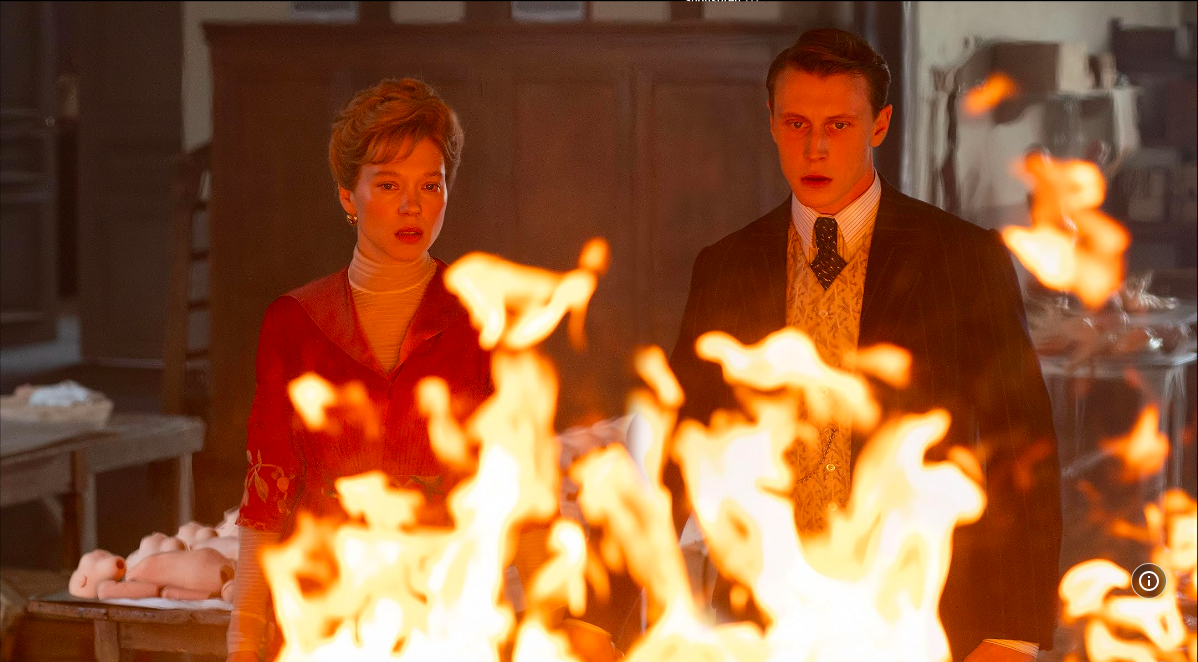 (The 2023 Toronto International Film Festival (TIFF) runs September 7-17 and HtN has tons of coverage coming your way! Check out Matt Delman's movie review of The Beast. Seen it? Join the conversation with HtN on our Letterboxd Page.)
At one point in Bertrand Bonello's transfixing sci-fi romantic fantasy thriller The Beast, a character suggests to Léa Seydoux's character that she get plastic surgery. That may be the single most preposterous scene in the whole film. The rest of the story is pretty believable, as our past's desires become repressed in the present and scientifically eliminated in the future. Spanning two centuries, Bonello jumps back and forth between at least three time periods, following a couple in love who never quite make it work. An audacious piece of filmmaking, the world of The Beast (or la Bête in French) is torn asunder by fire, flood, earthquake and even artificial intelligence. There is a lot going on in Bonello's dense script, and it's a wonder that it coheres together at all. But one gets the feeling watching it that Gabrielle (Seydoux) and Louis (George MacKay) are something like dynamite, waiting to explode into a fiery blaze of passion.
"I think we mixed tongues.." Louis says to Gabrielle, as they demonstrate their bilingual (French and English) skills in the opening scene of The Beast which takes place at a party in the 1910s. Bonello riddles his script with many double entendres ("Seem like it's really over" after an earthquake). Soon we jump to the future, 2044, where Gabrielle is getting interviewed for a medical procedure called 'purification' which will render her permanently emotionally serene. She worries about being turned into a sort of neutral doll. The other universe exists in 2014, where Louis takes on an Elliot Rodgers-like persona, 'Louis Lewinsky', and makes incel videos on a GoPro. His latest target is Gabrielle, an aspiring model who is house-sitting for some unseen rich dude that keeps calling to check on her because the neighbors spy a creeper (Louis, of course). This portion of the film is deeply unsettling, even though Gabrielle recognizes her soulmate hiding deep inside Louis Lewinsky's abhorrent exterior. She engages with him, even opens the door for him, and the scene play outs something like a hostage negotiation fever dream.
Bonello reteams with editor Anita Roth (Zombi Child) who has perhaps the most challenging task of making it make sense. Because most of the scenes are actually visions that Gabrielle is having during her purification procedure, Roth can indulge in playful editing choices such as pausing and rewinding a scene multiple times and re-watching it play out with different outcomes. That technique is used to great effect when a warm embrace turns into a murder. Cinematographer Josée Deshaies has worked previously with Bonello on Saint Laurent and House of Tolerance, and notably recently shot Ira Sachs' Passages. Together they cover a lot of ground, including a couple of nightclub scenes with aggressive rap music that sounds influenced by Kendrick Lamar. There's also a great use of the song 'Evergreen' by Roy Orbison, which perfectly captures the film's melancholy.
Gabrielle consults an eccentric clairvoyant in both the 1910 and 2014 storylines, in the latter via a pop-up internet ad. Though some may argue that a fortuneteller is a narrative crutch, here she works so well to create dread, her wide eyes inducing a spine-chilling effect. Bonello fashions himself a sort of fortuneteller with The Beast. He reckons in 2044 we will have 67% unemployment. Paris will be under water. Artificial Intelligence will be in control of our lives and see emotions as a threat. None of these concerns are new, but The Beast is such a well-crafted and daring film. If enough people see Bonello's nightmare of our dystopian future, it will be etched into our collective unconscious, and perhaps we could avoid it.
– Matthew Delman (@ItsTheRealDel)
2023 Toronto Film Festival; Ryusuke Hamaguchi; Evil Does Not Exist movie review