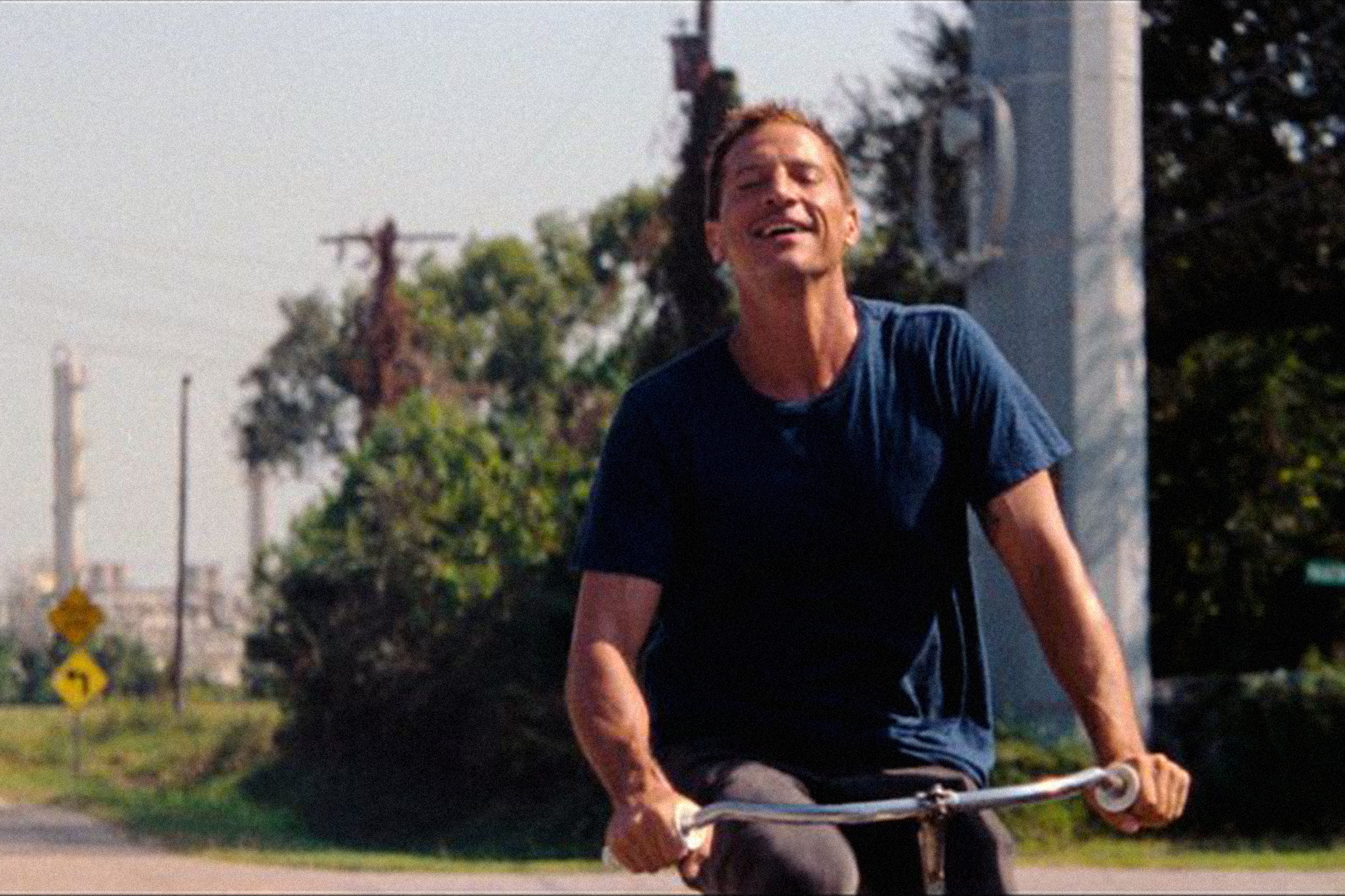 (The 2021 New York Film Festival (or NYFF) is in its 59th iteration and runs September 24-October 10. Here, Matt Delman gives a film review of Red Rocket, the latest film from Sean Baker. Like what you see here on Hammer to Nail? Why not give just $1.00 per month via Patreon to help keep us going?)
For those uninitiated, a 'red rocket' is a dog boner, and it's funny that the horny dog in Sean Baker's new film Red Rocket is played by a man named Simon Rex. Rex, the actor best known for the Scary Movie franchise, plays Mikey Saber, an aging adult film star who always seems to be barking up the wrong tree. Writer/director Sean Baker's latest may be his funniest film to date, if not altogether as moving as The Florida Project. His protagonist can be hard to root for, unless you're a fan of Kenny Powers (of Eastbound and Down), the type of fictional narcissists that act on their wildest impulses. A few years ago this film would not have been made and marketed, but now the pendulum of wokeness is swinging back in the other direction. Though we'll find out how far. If it's any indication, the New York crowd I saw it with was howling with laughter.
On paper, the plot synopsis sounds pretty questionable. But Rex adds so much charm to the character that you're more than willing to go along for the ride. Down on his luck, Mr. Saber shows up unexpectedly at his wife's house near Galveston, Texas, and she's not too happy to see him. His mother-in-law is adamant that he pay rent, so he starts dealing weed to make some cash. While visiting a donut shop, he meets seventeen-year-old Strawberry (Suzanna Son) behind the counter. After a few flirtatious visits, he helps her break up with her high school boyfriend and tries to convince her to come with him to Los Angeles to be his new co-star. His eyebrow raising antics don't stop there, and we're unsure if he's a few steps away from living the dream, or just a desperate idiot. What saves the film from feeling icky is Son's performance. She may not have a ton of life experience, but she knows what she's getting herself into. When her classmates discover Mikey's explicit videos, she's not angry or jealous, instead she thinks it's, 'cool that you can make money doing what you love.' Is this sex positivity, or just an older man grooming a barely legal girl? That ambiguity makes the film hard to classify, but never dull.
Sean Baker really nails his casting, using mainly non-actors, aside from Rex and Bree Elrod, who plays his disgruntled wife. The characters fit perfectly into Baker's milieu, creating a world that is uniquely his. The film's strong sense of place is one of its many strengths. Also notable is the cinematography, shot in warm 16mm by Drew Daniels (Waves), and the snappy dialogue, co-written by Baker's frequent collaborator Chris Bergoch. To top it all off, NSYNC's "Bye Bye Bye" is used as a refrain to great comedic effect.
Red Rocket launches the audience into uncomfortable scenarios, challenging us to empathize with morally dubious characters. The fact is these guys exist in real life, so perhaps there is some benefit to shining a light on this particularly crusty fringe of society. However, the film is not so dark, in fact it feels buoyant with light and energy. In the hands of a less capable director, it could've been a trainwreck. But Baker has proven he is more than capable of making us laugh and think and question our assumptions about people we overlook in our daily lives. Red Rocket is a riotous romp, but despite its crass humor, it's also an auteur-driven, great piece of cinema. 
– Matthew Delman (@ItsTheRealDel)
New York Film Festival; Sean Baker; Red Rocket review