WOODLANDS DARK AND DAYS BEWITCHED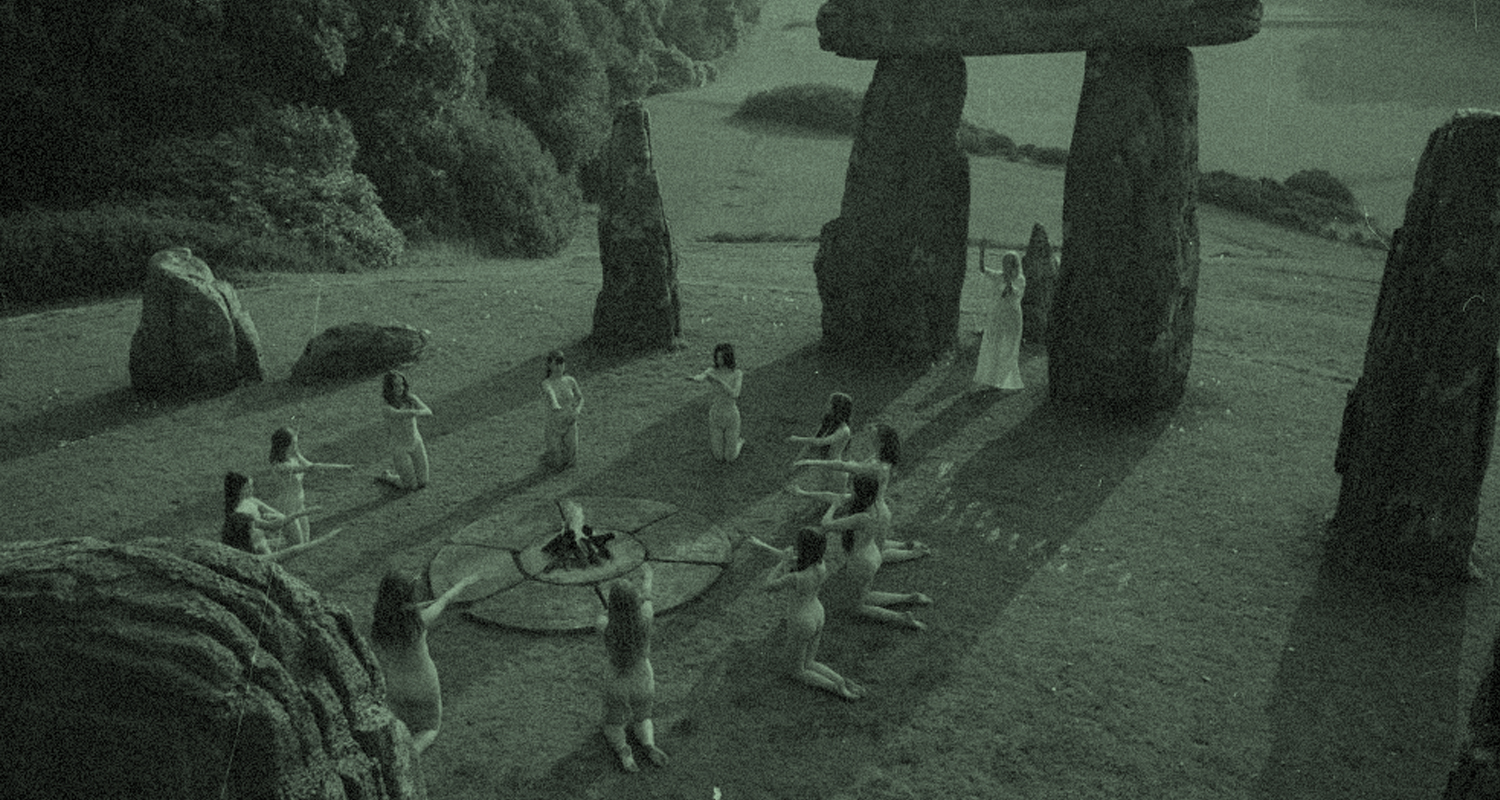 (The 2021 SXSW Film Festival kicked off March 16 and ran through the 20th, all online. Hammer to Nail has tons of coverage coming your way so stay tuned! Like what you see here on Hammer to Nail? Why not give just $1.00 per month via Patreon to help keep us going?)
Like any trip out of the urban known into the dark woodlands, there's a lot to love and a lot to overcome in Kier-La Janisse's film Woodlands Dark and Days Bewitched. When I breakdown where the film fell short of my expectations, it is going to sound like I'm being overly critical, so please don't let that take away from what is a monumental achievement in scholarly Cinema. A compendium of films loosely tied together by theme and place, Woodlands Dark serves as a jumping-off point for hours and hours of great watching. The whole time I was watching the film I was desperate for my professor (Janisse) to give me the course outline so I could simply pay attention to the  images being compared, but still walk away with what I needed to add to my watchlist on the various streaming services. In fact there are so many films mention in Woodlands Dark and Days Bewitched that a Pagan Horror streaming site seems inevitable.
I love to bits the flights of fancy, like the music from Jim Williams, the pastoral  ballads and reels, and the creepy collage animation care of Guy Maddin. Sure, the three-hour plus running time is a bit much for film so this nature, but with clear chapter headings the obvious fix is it has to be a six-part series on Shudder. I do love the constructs of chapters, although it does allow the film to move from topic to topic without a whole lot of connective material. I wish that the director had done more to tie across the difference sub-genre highlighted in each chapter section. 
Really, the only other critique I have of the film is in the talking heads, a necessity in any film of this nature. When relying upon people's interpretation, possibly there is not direct access to the original creators (who may be long dead), the film removes the audience from processing the image as given by the work into receiving the analysis from the commentator. The example of archival footage for the Wicker Man really shows the quality of scholarship that can be done with original sources. Maybe such footage was just unavailable. For me, Woodlands Dark and Days Bewitched features too many pundits and scholars, and not enough actual filmmakers. I did love seeing Robert Eggers (The Witch), Chad Crawford Kinkle (Jug Face) and Alice Lowe (Prevenge). Surely, for the number of times Stephen King is mentioned, a man notoriously down to give an interview, it seems odd that he is not in the film. Viewpoints on the film were pretty much predominately White. Even though the films may have been made by Caucasian filmmakers, it wouldn't have been bad to have a few more people of color offering opinions (or Transgender or Non-binary for that matter). We finally get Maisha Wester (author of Gothic and the Politics of Race) to discuss VooDoo and HooDoo but when we get back to Candy Man, set in Chicago's Cabrini Green Housing Project, we are back to white people. When we finally get out to Brazil and Japan, we start getting some BIPOC voices, to represent their own culture, but of course, we still have the white chorus chiming in. I guess I just felt like the talking heads were a bit too uniform. At one point in time Kier-La Janisse even put herself in the film as an expert, which clearly she is, but it did feel a bit narcissistic. I mentioned the songs and animation before, both of which were perfectly executed but sorely underused. I would have liked to see more of that to draw the chapters together, maybe a dark counter to the colorfree cis-normative narrative delivered by the commentators. 
But like I said, this is a brilliant, meandering treatise that any fan of horror should watch, maybe just not all at once. And when you do watch it, you're going to want, like I did, a list of all the movies referenced. Well, Hammer to Nail has got you covered. You will find below my outline of folk horror as presented by Woodlands Dark and Days Bewitched.
I. The Unholy Trinity

A. Films

1. Witchfinder General (1968)
2. The Blood on Satan's Claw (1970)
3. The Wicker Man (1973)

B. Qualities

1. Belief or Clash of Belief Systems

a) Inquisition

 

b) The Old Religion

2. Nihilism / Want to push pack against gothic tropes
3. Misogyny

a) Women are there as a pretext for horror
b) Fear of Female Sexuality

C. Lesser Films

1. Mark of the Devil (1970)
2. Witchhammer (1970)
II. Who is this? Who is Coming? Signposts of British Folk Horror

A. The outsider coming to town experiencing a pagan ritual

1. Trapped in a town

B. Strange forces of Nature overwhelming mankind

1. Location – English Countryside

 

2. People's relationship to the land / the dirt

 

3. What's buried below the land
4. Not landscape as scenery but landscape as site of terror

C. Fissures in the modern

1. Back to the land… pastoral views
2. Friction between past and present
3. Threat comes out of the Past
4. Gentrification as Colonization

 

5. Paranoias around National Identity

 

6. Middle class fear of the poor in the woods/countryside
7. Stories based on British mythology
8. "We don't go back" – fundamental tension of Folk horror

a) Do not want to enter a world of superstition

D. Adaptations from fiction

1. Night of the Demon (1957)
2. Whistle and I'll come to You (1968)
3. A Ghost Story for Christmas (1971-78)

a) The Stalls of Barchester (1971)
b) A Warning to the Curious (1972)
c) Lost Hearts (1973)
d) The Treasure of Abbot Thomas (1974)
e) Stigma (1977)

E. TV/Cinema Examples

1. I Start Counting (1970)

 

2. Requiem for a Village (1975)
3. Psychomania (1975)
4. Nigel Kneale

a) Quartermass and the Pit (1967)
b) The Year of the Sex Olympics (1968)
c) Beasts "Baby" (1976)
d) The Stone Tape (1972)
e) Quartermass (1979)
f) The Woman in Black (1989)

5. Red Shift (1978)
6. The Hungry Grass (1981)
7. Dr. Who "The Daemons" (1971)
8. Rawhead Rex (1986)
9. Pendra's Fen (1974)
10. The Living Grave (1980)
11. Robin Redbreast (1970)
12. The Company of Wolves (1984)
13. Lair of the White Worm (1988)
14. Murrain 1975

F. Creepy Children's Shows

1. Escape into Night (1972)
1. Children of the Stones (1977)
2. The Owl Service (1969)
3. Moondial (1978)
4. Bagpuss (1974)

G. Modern Examples

1. A Field in England (2013)
2. Prevenge (2016)
III. We Don't Go Back: Paganism and Witchcraft

A. Only religion Britain has ever given us
B. Famous people doing it
C. "invented traditions" become the traditions
Eye of the Devil (1966)
D. US Tradition comes from Salem Witch Trial

 

1. The Witches of Salem: The Horror and the Hope (1972)
2. The Witch 2015

E. Witch Obsession comes from Fear of Female Power

1. Suffragettes connected to occultists
2. Spiritualist – women finally have religious power
3. Evil or just outside expectation?

 

4. Girl power!

a) The Craft (1996)
b) Witches of Eastwick (1987)

F. Representative Examples

1. Haxan (1922)
2. The Night of the Eagle (1962)
3. Hagazussa (2017)
IV. Call Me From the Valley: American Folk Horror

A. Religious radicalism is there at its roots of the country

1. Puritan passions (1922) (based on Nathaniel Hawthorne)
2. All That Money Can Buy (1941) (Devil and Daniel Webster)
3. The City of the Dead (1960)
4. Burned at the Stake (1982)
5. Religious Fundamentalism based in Christianity

 

a) Deadly blessing (1981)
b) Children of the corn (1984)

6. Utopianism vs anxiety around cults: Modern world does not leave enough space for us to experience connection

B. Pilgrims believed Native Americans = manifestations of Satan; leads to a films focused on 'Othering' indigenous people

1. Hex (1973)
2. Shadow of the Hawk (1976)
3. Eyes of Fire (1983)
4. Creepshow 2 (1987)
5. Grim Prairie Tales (1990)
6. Clearcut (1991)
7. Indian Burial Ground Trope

a) The Amityville Horror (1979)
b) The Shining (1980)
c) Pet Semetary (1989)

8. Response made by indigenous people: Edge of the Knife 2018

C. Very Rural country, people cut off from each other

1. Supernatural On the Edge of Town / Just Off Coast

a) The Headless Horsemen (1922) / Legend of Sleepy Hollow (1972)
b) Crowhaven Farm (1970)
c) The Fog (1980)
d) The Lighthouse (2019)

D. Spectre of the colony that fails: Small town hiding a terrible secret

1. The Lottery (1969)
2. The Dunwich Horror (1970) Lovecraft
3. The Dark Secret of Harvest Home (1978)
4. Salem's lot (1979)

E. American prairie horror – claustrophobia where you can see everything, Isolation breeds sickness

1. The reflecting skin (1990)
2. The wind (2018)

F. Unwary Traveler and Degenerate Country Folk

1. Qualities

a) An ambivalence about progress
b) Communities hanging on for dear life… needs sacrifice
c) The wilderness corrupts

2. Representative Examples

a) The Twilight Zone "Jess-Belle" (1963)
b) The Fool Killer (1965)
c) Let's Scare Jessica to Death (1971)
d) Deliverance (1972)
e) The Legend of Hillbilly John (1972)
f) Lemora: A Child's Tale of the Supernatural (1973)

 

g) Texas Chainsaw Massacre (1974)
h) The Waltons: "The Grandchild" (1978)
i) Pumpkinhead (1988)
j) Jugface 2013
k) Backwoods (2019)

G. Southern Gothic

 

a) Dark Waters (1944)
b) Two Thousand Maniacs! (1964)
c) The Enchanted (1983)
d) Eve's Bayou (1997)
e) Beloved (1998)

H. Voodoo/Hoodoo

a) Early examples

(1) White Zombie (1932)
(2) Ouanga (1936)
(3) I Walked with a Zombie (1943)
(4) Thriller "Papa Benjamin" (1961)

b) The Believers (1987)
c) Angel Heart (1987)
d) The Serpent and the Rainbow (1988)
e) The Skeleton Key (2005)
f) Wake (2010)

I. Urban Folk Horror

a) Ganja & Hess (1973)
b) Candyman (1992)
V. All the Haunts Be Ours: Folk Horror Around the World

A. Australia – ugly colonial history. Indigenous Tradition vs. White Response. Emphasis of connection to the lands, mysteries of

1. Peter Weir

a) The Last Wave (1973)
b) Picnic at Hanging Rock (1975)

2. Wolf Creek (2005)
3. Lake Mongo (2015)
4. Bedevil (1993) (from Aboriginal perspective)
5. Reaction to Australia Daze (200 years of invasion)

a) The Dreaming (1988)
b) Kadaicha (1988)

B. Demon (2015) Poland – dybukk – do not forget our ancestors
C. La Llorona (2019) Guatemala – the silent holocaust of Mayans

 

1. La Llorona (1933)
2. La Llorona (1960)
3. The Curse of the Crying Woman (1961) – mentioned later in the film
4. The Revenge of the Crying Woman (1974)
5. When the Mountains Tremble (1983) documentary

D. Water as Collective Guilt

1. Lake of the Dead (1958) Sweden
2. Shadows of Forgotten Ancestors (1965) USSR
3. Hour of the Wolf (1968) Sweden
4. Shikoku (1999) – Japan
5. Noroi: The Curse (2005) Japan
6. Ich-Chi (2020) Russia

E. Building on top of Something Else

1. The Snake God (1970) Italy/Venezuela
2. Alison's Birthday (1981) Australia
3. Zeder (1983) Italy/France
4. Celia (1983) Australia

a) Antecedent to The Babadook (2015) – mentioned, unseen

F. The Wild Colonial Boys mythology in Australia – we are the lads and fight the law

1. Ned Kelly (1970)
2. Wake in Fright (1971)
3. The Boys (1998)
4. Chopper (2000)
5. Snowtown (2011)

G. Brazil – fear of connection between races and the afro/Brazilian religion – Macumba (sorcery) is a generalization from Christendom

 

1. Leonora Dos Sete Mares (1955)
2. Noites De Iemaja (1971) Brazil
3. O Amuleto de Ogum (1974)
4. As Filhas Do Fogo (1978) (include Germanic culture and traditions)
5. Love from Mother Only (2003)

H. Nazi Occult Research and ancient Tomb Research – people embedded in society but are secret occultists, the freedom of paganism [The Secret Glory (2001) UK – nazi occult]

1. El Signo de la Muerte (1939)
2. The Aztec Mummy (1957) Mexico
3. The Living Head (1963) Mexico
4. Proexas de Satanas Na Vila de Lea-e-traz (1967) Brazil
5. The Bloody Exorcism of Coffin Joe (1974) Brazil
6. Catholicism Mixed with Embedded Paganism, the village outsider

a) The Demon (1963) Italy/France

 

b) Legend of the Witches (1970) UK doc?
c) Don't Torture a Duckling (1972) Italy
d) Dark Water (1993) Russia/Italy/Ukraine/UK
e) The Theatre Bizarre: The Mother of Toads (2011) Richard Stanley

7. Orthodox Church vs. Paganism

 

a) Shadows of Forgotten Ancestors (1965) USSR (again)
b) Vey (1967) USSR

I. Violence is inevitable (but doesn't always read as Horror) Rituals. Landscapes, Forgotten Communities.

1. Marketa Lazarova (1967) Czechoslovakia
2. Hour of the Wolf (1968) Bergman Sweden
3. Valeria and Her Week of Wonders (1970) Czechoslovakia
4. Witchhammer (1970) Czechoslovakia (remember that one???)
5. Lokis: The Manuscript of Professor Wittembach (1970) Poland
6. Savage Hunt of King Stakh (1970) USSR
7. The Ninth Heart (1979) Czechoslovakia

J. Modern Japan draws a line from the past and folk studies – ethnographers go to small cities to studio old folk tales. Shintoism – spirits reside in everything. No battle with Christianity so its people out of touch with their ancestors/history

1. Kwaidan (1964) Japan
2. Onibaba (1964) Japan
3. Kuroneko (1968) Japan
4. 100 Monster (1968) Japan
5. Curse of the Dog God (1977) Japan
6. Dust Devil (1992) South Africa
7. Kakashi (2001) Japan
8. Dearest Sister (2016) Laos

K. Outside of Western Europe its less Us vs Them, Slavik/Scandanavian/Asian it's already immersed in the legend/folk, a danger rises from within, fairy tales becoming 'grimm' –

 

1. May Nights (1952) USSR

 

2. Barbara the Fair with the Silken Hair (1970) USSR
3. Messiah of Evil (1973)

 

4. Tilbury (1987) Iceland
5. The Juniper Tree (1990) Iceland
6. Little Otik (2000) Czech Republic
7. The Noonday Witch (2016) Czech Republic

L. shapeshifters, especially female

1. The White Reindeer (1952) Iceland – woman transforms into white vampiric reindeer
2. Mansion of the Ghost Cat (1958) Japan
3. Kwaidan (1964) Japan again – Lady of the Snow Segment
4. Kuroneko (1968) Japan (again) Ghost Cat – shifting in humans
5. Black Sabbath (1964) Italy
6. Night of the Devils (1972) Italy/Spain – from a Tolstoy Vampire novel
7. Leptirica (1973) Yugoslavia
8. She-Wolf (1983) Poland – werewolf – female power in the shift

 

M. Women dying in Childbirth, coming back for revenge. Esp. in Asian Cinema. Change is scary, Folk tales, connection to past helps us move on
The Rites of May (1977) Philippines
1. Nang Nak (1999) Thailand
VI. Folk Horror Revival: The future of Folk Horror.

A. Ontology – the study of the nature of being. Who are we really? How would we know for sure?

1. Folk Horror – It's not a genre, it's a mode in a musical sense, providing keynotes and context
2. There is a feeling that history is over, resolved… until something brings in doubt (September 11) and unresolved past comes back
3. It may even be an imagined past
4. Return to anywhere ritual is still alive, want to believe in somethnig
5. If urban center are the creators of thought, the countryside is by necessity shrouded in darkness
6. Out of touch with news/information
7. We are living in Dark Times… Anything can happen (but not in a good way)

B. Examples

1. The Village (2004) but sort of in a mocking way
2. Wake wood (2009) – first use of Folk Horror Revival
3. Kill List (2011)
4. Beyond the Hills (2012)

 

5. For Those in Peril (2013)
6. The Borderlands (2013)
7. Solitudo (2014) short film
8. The Witch (2015) (again)
9. By Ourselves (2015)
10. Pyewacket (2017)
11. The Ritual (2017)
12. Errementari (2017)

 

13. November (2017) Estonia
14. Draug (2018)
15. The Sermon (2018)
16. Border (2018)

 

17. The Field Guide to Evil "The Sinful Women of Hollfall"(2018)
18. Hereditary (2018)
19. Pet Sematary (2019) (again)
20. Pelican Blood (2019)

 

21. Midsommar (2019)
– Bears Rebecca Fonté (@BearsFonte)