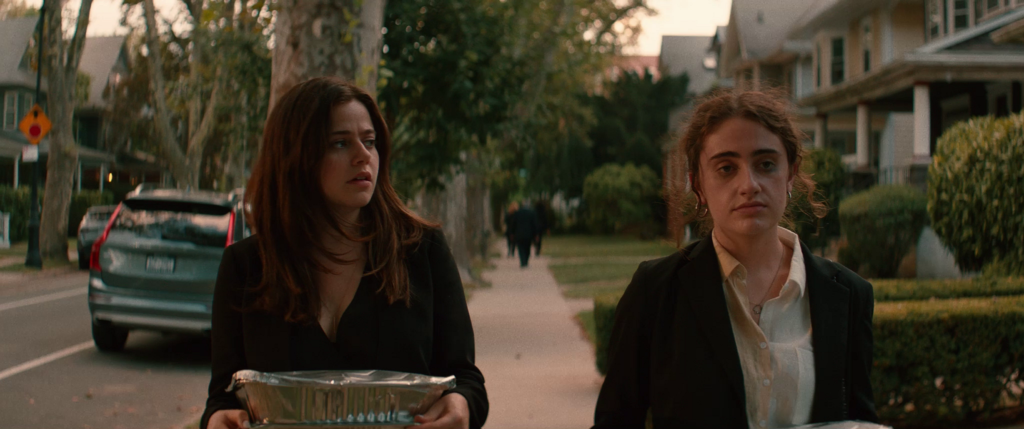 Update: SHIVA BABY is now playing in select theaters and also available to buy or rent on digital platforms. Below is our review from the festival circuit.
(The 2020 Indie Memphis Film Festival, always a joyous occasion, ran October 21-29 in, you guessed it, Memphis, TN.)
Sitting shiva in the Jewish tradition at a funeral for one bisexual female leads to a comedy of errors when her sugar daddy and ex-girlfriend show up.  As a Shiksa myself, I can only interpret the film from outside the Jewish lens but find the entire film a delight to watch for audiences of any age or religion. 
Danielle, played by Rachel Sennott, balances the tension between comedy and cringe-worthy anxiety. Dealing with Max not long after a sexual encounter with him is one of the first of many surprises for Danielle in the film. With a crescendo scene between Danielle, her parents (played by Fred Melamed and Polly Draper) and Kim (Dianna Agron), plus Kim's husband Max (played by Danny Defarri). Clearly for Max and Danielle, the relationship between them is more than they want to reveal to the funeral gatherers. Adding to the issue for Danielle is that a childhood friend turned lover, Maya (Molly Gordon) is also there and taunting her.
What stands out most is the handling of the multiple characters in a shiva that provides context into the Jewish world without being stereotypical. Universal understanding of the concept of a wake makes the entire ceremony really besides the point, simply the location or setting, of an existential crisis for a soon to be college graduate confronted by her relationships and the demands of multiple elders of her love, career and social life. Plus, for Danielle the chaos of graduating college into the current economy and parental approval takes a toll on her. 
But in the end Danielle manages to find a way to get through the shiva in unexpected but delightful ways. The film played Indie Memphis and continues on its festival circuit tour this fall.
– Melanie Addington (@MelAddington)