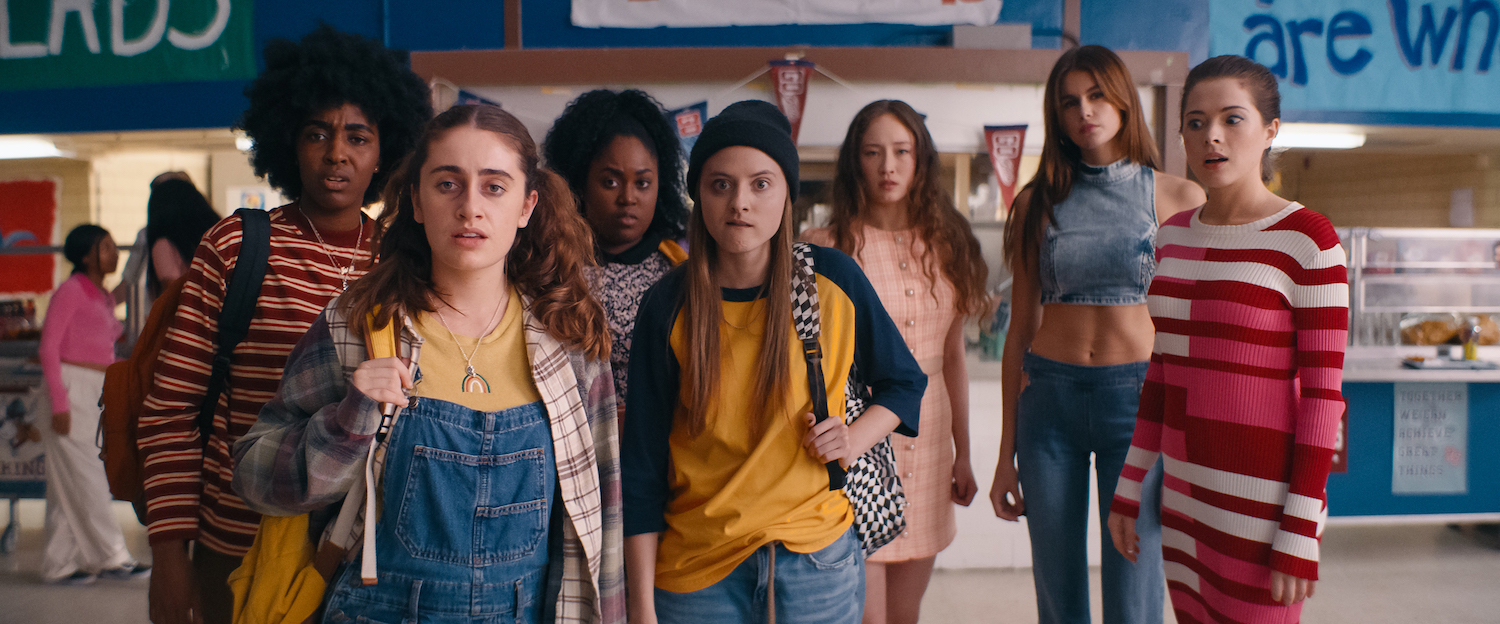 (Check out Chris Reed's movie review of Bottoms, in theaters August 25. Seen it? Join the conversation with HtN on our Letterboxd Page.)
"This year is going to be different." So say high-school besties Josie (Ayo Edebiri, Hulu's The Bear series) and PJ (Rachel Sennott, Shiva Baby), in the perhaps-vain hope that somehow they will overcome their low status as unpopular geeks and get laid. Both lesbians, they have their eye on some of the hottest girls (mostly cheerleaders) around. So they do what anyone would do in their situation: start a fight club.
That's right! There's nothing like a lot of bruises and black eyes to get the romance flowing. Such is the premise, anyway, of Emma Seligman's follow-up to her 2020 Shiva Baby. This time, her co-writer is her past and present star, Sennott, and they have concocted the most raucous and hilarious teen sex comedy this critic has perhaps ever seen. Pushing all sorts of comedic buttons while freely indulging themselves in nihilistic violence and some healthy debauchery, the two, along with the extremely game cast, have a blast.
As do we. It's always a joy to watch an ill-fated plan go off the rails. Here, we know from the start that no good can come from the lies that PJ and Josie tell their friends and dating targets to recruit them into their ostensible self-defense group, first among them a big whopper concerning an alleged act of badassery that PJ never, in fact, committed. But in Bottoms, wrong is most definitely right when it comes to the cacophony of delight.
And so our sheroes soldier forth, full of deceit and hormones. It turns out they're really good as leaders, actually succeeding in some form of female bonding as they manage, in spite of their predatory urges, to raise many important feminist issues. Who knew?
But along the way they piss off the defenders of the status quo, which includes unsettling the preppy jock who is dating one of their marks. Suddenly, the skills that PJ and Josie have claimed to know all along must now be put to the test. Will they overcome all the obstacles, both internal (their base motives) and external (the patriarchy)? Stick around to find out.
This may be a Barbie season, but if you want a truly subversive movie that will catch you unawares with its marriage of high entertainment and important messaging (mostly, and mercifully, buried in the subtext), then Bottoms is the one for you. If it does end up succumbing to a bit of formula in the way it leads up to comeuppance followed by redemption, so many of the details are uniquely its own that we can forgive a few narrative clichés. Most of what's here will blow your mind.
The ensemble rocks—starting with the brilliant pairing of Edebiri and Sennott—including the actors playing the delightfully irresponsible adults scattered throughout. The standouts are many. These are but a few: Ruby Cruz, Dagmara Dominczyk (The Lost Daughter), Kaia Gerber, Havana Rose Liu (No Exit), former NFL player Marshawn Lynch, and Cameron Stout. Beyond any individual performer or scene, however, it's the sum total of the mayhem that makes this shot of pure cinematic adrenaline the must-see event of the summer. Bottoms up!
– Christopher Llewellyn Reed (@ChrisReedFilm)
MGM; Emma Seligman; Bottoms movie review