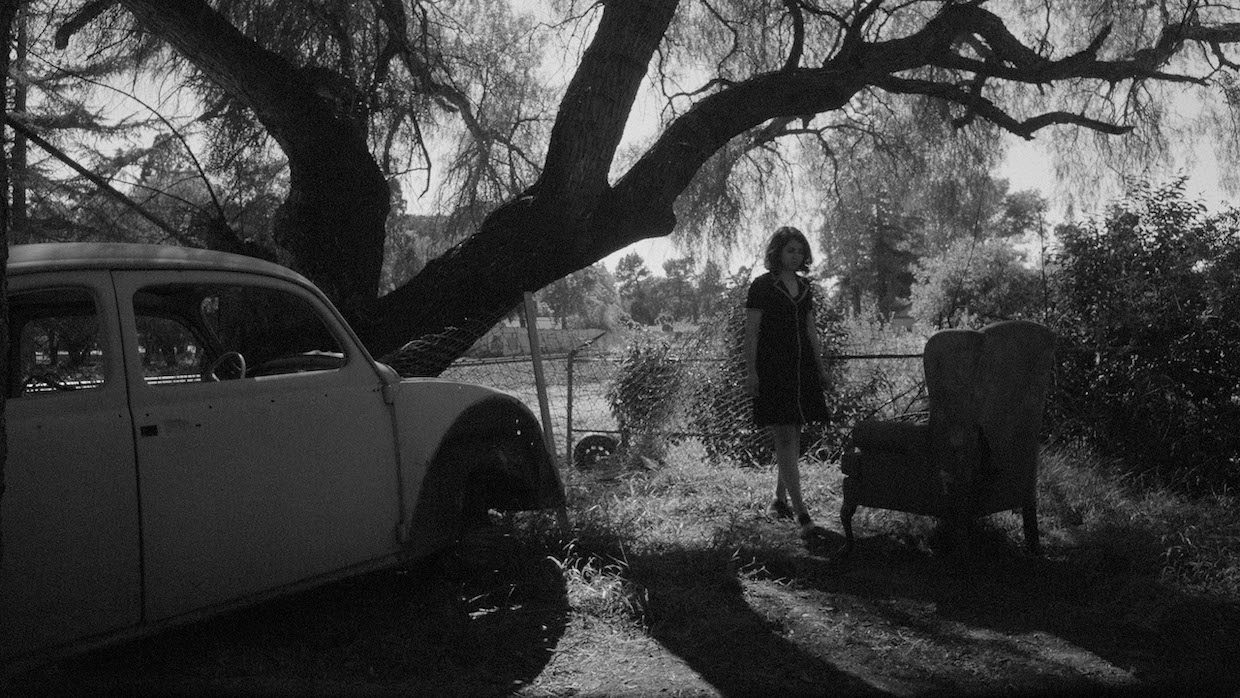 (The 2023 Sundance Film Festival takes place January 19-29 in and around Park City, UT and virtually. As always, Hammer to Nail has you covered with tons of movie reviews like Matt Delman's review of the film Fremont. Seen it? Join the conversation with HtN on our Letterboxd Page.)
Directed by Babak Jalali (Land), and co-written by Jalali and Carolina Cavalli, Fremont is one of the most enjoyable discoveries I've come across in the past few years. Though the plot may seem modest in ambition, the story has so many different dimensions that blend together in a profound combination of comedy, melancholy, displacement, loneliness, friendship and love. Its dry humor and meticulously framed black and white cinematography are reminiscent of Amalia Ulman's El Planeta, another recent Sundance standout. But Fremont is on another planet altogether. When Jeremy Allen White (The Bear) unexpectedly pops up in the final section as a knight in greasy armor, it becomes clear this film is a small miracle.
Fremont is a small town in northern California that has a burgeoning Afghan community. Our protagonist Donya (Anita Wali Zada) has settled there after escaping the war, where she worked as a translator for US troops. Her impromptu therapist (Gregg Turkington, Entertainment) says her parents must be proud, but in fact she says they viewed it as a betrayal. Now she works in a fortune cookie factory making cookies, but when the old woman writing the fortunes keels over, Donya gets promoted to head scribe. In an attempt to find a romantic partner, she writes her phone number onto one of these fortunes and puts it out into the world. She has a friend in her coworker Joanna (newcomer Hilda Schmelling), who reminds one of Martha Kelly, and whose soft singing in one beautiful scene brings Donya to tears. When Donya tries to give Joanna advice, she retorts "Next time you answer like a fortune cookie, I'll eat you." This sharp wit is one of the screenplays many delights.
Another montage shows different people in a restaurant opening their fortune cookies and reading them aloud to each other, including a surprise cameo from Boots Riley and his daughter. Turkington as her eccentric therapist plays one of the funniest roles. In an awkward exercise, he also gives fortune writing a go, which he finds to be immensely enjoyable. He also has an obsession with the novel White Fang. The entire cast fits perfectly into the milieu of Jalali's world, which is offbeat but welcoming like a warm blanket. Donya's Chinese boss is wise and accommodating, though the boss's wife is prickly and becomes the film's villain.
The restrained acting is a delight, but the inspired screenplay by Jalali and Cavalli is the real champion here. Editing by Jalali himself mostly stays out of the way, emphasizes the jokes and keeps the pacing moving along, for what amounts to an almost perfect 90-minute film. Produced by George Rush, who also produced Sorry to Bother You, which accounts for the Boots Riley cameo, as well as Give Me Liberty and one of my cult favorites, Ghostbox Cowboy. The cinematography by Laura Valladao is mostly locked off as to not distract from the dialogue, but the compositions are pleasantly painterly.
The final fifteen minutes really seal the deal. Donya sets up a practice date with her mystery suitor but is interrupted by a cockroach. On her way she stops for an oil change, and that is where she meets the luminous Jeremy Allen White, who works alone and is a mirror to her loneliness. Two lost souls, finding each other halfway to Bakersfield, is unexpectedly moving. He tells her he has never met an 'Afghanistani' before (she corrects him, 'Afghan'). He says "You seem like a friendly people," and she responds, "We are, I'm just not a good example." Their flirty but polite banter is what we yearn for in an unexpected romance. This little film will make you smile and blush at its mere existence, and I hope to revisit it many times.
–  Matthew Delman (@ItsTheRealDel)
2023 Sundance Film Festival; Babak Jalali; Fremont movie review