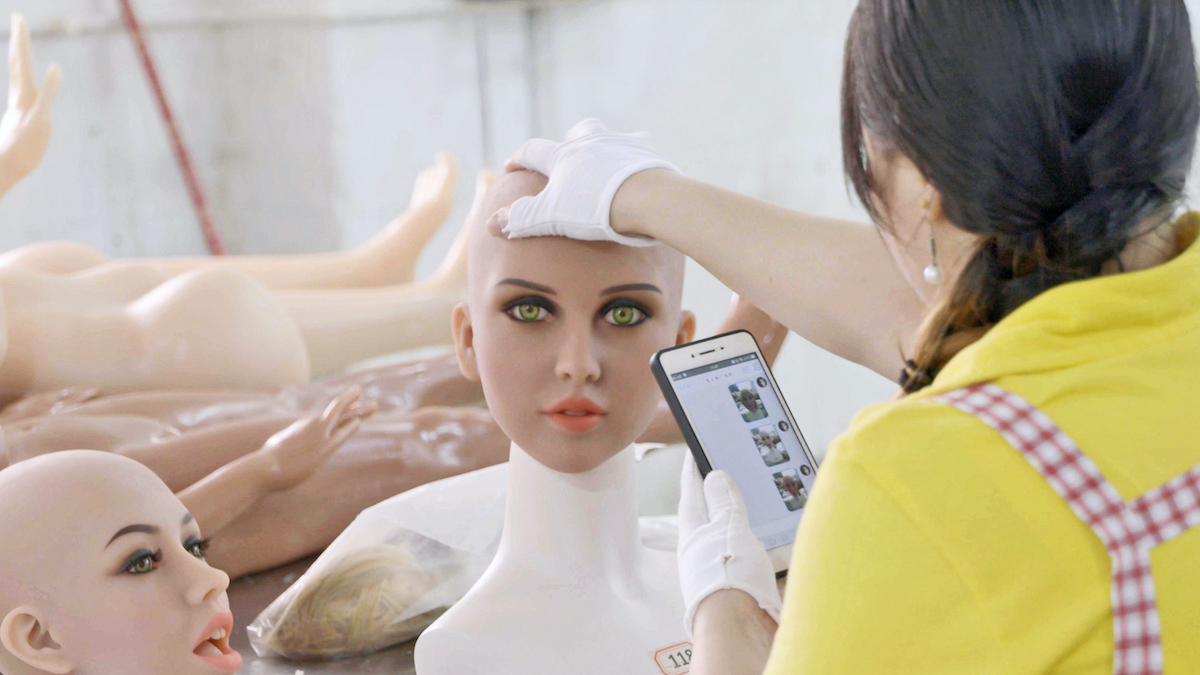 (Winner of the Best Documentary Award at 2021 Tribeca Film Festival, Ascension opens in theaters on Friday, October 8 via MTV Documentaries. Like what you see here on Hammer to Nail? Why not give just $1.00 per month via Patreon to help keep us going?)
The 21st century belongs to China; there's no stopping its rise. Firmly atop the global stage, its economy expanding, the People's Republic, founded in 1949, may not exactly resemble Karl Marx's dream of a communist state, but it's certainly going strong. With chip firmly embedded on shoulder from centuries of domination by foreign powers, China seeks, as other nations have before it, to spread its influence and culture around the world. And beyond that pesky little human-rights problem it has, why not? First though, it has to initiate its population in the ways of the new order, making sure all are on board to succeed. 
In her feature-length documentary debut, Ascension, director Jessica Kingdon takes us on an observational journey through the China of today and tomorrow, where there is much ado about much ado. Without audio commentary —beyond the moody electronic score by composer Dan Deacon (Rat Film) — Kingdon offers stunning images edited together to evocative effect. The result is a showcase of all that is fascinating, disturbing, and funny in the modern Chinese social and business model.
And it is mostly about business. Everything, it seems, can be made in China, including sex dolls. In a lengthy sequence that at first appears to highlight plastic mannequins but then quickly reveals its true nature, Kingdon photographs breasts (special emphasis on painting areolas the proper color), legs and more, the factory women taking their jobs as seriously as they can. No matter the product (plastics, food, social-media branding and more), there is a plan to increase productivity. 
As do all good authoritarian governments, the Chinese makes sure to fill their streets with slogans, spoken and posted, a tactic they clearly learned from their one-time Soviet partners. Fill the air with the truth you want, and it becomes reality. Up to a point, anyway. Kingdon is expert at bringing the camera close to faces during coaching sessions, highlighting the usual array of boredom, struggle, and enthusiasm that one finds everywhere. Creating a new kind of human is no easy task.
Indeed, the director, whose great-grandfather was a poet named Zheng Ze, opens and closes the movie with excerpts from a 1912 poem of his, from which she takes her title: "Hand on my sword, I ascend the tower. I gaze afar, hoping to relieve my worries. The tower is too high to climb; instead, my troubles only grow." COVID-19 notwithstanding, all goes well for China now, but history tells us that all expansion must eventually falter and cease. If our species survives that long, the 22nd century will most likely see a new power rise. 
Then again, the old powers are not gone yet. Throughout Ascension, we hear this or that boss use "the West" as a comparison, both for good and for bad. Would-be service professionals are trained in the ways of English butlers, while the chairman of a cosmetics company claims that no American company could possibly compete with them. That may be true, but the implicit insecurity runs deep.
And then there is the very real fact that people only like to be controlled so much before they push back. We're not talking political protest, but rather the inevitability of systemic entropy. "It doesn't matter how many days you've worked; it only matters what the boss says." So goes one bit of dialogue we overhear. That's the reality, but it doesn't sit all that well with everyone. Despite the copious training exercises, there are always those who don't quite get it or don't want to. It makes hardly a dent in China's current ascent but might one day. The last title card of the film shows more words from Zheng Ze: "I ascend and gaze afar with a clear heart only to find that everywhere is already razed." Beware the future.
The best part of the uniformly excellent Ascension, beyond the interest of the raw material, is its accumulation of meaning by association. In true cinéma-vérité style, Kingdon lets her subjects do the talking, then allows the juxtaposition of shots and scenes to build a narrative, however diffuse. Intimately embedded wherever she goes, Kingdon delivers a wild assortment of frames that eventually form a beautiful mosaic. Climb up with her and gaze down upon it in wonder
– Christopher Llewellyn Reed (@ChrisReedFilm)
MTV Documentary Films; Jessica Kingdon; Ascension documentary film review