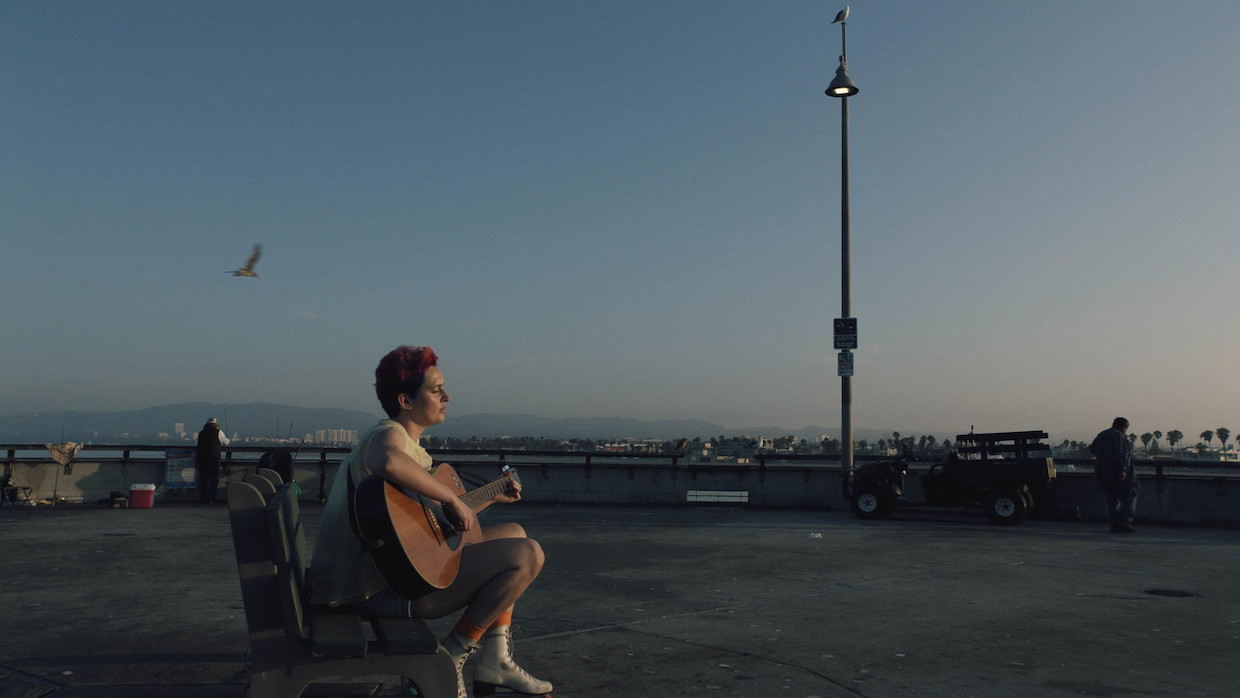 (The 2020 Sundance Film Festival runs January 23-February 2 in and around Park City Utah. Hammer to Nail has boots on the ground at the fest and guarantee more coverage thank any other site out there. Like what you see here on Hammer to Nail? Why not give just $1.00 per month via Patreon to help keep us going?)
Carlos Lopez Estrada's sophomore feature Summertime is 'lit'-er than a pound of puppies. Flashier than the bright light illuminating your selfies. Bristling with more energy than that bunny who marches to the beat of his own drum. Adapting spoken word poetry into a 95-minute cinematic journey is no easy feat, and for the most part Lopez Estrada pulls it off. One could argue that what he's done is 'cheating', by tapping into the talents of 25 diverse young performers (average age 21) and their existing rhyme schemes, but the director and his "poem coordinator" Mila Cuda deserve credit for pulling it all together so vibrantly. His last feature, Blindspotting, had its moments, but felt at times like a director-for-hire job for the two actors who wrote that script. Moving south from Oakland to Los Angeles, this project feels more personal, exciting and reflective of the colorful diversity of its young talented artists.
The self-proclaimed Slacker-inspired plot can be a bit messy at times, but who cares?! The performances are so enveloping, so funny and touching, that scrutinizing the plot-holes seems scurrilous. Despite only getting a few scenes with each character, it still felt like we got to know a handful of them on a deep level. Tyris Winter is a standout, and is destined to be a movie star. His arc from bombastic, elite-yelper agitator to a wandering and vulnerable gay son of disowning parents in his poem, 'Home,' shows a range few characters achieve in triple the screen time. Another outstanding scene takes place in a couples therapy session where the unbothered therapist encourages the heated couple to communicate through song. The therapist's book "How to Rap Battle Your Demons," gets a huge laugh while simultaneously symbolizing the thesis of the film. Marquesha Babers gets arguably the most climactic scene, eviscerating an ex-crush on his doorstep while his new girlfriend looks on in disbelief. Some of the spoken word makes you laugh, while this particular scene is sure to make you tear up.
Cinematography by John Schmidt is gorgeous, lighting up the black and brown faces with blue, purple, orange and green lights. His lighting of the skin tones is reminiscent of James Laxton's work in If Beale Street Could Talk. The camera bounds uninhibited, moving from one character to the next in a free-wheeling way that echoes the restlessness of inner-city youth. The breathless editing by Jonathan Melin also matches this feeling of restlessness. Blending multiple artforms, we're treated to a spontaneous dance number in the middle of the street—a bold choice that will rev your engine while smashing the misogyny of cat-callers.
Anyone who doesn't have fun watching this movie has no beating heart. There is so much talent on display, and the diversity of the cast is refreshingly un-forced. Yes it's different, and doesn't fit into a box, but that's what makes it so special. It will undoubtedly inspire a legion of Gen Z artists of all stripes who will embrace this film for the 25 tiny miracles that it is.
– Matthew Delman (@ItsTheRealDel)
Like what you see here on Hammer to Nail? Why not pay just $1.00 per month via Patreon to help keep us going?)