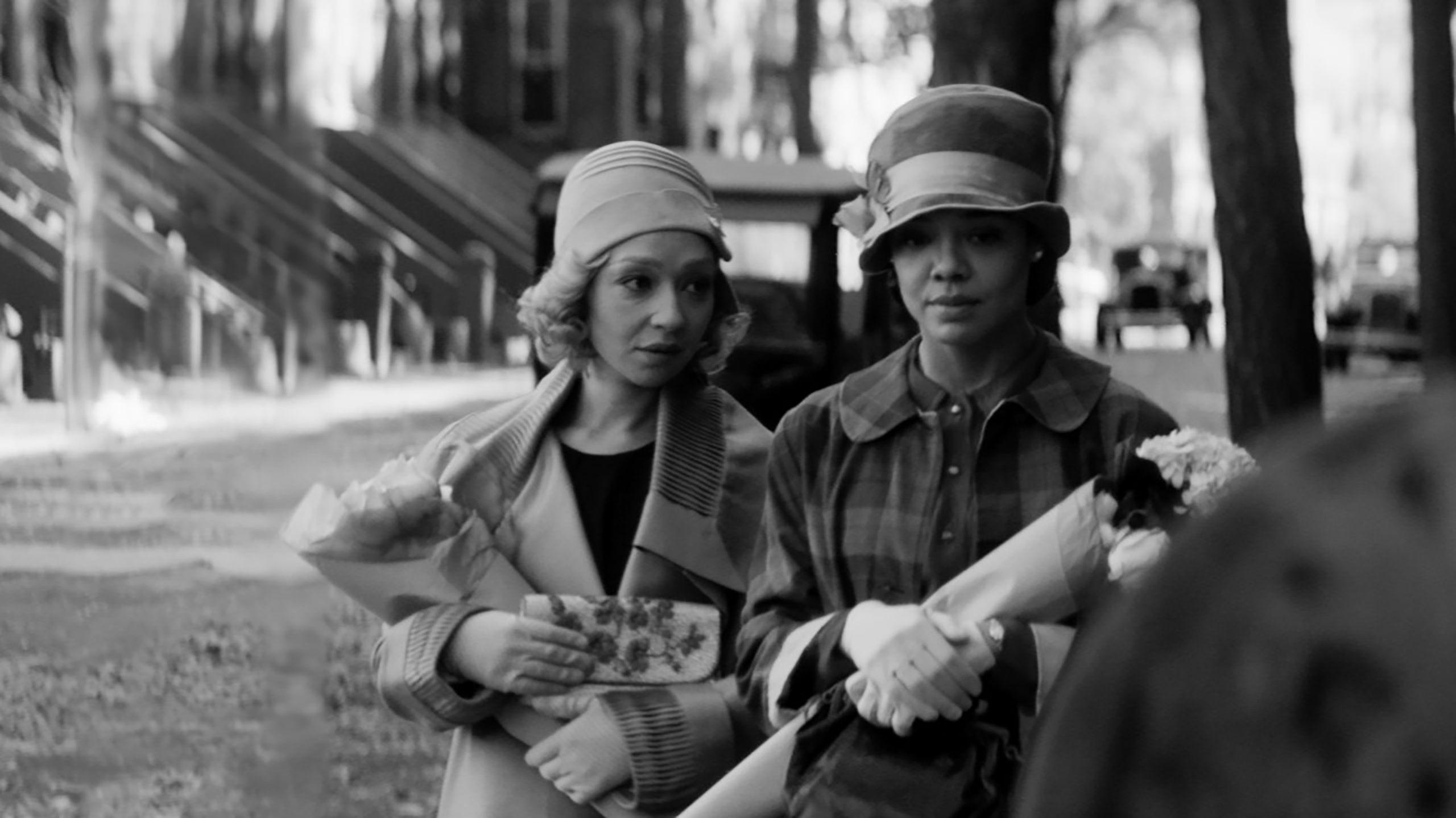 (The 2021 Sundance Film Festival runs January 28- February 3, all virtually as well as with drive-ins sprinkled around the U.S.. Hammer to Nail is bringing you a ton of coverage so, keep coming back! Like what you see here on Hammer to Nail? Why not give just $1.00 per month via Patreon to help keep us going?)
Lyrical images in soft shades of gray, composed with exacting precision, grab our attention from the start, carrying us inexorably forward towards a surprising, if inevitable, tragedy. Such is the stunning visual landscape of actress Rebecca Hall's directorial debut, Passing, an adaptation of Nella Larsen's eponymous 1929 novel of the Harlem Renaissance. Each frame is a work of studied art, the meticulous attention to detail an apt metaphor for the carefully constructed reality of the onscreen characters. Hard-fought African-American success is always a tenuous thing (witness the Tulsa massacres of 1921), made more so here by a central figure who both rejects and longs for her heritage. Beyond the racial dualities, there are those of gender, sexual identity/preference and class; everyone is "passing" for someone else, in a way. As complex a story as they come, Passing immerses the viewer in both beauty and melancholia, a catharsis for examining our fraught national history.
Tessa Thompson (Sylvie's Love) plays Irene Redfield, a well-to-do light-skinned Black woman from Harlem, in New York City, who one day decides to head downtown to see if she can pass as white, on a lark. Wearing fancy clothes and a hat, she succeeds, though once she is seated in a hotel restaurant, she is spotted by a blond-haired woman who immediately makes her way towards her. This is Clare Kendry (Ruth Negga, Loving), and it turns out they are friends from school. Unlike Irene – or 'Rene, as Clare calls her – who lives happily enough in her affluent Black community, Clare has chosen to live as white, married to a man who calls her "Nig" as an in-joke because she has gotten a little darker since their wedding. Meeting Irene, however, awakens something in her that slowly brings her back into her abandoned community.
It also sparks a flame inside Irene, whose own marriage, to Brian (André Holland, The Eddy), though affectionate, is hardly consumed by passion. She is drawn to Clare, though she rejects the pull, feeling a dangerous current of something best left suppressed. Instead, she turns her attention to the Negro League, for which she organizes soirées where well-heeled African Americans mingle with white intellectuals who feel enlightened by the association. Clare, however, won't stay away, suddenly bored by the life she has chosen, and eager to once more feel part of something organic to her, as well. Unfortunately for Irene, though she tries hard to ignore her prodigal friend, everyone else finds Clare irresistible, if a bit much (which is its own attraction). The two women are therefore set on a collision course of intersecting desire and rage that cannot end well. And it doesn't.
Despite the constant simmering of emotional torment, Hall plays it mostly cool, her film a model of restraint, everything below the surface. She allows the gentle musical score to speak on her characters' behalf, then uses elliptical transitions to plunge us into dreamlike bubbles where passions alternately wax and wane. The wages of self-denial must ultimately be paid, but until then the joy is in the deferment. Thompson and Negga fit perfectly into this mise-en-scène, their performances perfectly modulated to each moment. The truth lies in the gaze, the touch and what is never quite spoken. There is no avoiding what the heart knows. In Passing, it eventually knows all.
– Christopher Llewellyn Reed (@ChrisReedFilm)