DEMI LOVATO: DANCING WITH THE DEVIL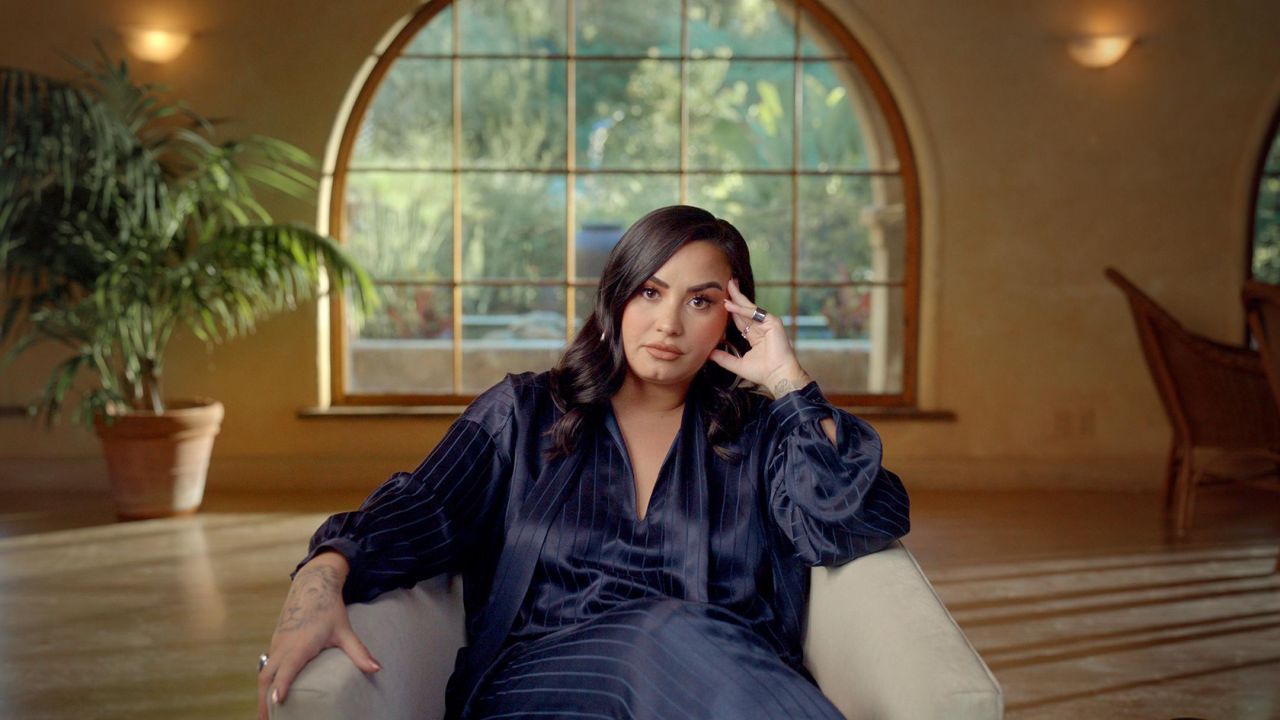 (The 2021 SXSW Film Festival kicks off March 16 and runs through the 18th, all online. Hammer to Nail has tons of coverage coming your way so stay tuned! Like what you see here on Hammer to Nail? Why not give just $1.00 per month via Patreon to help keep us going?)
Probably the most successful artist to come out of Barney and Friends, Demi Lovato burst into pop stardom with a top ten duet with Joe Jonas from Camp Rock. Yeah, I watched it the night it premiered. It was better than High School Musical and Demi was adorable. Six studio albums and 25+ million sold later, Lovato has become one of the most important artists of the pop landscape. An outspoken advocate for LGBTQ rights, she was awarded the Vanguard Award by GLAAD. She speaks out against bullying, gun violence and racial injustice and spoke at the 2016 Democratic National Convention to focus on raising awareness for mental health.
Dancing with the Devil opens with a great performance at Rock in Rio eliciting her mom's praise and the supertitle below "one month before the overdose," before admitting Demi shot an entire documentary in 2018 that will never be seen. Calling that film 'the tip of the iceberg,' Demi decided to use her overdose and the quarantine as an opportunity to reexamine herself and her story. A series of talking heads confess to the camera they don't believe she is actually doing this, and the film dives into her backstory, which includes an abusive, alcoholic father whose dead body laid unseen for a week and a half over Father's Day. It is very clear early on director Michael D. Ratner has avoided the typical pop-puff concert piece and delivered a serious film about addiction. Demi bares her soul about the pressure that exists in the industry to look a certain way, fit in certain clothing, and how she has 'lived her life in a diet.' After six years of her agency overseeing her weight, sobriety, and schedule, the star relapsed in drugs and alcohol after a photoshoot, hitting almost every drug out there in one night. "I should have died that night," she admits, and started using heroin within two weeks. Her friends keep asking the camera "are we talking about heroin, are we talking about this really?" Strangely, she wrote her heartfelt song 'Sober' in the midst of this. She kept her drug use hidden from her friends so everyone was shocked when she overdosed the night after hitting the bars.
Her overdose, retold through simple pen and ink animation and her assistant Jordan Jackson's first-person account of finding her friend 'turned blue' – she even tries to tell the paramedics to come without sirens. They refuse. And then Ratner cuts to the opening title sequence. Wow.  
Told in four parts, this is a heartbreaking docu-series, a peek inside an artist falling from the 'Skyscraper' heights of her career. Lovato has had multiple health complications due to the overdose, including multiple strokes, a Heart Attack, and brain damage. Taylor Swift opened up during Miss Americana, but nothing like this. I've never seen an artist be this honest about their own self-destruction. I mean, she was legally blind when she woke in the hospital and didn't even recognize her sister. And after we get through finding out about the addiction and overdose, the film even covers the sexual trauma of her dealer giving her fentanyl, taking advantage of her, and leaving her for dead.  
As her story plays out, and we learn more and more of all the shit he has gone through and see her journey has as much to do with the restraints put on her as the freedoms give. Even after she gets out of the hospital, she relapses. But instead of crying out 'Here We Go Again,' someone voices what they assume many fans are thinking 'How could someone like Demi Lovato not have a sense of agency?' However, it seems the Hollywood/Popstar machinery does nothing but take away choices from a star like Demi. Even the Disney 'saving it until marriage' mask is shredded as we hear of how she lost her virginity in a rape by a cast mate on Sonny with a Chance and then nothing done even after she made producers aware of it.
Demi Lovato: Dancing with the Devil is a very honest film that strips away all the protections artists usually throw up around their public image. For a film about a musician, there is very little music. But I feel like when I go back to her music it is going to mean even more to me. Growing up, I always believed pop stars were these manufactured, mindless music machines. And maybe they were. Madonna never wrote her own songs. Michael Jackson often recorded other's songs. This new age, where stars like T. and Demi (and Kelsea Ballerini and Halsey and Tov Lo and Kim Petras, Meg Myers, Hayley Kiyoko, Dua Lipa) create their own music and tell their own story is really inspiring. They are letting fans follow the 'Neon Lights' to their heart and sharing more of themselves. When they fall, their fans witness it and share in their pain. It's all in the open. And maybe when they get back up, their fans will share in that too. Heck, even T. Swift's villain Scooter Braun has a chance at redemption with this film, taking on Demi's management when she feared no one else will.
Last thing, my favorite section of the film has to be the lighter fourth part. Once we get there, after all we've gone through on screen, we feel uplifted and filled with hope for the future. Even a quarantine engagement that comes and goes in four months turns into a victory (I guess he was 'Cool for the Summer.') Demi says publicly for the first time, "I'm too queer to marry a man right now," something she's never been able to live given her Disney roots. Welcome to the family, girl, 'Give your heart a break,' we are happy to have you. Now, releasing her new album, and "embracing my new queer self," she has taken hold of her power and is ready to meet the world face on. She's 'Sorry, Not Sorry,' if her new honesty (or short hair) puts you off. She admits "I'm not going to pretend I'm invincible," and says she wants to be put to the test. Hold me to it, this film seems to say. 'This is Me.' It's brave. Demi has danced with the devil and she will not be defined by her lowest moments. 
– Bears Rebecca Fonté (@BearsFonte)