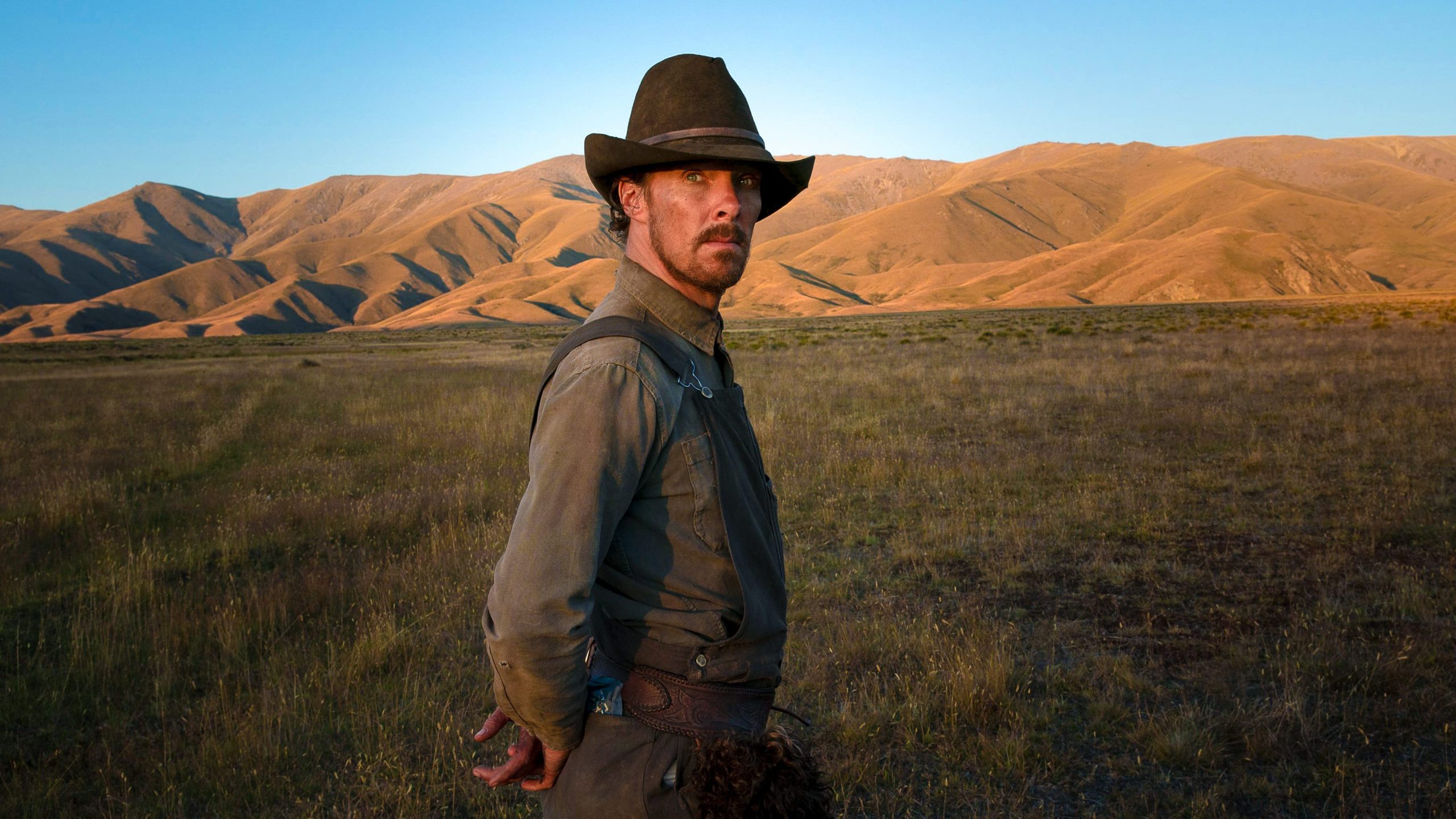 (The 2021 New York Film Festival (or NYFF) is in its 59th iteration and runs September 24-October 10. Here, Matt Delman gives a film review of The Power of the Dog, the latest film from Jane Campion. Like what you see here on Hammer to Nail? Why not give just $1.00 per month via Patreon to help keep us going?)
The dynamics of power are often at the center of cinema. Though there are few dogs in Jane Campion's The Power of the Dog, there are plenty of horses and cows, and one man who wields all the power. Or so we think. Enter Phil, played by Benedict Cumberbatch, an alpha cowboy who barks orders and loathes bath time. Cumberbatch's performance is in fact so powerful, you'll completely forget you're watching a British movie star/Avenger. He completely disappears into the role. Campion makes her triumphant return to cinema after a long hiatus — her last film Bright Star was released in 2009. Though she kept busy creating the popular television series Top of the Lake in the intervening years, it's telling that the first woman to win the Palme D'or (in 1993 for The Piano) would only now emerge with a groundbreaking new film in this cultural moment when gender parity is top of mind. Chloe Zhao's best picture win for Nomadland earlier this year was not undeserved, but Campion's film is objectively better, and it would be thrilling if a woman won twice in a row after only two wins in the history of the Academy Awards (the other being Kathryn Bigelow's The Hurt Locker). Not to say The Power of the Dog is the best film of the year, but it is certainly worthy and in the conversation.
The story takes place when the introduction of the automobile made the Wild West a little more settled. Cumberbatch's boss cowboy Phil takes an interest in young Peter, his brother's new wife's teenage son (from her widow), played by the brooding Kodi Smit-McPhee. Their relationship becomes the focus of Campion's film, based on a 1967 novel by Thomas Savage. It's not a spoiler to say that Phil has some pent-up sexual frustration. His rough and tumble ways hide the fact that he's secretly attracted to men. Perhaps he discovered his sexuality with the much-alluded-to Bronco Henry, a deceased legendary cowboy who taught Phil all he knows. Phil has built a shrine to the man and enjoys the occasional intimate moment with his leather saddle. Meanwhile his brother George (Jesse Plemons) fixes his sights on a young widower named Rose (played by real-life partner Kirsten Dunst), and they are soon married. Rose moves in, bringing her son Peter with her. At first Phil teases and torments the boy, he burns his paper flowers and makes fun of his voice. But by the later chapters, his harshness evolves into mentorship as he teaches the kid how to ride a horse and make rope. Campion focuses her camera on the intricacies of these pioneer processes, much like Kelly Reichardt did in First Cow, but here they have added weight within the themes and plotting of the story.
Another key character is the landscape, which is actually New Zealand standing in for Montana. Campion and her D.P Ari Wegner are both from there, so why not? Wegner's breathtaking cinematography is more regal than the shaky handheld style that seems to be in vogue. She captures the majesty of 'Montana' or 'Middle Earth' (depending how you look at it) with great aplomb. Mountains are phallic, or at least somewhat sexual — a French adventurer named the Montana range the 'Grand Tetons' meaning, 'large tits.' In Westerns, there is typically a focus on masculinity, or anti-masculinity such as in Clint Eastwood's Unforgiven. That film would be a better point of comparison than Nomadland. 
There is mention of Lewis and Clark, and many see Jane Campion as a trailblazer in her own right. The first woman to win the Palme D'or and the second to be nominated for Best Director, she sits atop the recent wave of female filmmakers like a mother hen. However, this story is not told from a woman's perspective, and we are given little time to empathize with Rose, the one female lead — though Thomasin McKenzie does a lot with a small role. Instead Campion focuses on Phil and Peter and the destructive bond they share. In one scene, Peter discovers Phil's secret paradise, and Phil angrily chases him out. They could never share happiness together. Though parts of The Power of the Dog plotting are predictable, the ending is a real shocker. Looking back now, the sinister surprise seems inevitable. Turns out the West is still wild after all.
– Matthew Delman (@ItsTheRealDel)
New York Film Festival; Jane Campion; The Power of the Dog review