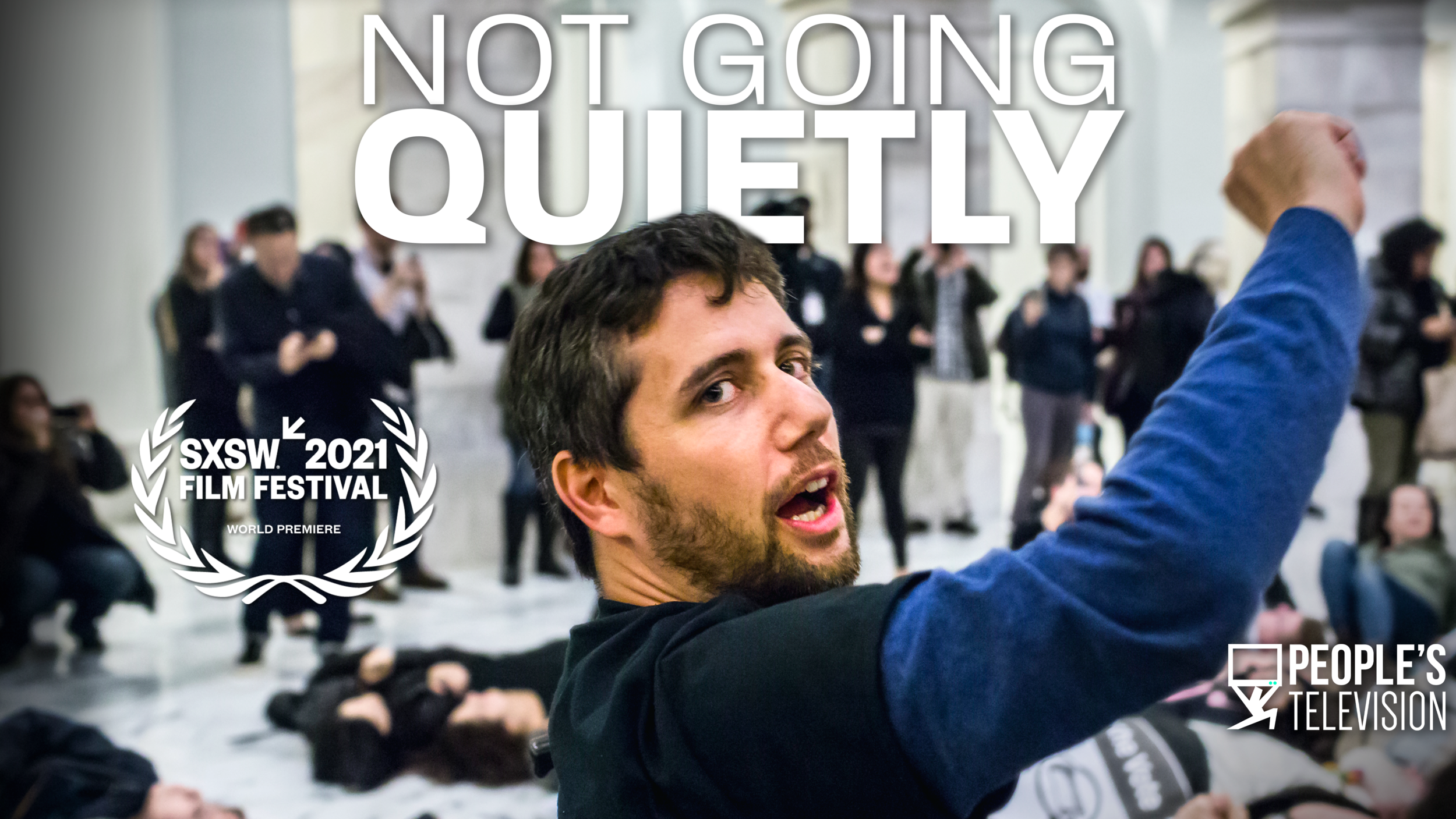 (The 2021 SXSW Film Festival kicked off March 16 and ran through the 20th, all online. Hammer to Nail has tons of coverage coming your way so stay tuned! Like what you see here on Hammer to Nail? Why not give just $1.00 per month via Patreon to help keep us going?)
A gripping, affecting tale of activism built from one's own suffering, Nicholas Bruckman's documentary Not Going Quietly chronicles the ongoing fight for health care reform in America through the eyes of its subject, lawyer and activist Ady Barkan. Shortly after the birth of his son in 2016, Barkan was given the untimely diagnosis of ALS (aka Lou Gehrig's Disease). In one of the film's opening scenes, he announces his diagnosis to a bedside camera, a moment that is a prelude to the film's emotional atmosphere. "I just want to make the best of what I have left," he confides to the viewer through tears, but with acceptance nonetheless. But instead of turning it into a sentimental mood piece, Bruckman gives us a rousing profile of both a movement and a man, who despite his personal limitations, refuses to wallow for one second in self-pity. Ady Barkan is Not Going Quietly, instead he decides to use his disease as a vessel help to fight the system.
One month after his diagnosis, at which doctors told him he had 3-4 years left to live, Donald Trump was elected president. At that point, he knew in his own words that the country was "totally fucked." His health insurance plan under the new administration claimed they couldn't pay for a breathing machine that was deemed as an "experimental" treatment, despite the fact that he would eventually need it in order to survive. And Trump's proposed tax cuts that aimed to slash Medicare and other safety-net programs didn't make things easier for him, or millions of other Americans in dire need of reliable healthcare. This is the moment where Barkan decided to hit the road and bring the fight to the system with a renewed sense of purpose.
In this documentary, Bruckman shows the lead up to Barkan's overnight viral video sensation. After an attempt to meet with congresspeople regarding their vote on healthcare, he crosses paths with Republican Arizona Senator Jeff Flake on his flight at Dulles International Airport on December 7, 2017. With the help of Liz Jaff, a progressive strategist he met on the flight, they were able to clandestinely video-record his showdown with Flake which ended up becoming a massive hit on social media. "Be a hero," Barkan told Flake in an effort to vote against the tax cut. Those three words would eventually become his rallying call as the "Be a Hero" campaign started to take flight across the nation with a growing team of supporters, including Liz Jaff who would become Barkan's right-hand person. Part of this campaign is training everyday people to "bird-dog," the tactic of confronting local elected officials at public events and forcing them into awkward policy debates as the cameras look on. This cross-country journey in an RV provides more insight into Barkan's ever-growing willpower at every turn.
We also get more than a glimpse into Barkan's family life, seeing how his relationships with his supportive wife Rachael and his sweet toddler Carl help lift his spirits and help shape his optimism. The cute moments between Barkan and his son add levity and joy to this endearing tearjerker. However, the stress and pressure of the campaign begin to accelerate his disease, which comes to light when he struggles to give a speech to a crowd of locals. It is heartbreaking to watch his mobility and speaking deteriorate, but it only pushes him more to get on the road and relentlessly campaign for progressive causes. "The weaker I get, the louder I become," he says. Even as he begins to communicate using a speech generator (what Stephen Hawking used), he chooses his words in a way we could imagine Ady Barkan saying them as his old self.
The nomination of Brett Kavanaugh to the Supreme Court gives "Be a Hero" something new to campaign against. But when news breaks of Christine Blasey Ford's sexual assault claims, Barkan takes it upon himself to step aside and turn the spotlight to fellow activist and sexual assault survivor Ana Maria Archila, whose confrontation with Senator Jeff Flake in an elevator regarding Kavanaugh's nomination also became a viral sensation. Despite Kavanaugh being appointed to the Supreme Court, the campaign later rejoices as the Democrats take control of the House of Representatives. 
The moment Barkan gets to address the House committee in 2019 regarding the Medicare for All proposal, using his eye-control speech generator, is a piercingly emotional one that instills in us a call-to-action to step up and do our part in campaigning for our own causes. In Not Going Quietly, Ady Barkan's journey as told through Nicholas Bruckman's candid filmmaking proves that our own limitations should be used as motivators – not deterrers – that drive us to put our best foot forward and make a difference wherever is needed. From the way the film frequently cuts to the faces of onlookers inspired by Barkan's words, we can tell that this fight is far from over. 
– M.J. O'Toole