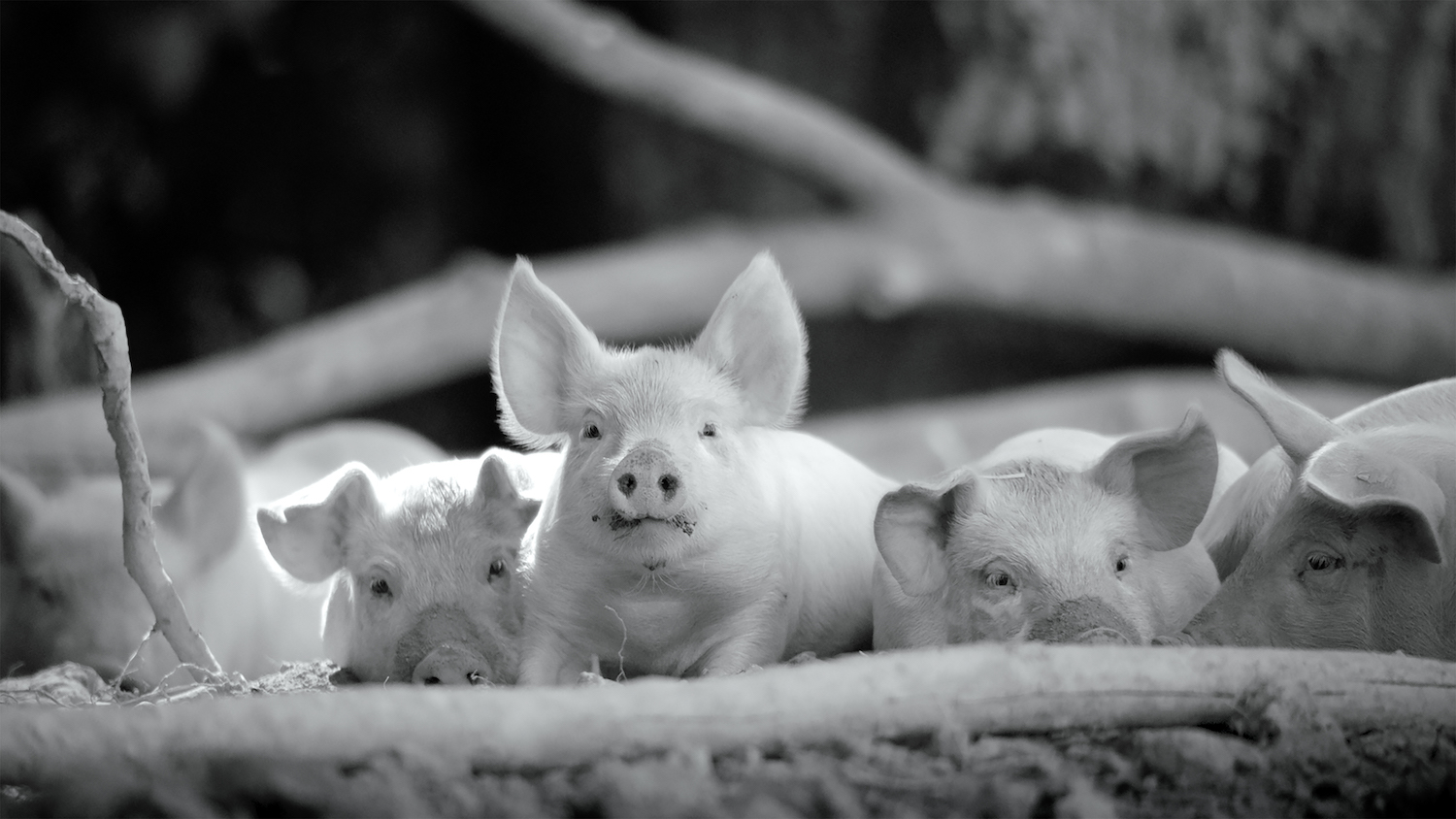 (Viktor Kossakovsky's Gunda is in theaters now via Neon. Like what you see here on Hammer to Nail? Why not give just $1.00 per month via Patreon to help keep us going?)
Gunda has just given birth when first we meet, her swollen body lying half in, half out of a doorframe. The camera pushes in for a mildly closer shot, the diegetic sounds of nature mixing with the labored breathing of our main character. Suddenly, from over her shoulder, spills one of her babies, with more to follow, each one emitting their own tiny squeal as they emerge into the outside world. 
Gunda, you see, is a farm sow, and over the course of a few months, condensed into the documentary's 90 minutes, we follow the trajectory of mother and piglets as they explore their new life together. Other animals enter the frame, among them a one-legged chicken and a herd of cows, but this is mostly Gunda's story, which is why director Viktor Kossakovsky (Aquarela) gives the movie her name. Both Gunda and its subjects are a marvel. And yet, as much as the focus is on them, it is human nature in all its casual cruelty that ultimately takes cinematic center stage. 
Gunda can be cruel, too, though not by design. Early on, we see her step on a piglet, who thereafter (if it is the same one) walks with a pronounced limp. She can't help it, as she dwarfs her progeny, who will take a long time to achieve her epic proportions, should they live that long. Despite their captive existence, the pigs appear to have fairly free reign to wander where they choose on the extensive property; this is certainly no factory farm. The same holds true for that chicken and those cows. As far as animal husbandry goes, these locations – in Norway, Spain and the United Kingdom – appear humane. In fact, we see no people at all, though their presence is reinforced by the omnipresent, if distant, structures, fences and machinery.
Until the 77th minute, when a new vehicle arrives that drastically, and dramatically, changes the narrative landscape. So intimate has been our bond with the growing piglets that it is easy to forget their entire purpose in this universe (at least cows produce milk, and chicken their eggs). Gunda's distress at the brutal change in her circumstances, on which Kossakovsky holds for what feels like an eternity, proves one of the most profoundly moving (and distressing) moments put on screen in recent memory. A mother's grief is devastating, no matter the species.
Presented in beautifully crisp black-and-white images, with its rustic locations that defy modernity, Gunda offers a lush visual throwback to 1960s Soviet films such as Andrei Tarkovsky's debut feature Ivan's Childhood. And like recent nonfiction work such as the Chilean directors Iván Osnovikoff and Bettina Perut's Los Reyes, it takes as self-evident that every living creature is deserving of respect. These pigs (and that chicken, and those cows) are all potentially more than just food for consumption. This film is for them, and for our own hopefully enlightened perspective. Watch and reconsider our relationship to what we eat.
– Christopher Llewellyn Reed (@ChrisReedFilm)