HAMMER TO NAIL'S BEST FILMS OF 2020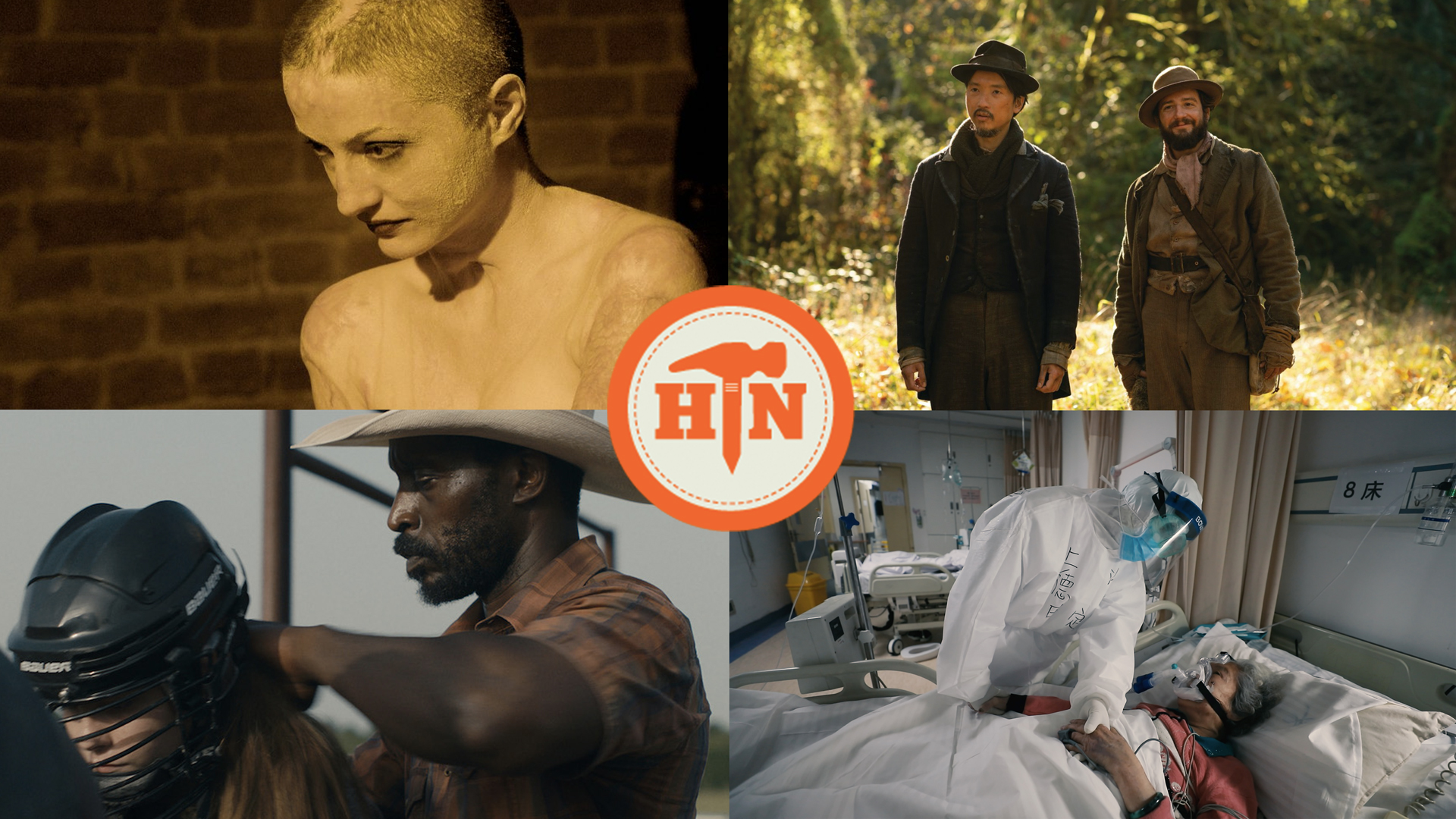 'Tis the season for year end "Best Of" lists. Here's Editor-at-Large Matt Delman's and Lead Critic Chris Reed's…
Editor-at-Large Matt Delman's Top Films of 2020
Though recently A24 has felt more like an e-commerce store than a movie studio due to its lack of new releases, they still somehow managed to bookend the year with two of the best films; Kelly Reichardt's First Cow and Lee Isaac Chung's Minari. But has anyone seen Minari outside of Sundance? In a year where traditional theatrical distributors have gone into hibernation, VOD distributors have been able to fill the void with smaller indies that, on a normal year, would not have received as much attention.
The closure of arthouse theaters in big metro areas caused A24, Searchlight, Sony, Roadside and Music Box to hold their films. Films like David Lowery's The Green Knight and Pablo Larrain's Ema will have to wait until New York and LA re-open. Some meant-to-be-theatrical films moved to streaming and found success, like Hulu's The Happiest Season and Gravitas Ventures' The Secret, their respective biggest hits to date. IFC was the first to conquer drive-ins, and the strategy paid off, at least until the cold weather hit. Saban Films released four different #1 movies on VOD in the last few months. They, alongside RLJE, Vertical Entertainment and even some shingles you've never heard of have dominated the top 50 without competition from new studio releases. Even a small, self-distributed, sci-fi thriller with no movie stars could crack the top charts—take Volition for example, which was set to release the same weekend as Tenet. When Tenet moved, people still yearned for new cerebral sci-fi, and Volition capitalized on that. Tenet did not make my best films list, maybe because I haven't risked my life to see it. (It comes out on VOD today).
Narratives:
1. First Cow (Kelly Reichardt)
2. Minari (Lee Isaac Chung)
3. Borat Subsequent Movie Film (Jason Woliner/Sasha Baron Cohen)
4. Nomadland (Chloé Zhao)
5. Straight Up (James Sweeney)
6. S#!%thouse (Cooper Raiff)
7. Bad Education (Cory Finley)
8. Martin Eden (Pietro Marcello)
9. The King of Staten Island (Judd Apatow)
10. The World of Tomorrow Part 3 (Don Hertzfeldt)
The other big winner this year was the Documentary, capital D. As much I love seeing a great doc on the big screen, they lose less value on my laptop than a narrative like Nomadland, which is exactly how I watched that film thanks to Film Linc's virtual screening room (just kidding, I air-played it). It did not have the same effect on me that I know it would have at Alice Tully Hall, though it still made my list. But what a year for docs! I had much more trouble whittling them down than the narratives.
If the average Netflix subscriber discovers Kirsten Johnson's Dick Johnson Is Dead, or the Amazon shopper stumbles upon Garrett Bradley's Time, then that is a win for the culture. Us Kids and Boys State showed us exceptional youth participating in politics. Collective and Bully. Coward. Victim showed us that corruption is not easily rooted out. The Mole Agent and The Truffle Hunters captured the beauty and humanity of old age from Chile to Italy. Feels Good Man pushed the boundaries of documentary animation. 76 Days humanized healthcare workers on the frontlines in China in a way that could affect Americans' perception. I just hope the anti-maskers are willing to give it a watch. Then maybe we could get this virus "Totally Under Control" (not on my list, too much Tr*mp). If our cherished cinemas survive, I plan on seeing films at The Metrograph, Film Forum, Angelika, IFC Center, The Quad and Lincoln Center all in one weekend. No matter what's playing. If we can just hold out a little longer, we're headed for another Roaring '20s, and cinema will once again return to its former glory.
Documentaries:
1. Collective (Alexander Nanau)
In 2020, perhaps more so than any other year, our planet was on fire. Both figuratively, and literally, as depicted in my favorite film of the year, Collective. In the aftermath of a tragic fire in a nightclub, Romania's healthcare system failed to protect and heal its citizens. Collective joins last year's Oscar-nominee The Edge of Democracy and recent Oscar-winner Icarus (2017) in the canon of great docs that expose corruption at the highest levels.
That it somehow also manages to be stunningly artful is thanks to the director Alexander Nanau, who could not have imagined what was unfolding in front of his lens. The tortuous tale follows reporters at the "Sports Gazette," a darkly comic name, as they unravel a series of unfortunate events and political malfeasance that resulted in many unavoidable deaths from bacterial infection in their hospital's burn unit. People protest, resign, are killed. Then the focus seamlessly turns to the new Minister of Health, who valiantly attempts to undo the tangled web of corruption left by his predecessor. It's all shot in a very matter-of-fact way, and moves along at a breakneck pace that will make you forget you've been reading subtitles for two hours. Director Alexander Nanau occasionally slows down to observe a young woman with severe burns and amputated hands as she models for a photo gallery and is fit with a robotic arm, like Luke Skywalker at the end of The Empire Strikes Back. Though Collective could be described as the anti-blockbuster, it's more thrilling than any narrative I saw this year.
2. The Mole Agent (Maite Alberdi)
3. Boys State (Amanda McBaine/Jesse Moss)
4. Time (Garrett Bradley)
5. The Truffle Hunters (Michael Dweck/Gregory Kershaw)
6. Dick Johnson is Dead (Kirsten Johnson)
7. Feels Good Man (Arthur Jones/Giorgio Angelini)
8. 76 Days (Hao Wu/Weixi Chen/Anonymous)
9. Bully. Coward. Victim. (Ivy Meeropol)
10. Us Kids (Kim A. Snyder)
Honorable mention: The Last Dance (docuseries), Notturno (unreleased)
*Disclaimer: My digital marketing agency, 3rd Impression, has run ads for a few of the films listed above.
---
Lead Film Critic Christopher Reed's Top Films of 2020
2020 has been a stressful year for me (as for everyone), both as a human being and film critic. I'll spare you the rocky trajectory of my personal life, but as a watcher and reviewer of media, I was somehow busier than before, with films and TV shows coming at me from every corner. My best guess as to why I have often found myself reviewing 6 or more movies/series a week (both for this site and Film Festival Today) is that now everything arrives via screening link and I have lost the ability to say no. It's all a hazy mix, and there's an illusion that since I am so frequently working from home, anyway, what's another two hours spent watching something more. Not surprisingly, it adds up.
The good news is that this places me in an excellent position to evaluate this year's offerings, as I have seen most of them (though not all, as that would simply be impossible). Given the addition of long-form series to my repertoire, both for reviews and pleasure, I want to give a shout-out to the many high-quality serialized dramas I have had the privilege to watch, on all kinds of services. If you haven't yet seen HBO's Watchmen or Lovecraft Country, what are you waiting for? Netflix's Never Have I Ever is also delightful. And then there is Steve McQueen's five-parter Small Axe on Amazon (is it a series or a series of movies?) Who needs to leave the house when we can virtually travel through time and space in such vivid ways?
I am happy to report that 8 out of the 10 narratives I selected are directed by women (and many of the docs are, too). This was not a conscious decision; it just happened, and is a testament to the increasing number of talented female directors telling stories today. Films like Bull, Cuties and Never Rarely Sometimes Always focus on young women in crisis. Farewell Amor, Kajillionaire, Miss Juneteenth, Sorry We Missed You and The Truth take a look at families going through similarly rough times. First Cow offers a lyrical examination of tender male friendship and Nomadland explores challenges facing older working-class Americans. All manage to mix comedy and pathos in profoundly moving ways. Overall, then, it was a superb year for the moving image.
Narratives (in alphabetical order):
• Bull (Annie Silverstein)
• Cuties (Maïmouna Doucouré)
In case you missed it – and really, we all had better things to do this year than pay attention to manufactured outrage – director Maïmouna Doucouré's powerful profile of tween immigrant girls in France navigating the fraught landscape of a sexualized culture received some fairly massive pushback from QAnon-inspired trolls. Yours truly was mildly harassed for my positive review, as were other critics. This harassment was nothing compared to the death threats received by Doucouré. Netflix's tone-deaf marketing campaign is partly to blame, featuring provocative images from the girls' dance routines. "Cuties," or "Mignnonnes," is the name they give their troupe. Here's what you need to know about Cuties: it is grounded in the world we actually live in, turning a critical lens on the way children are so often bombarded with sex that they assume provocative poses after watching YouTube videos or Tik Toks. It is also a profoundly feminist work, lending the protagonists the agency to learn from their mistakes and move on to better ways of being. To those who are so mired in loony conspiracy theories that you can't view the work except through the warped prism of your madness, I say to you: you don't deserve it.
• Farewell Amor (Ekwa Msangi)
• First Cow (Kelly Reichardt)
• Kajillionaire (Miranda July)
• Miss Juneteenth (Channing Godfrey Peoples)
• Never Rarely Sometimes Always (Eliza Hittman)
• Nomadland (Chloé Zhao)
• Sorry We Missed You (Ken Loach)
• The Truth (Hirokazu Kore-eda)
Speaking of documentaries, I agree with my colleague Matt Delman that they have been quite strong in 2020. My selections include politically charged stories like Boys State, Capital in the Twenty-First Century, Collective, Mayor and A Thousand Cuts (which are all so much more than merely political), biopics such as Jimmy Carter: Rock & Roll President and John Lewis: Good Trouble (also political), a lesson in taking the pandemic seriously in 76 Days, a feel-good inspirational saga like Crip Camp and an eerie meditation on the meaning of life, Space Dogs.
Documentaries (in alphabetical order):
• Boys State (Amanda McBaine/Jesse Moss)
• Capital in the Twenty-First Century (Justin Pemberton)
A rollicking journey through the history of capitalist exploitation of the working and middle classes, along with the rise and fall of safeguards against such exploitation by the financial elite, Capital in the Twenty-First Century takes a potentially dry academic discourse and turns it into a vibrant, cinematic experience. Filling the screen with buoyant montages, split screens, time-lapses and fascinating graphics, director Justin Pemberton takes a profoundly depressing topic and turns it into a deceptively good time. At least we can all march towards the apocalypse pretending to enjoy ourselves. The central thesis is thus: while the middle of the 20th century saw a rash of policies, in America and elsewhere, that redistributed capital from the top to the middle and bottom, creating more equitable societies, the first two decades of the new millennium have seen the opposite trend. Increasingly, social mobility – what we in the United States tout as "the American dream" – is but a fantasy, our position in the world determined at birth and passed down to our progeny. Money once again flows up, and rarely down. Welcome to our present-day dystopia.
• Collective (Alexander Nanau)
• Crip Camp (James Lebrecht/Nicole Newnham)
• Jimmy Carter: Rock & Roll President (Mary Wharton)
• John Lewis: Good Trouble (Dawn Porter)
• Mayor (David Osit)
• 76 Days (Hao Wu/Weixi Chen/Anonymous)
• Space Dogs (Elsa Kremser/Levin Peter)
• A Thousand Cuts (Ramona S. Diaz)