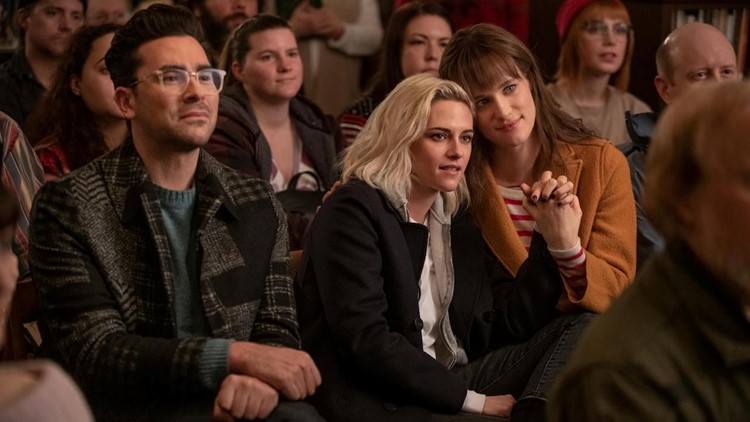 (Clea Duvall's sophomore feature Happiest Season hit on Hulu on November 25th, 2020. Like what you see here on Hammer to Nail? Why not pay just $1.00 per month via Patreon to help keep us going?)
Talented multi-hyphenate Clea DuVall (The Intervention) has achieved nothing short of a miracle with her sophomore feature, Happiest Season. She has made me love a Christmas movie. If you know me, you understand just how grand a feat this is. I have literally said "Bah, Humbug" out loud on more than one occasion. I'm not a full-on Grinch, mind you. Because I have kids, I've had to find things to love about the holidays. But you'll never catch me watching a Hallmark holiday movie marathon. I think A Christmas Story and It's A Wonderful Life are outdated and overrated. I'd rather roast my own chestnuts than watch Love, Actually or A Christmas Prince. On the other hand, if you told me someone was playing a marathon of Clea DuVall's queer holiday rom-com, Happiest Season, I would be there with bells on.
Happiest Season follows Abby (Kristen Stewart, Personal Shopper) and Harper (Mackenzie Davis, Tully), a fun, co-habitating couple who are nevertheless fresh enough in their relationship that they have unspoken plans to spend the looming holidays apart. Abby's parents died when she was 19 and she's pretty much ignored Christmas ever since. Harper's parents live in an idyllic town 50 miles outside Pittsburg where her conservative family celebrates the holidays in a major way. In the heat of a romantic moment, Harper invites Abby to come home with her, only to backpedal the next morning. But Abby remains so moved by the invitation that she insists on following through.
It's not until they're well en route that Harper explains her trepidation. She kinda, sorta still hasn't come out to her family and they think Abby is her lonely (and straight) roommate. Also, this trip isn't the best time to tell them the truth because her dad (Victor Garber, Argo) has planned a big, media-heavy, celebration in order to woo a conservative investor (Ana Gasteyer) for his mayoral campaign. Abby is shockingly chill about this bombshell, despite having packed an engagement ring in her bag. She agrees to go back in the closet for Harper's sake. After all, it's only 5 days.
If you've ever seen a rom-com, you know that when a character utters the line, "how bad can it be?" hijinks are in the post.
It doesn't help that forgetting to disclose pertinent information to the people she loves is apparently Harper's M.O. It would have been very helpful for Abby to know that Harper is fiercely competitive with her older sister, Sloane (Allison Brie, TVs Sleeping with Other People). It also would have been cool to prepare Abby for Harper's passive-aggressive control freak mother, Tipper (Mary Steenburgen, Step Brothers). It'd come in handy to know that the youngest sister (Veep's Mary Holland) is an attention-starved doormat. Poor Abby is getting a crash course in her girlfriend's family from the cold, fly-on-the-wall perspective of a platonic roommate.
It's one thing to not to be ready to come out. It's another to drag someone back in against their will just because they love you. Abby's bestie, John (Dan Levy, TVs Schitt's Creek), is quick to point this out. But Abby doesn't listen because she's blinded by her love for Harper and because Harper promises that she will make things right after Christmas. Abby starts to have second thoughts when she sees just how far Harper is willing to go with the deception. Harper barely protests when her parents invite her high school boyfriend to dinner in an obvious attempt to "re-kindle the flame". Abby gets to talking with Harper's first girlfriend (Aubrey Plaza, killing it as usual) and discovers that Harper has a history of hurting people she loves in order to stay closeted. Is this charade really just for her father's campaign, or is Harper actually in full-on denial about her true identity?
DuVall peppers her cast with bold flavors from seasoned character actors Steenburgen and Garber, the always dynamic Brie and Plaza, and cameos from PNW Drag legends Jinkx Monsoon and BenDeLaCreme. Levy is at home as the film's moral center, flawlessly firing off his loaded quips with a marksman's accuracy. As always, Davis fully excavates her character, helping the viewer to see what Abby sees. But this is really Stewart's move. She's a bouncing ball of effortless cuteness and affability. When Abby is in pain, you want to kill for her.
DuVall shares screenwriting credit with fellow Veep alum, Mary Holland. The script is sharp as a tack, and chock full of quotable lines. It occasionally dips into screwball territory, but never in an unbelievable way. Some families really are a little nuts. Especially, this time of year.
But it also comes from a place of painful truth. In interviews, DuVall has said that she has intimate experience being the "single friend" at a family function. We all hide things from our family for convenience, and to avoid confrontation, but at what point is that holding us back? And what if we aren't giving those we love enough credit to love us back? It's amazing that DuVall and Holland are able to make such an awkward and painful experience this hysterical.
My favorite thing about Happiest Season (and there is SO much to love) is that, while it's not exactly cynical, it's not pro-Christmas either. It doesn't try to paint the holiday as a magical cure all for winter strife. No one learns the "true meaning" of the holiday or is "moved by the spirit" or any of that trifle. Rather, it seems to address the inevitability of it all. Christmas comes whether you want it to or not. Even if you don't celebrate it, it will arrive nonethless. You may as well try to enjoy it. DuVall and Holland don't try to convince anyone that the so-called "Happiest Season" is anything other than an obligation we must all endure. We can have fun on Christmas but it's always better when it's over.
– Jessica Baxter (@tehBaxter)