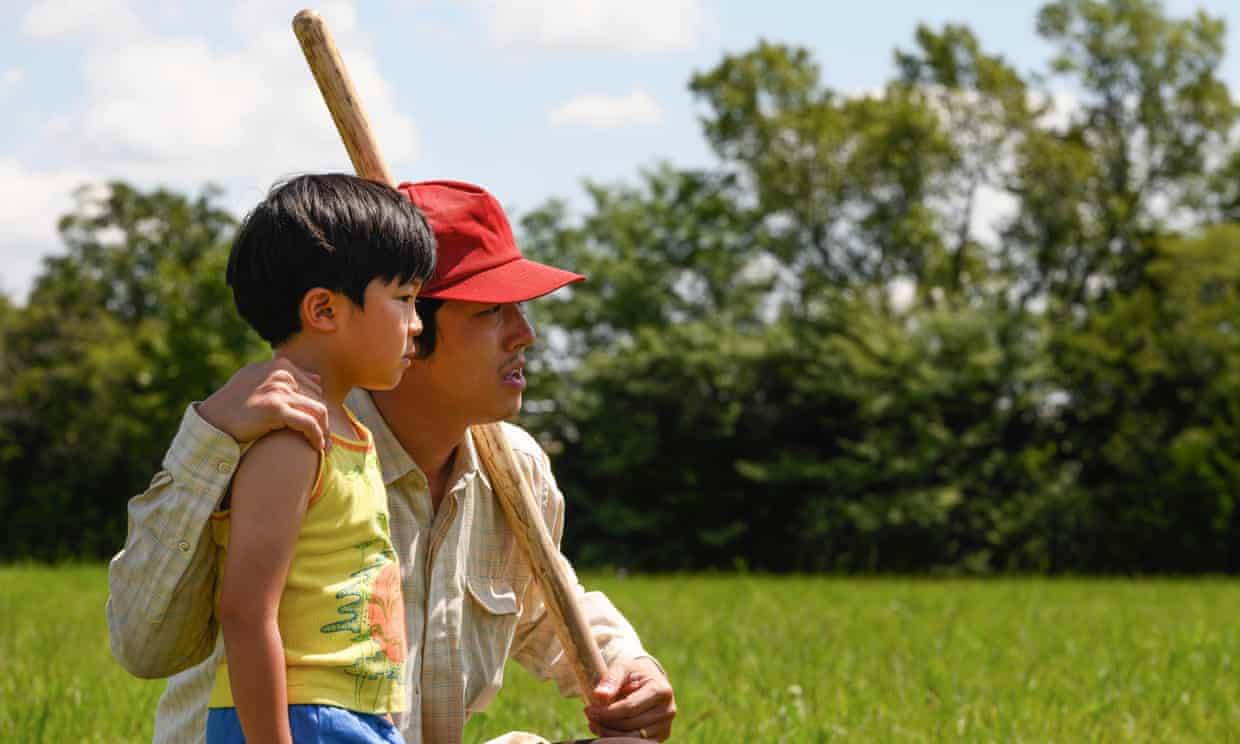 (The 2020 Sundance Film Festival runs January 23-February 2 in and around Park City Utah. Hammer to Nail has boots on the ground at the fest and guarantee more coverage thank any other site out there. Like what you see here on Hammer to Nail? Why not give just $1.00 per month via Patreon to help keep us going?)
With his fourth feature, Lee Isaac Chung turns to his own story of his Korean family growing up in rural Arkansas with the beautiful Minari. Winner of the audience award and Grand Jury Prize – Dramatic at Sundance, the family drama is a universal story of immigration, Southern poverty and finding your path in a new world. Chung tells the story of when he was 6 years old and his grandmother came from Korea to live with them while his dad tried to make the American dream come true.
The parents, Jacob and Monica, played by Steven Yeun (Okja) and Han Yeri (Worst Woman) are chicken sexers (people who sort the genders of the chicks) at a poultry plant, transferred from California to Arkansas. The two are making ends meet with the job as Jacob builds his dream to raise vegetables, Korean-style, on a farm. Jacob meets Paul (Will Patton) who is also an outsider as a religious zealot in town and the two work to build up his dream. But upon arriving at the trailer held up by bricks in the middle of an empty field, Monica is extremely disappointed with what awaits them. This in turn damages their relationship and she must make a choice to leave or buy into his dream.
But working so hard makes it difficult with the two children, David (newcomer Alan S. Kim) and Anna (newcomer Noel Cho) so Monica's mother joins them to babysit. Yuh Jung Youn stars as the grandmother Soonja and quickly steals the show with her chemistry with grandson David. While both Kim and Cho turn in standout performance's, it is Kim's personality that rocked Sundance from the Q&As and red carpet to his endearing performance on screen. He and Youn steal every scene of the movie that they are in. Chung deftly switches between the perspective of his 6-year-old self and his parents as they battle their identity and their marriage in this rocky new home.
Soonja and David plant minari along the river near the farm hence the title of the film. A water celery plant used on many Korean dishes, Soonja states that the plant is hearty and will adjust to where it is planted, a beautiful metaphor for their family as they adjust to the South. Due to strong ties from South Korea, the period between 1950 and 1964 was a large boon of South Korean immigrants to the US, many who ended up mostly on the West Coast, where this family starts before going to Arkansas in the 1970s.
Chung makes the film accessible to anyone who has ever felt like an outsider where they are. Whether from a move to a new place to adjusting to new people in your life, the film captures the essence of how life throws surprises at us and how we learn to adapt.
A special point is the perfect costume work from Susanna Song for a first generation Korean family living in Arkansas. Art direction also creates a unique Southern world from the chicken factory to the trailer the family makes their domain. The sensitivity with which Chung tells his story is a great example of how to share your own story while making it universal and accessible to a wide audience. There is a reason both audiences and the jury responded to the film. Now it is up to A24 to make sure they share this special film with a larger audience.
Like what you see here on Hammer to Nail? Why not pay just $1.00 per month via Patreon to help keep us going?
– Melanie Addington (@MelAddington)
Guest writer, Executive Director, Oxford Film Festival