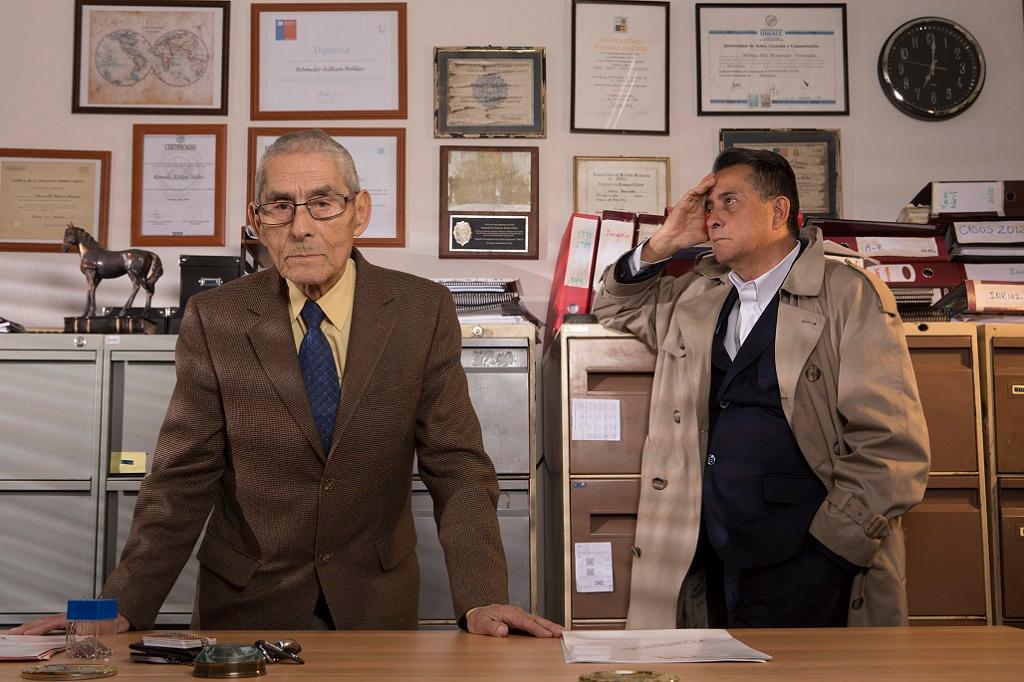 (The 2020 Sundance Film Festival runs January 23-February 2 in and around Park City Utah. Hammer to Nail has boots on the ground at the fest and guarantee more coverage than any other site out there. Like what you see here on Hammer to Nail? Why not give just $1.00 per month via Patreon to help keep us going?)
The Mole Agent has an amusingly simple premise: a detective agency puts a classified ad in the newspaper looking for an elderly man they can train to become a spy and implant him in an assisted-living home. Director Maite Alberdi (The Grown-Ups) is there to document this social experiment from the very beginning. Somehow, she gets all the residents in the home to allow her to film — the camera crew arrives a few weeks before our spy so as not to blow his cover. Such unrestricted access would not fly in the United States, but in Chile the regulations are lax and the old folks are indifferent to her camera. But the (mostly women) residents are anything but indifferent to Sergio, the handsome 83 year-old man chosen for the elderly espionage mission. The film is full of humor, loneliness and grief, but what makes it so special is the close bonds formed between Sergio and his new friends. The Mole Agent is ultimately a heartening testament to new friendship at any age.
After winning the job over a handful of other equally unqualified octogenarians, Sergio is briefed by his new boss Romulo on his 'target': an old lady whose daughter suspects she is being poorly treated and stolen from. First he must learn how to FaceTime with his boss, and his technological fumblings offer some big laughs. He wears glasses with a hidden camera, before breaking them. But despite his lack of 'prudence,' as Romulo puts it, the old ladies and the staff don't suspect a thing. Several of the residents flirt with Sergio, and later at an anniversary party he is crowned 'King' and they take turns dancing with him. He gets to ride with the 'Queen' around town in a parade. One ardent resident even wants to marry him. Sergio must turn her down, citing the loss of his wife 4 months ago. He's still grieving. But his widow status is what made him the most appealing candidate to Romulo and the client. Sergio has no one to attend to at home, no one who would potentially blow his cover. His selflessness in offering companionship to these lonely women makes him a compelling protagonist.
The platonic plotlines are often couched in a film noir sensibility. One friend is accused of stealing a necklace. A charmingly lo-fi sound effect is used whenever Sergio turns on his hidden camera. The spy-cam footage interspersed throughout reminds us that Sergio is working undercover. Romulo's continuous texts and phone calls attempt to keep him focused on the task at hand, but Sergio must remind Romulo that he has a life too. Even after the camera crew goes home each night, the Mole remains implanted for 24 hours a day, months on end.
To Sergio, it is more than a game, more than a job. He took on this challenge to distract him from his grieving process, but along with that it has given him new purpose and re-energized his life. The film is not about what he discovers, or who is the perpetrator. Some questions are answered, but others breed more questions. It's refreshing and reassuring to see a documentary where nobody is the villain. Alberdi's humanist tale is covertly moving, and will leave your soul more stirred than grandma's Borscht.
– Matthew Delman (@ItsTheRealDel)