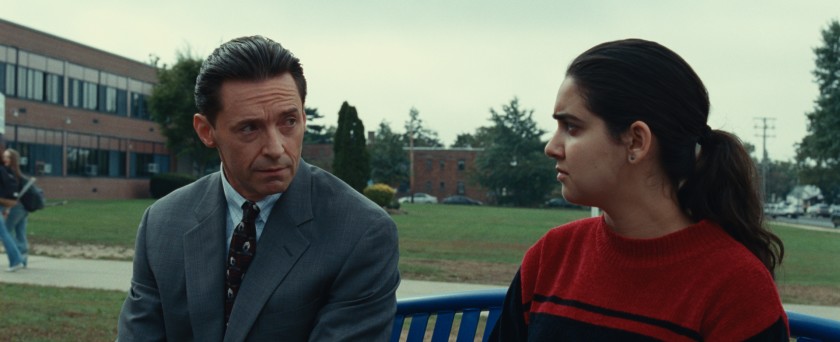 Editor's note: BAD EDUCATION is now streaming on HBO. Below is our review from its World Premiere at the 2019 Toronto Film Festival where it was acquired for $20M, the biggest sale for the festival to date.
(The 2019 Toronto International Film Festival, or "TIFF"  runs September 5-15. Hammer to Nail has boots on the ground with Matt Delman and Chris Reed covering so keep your browser pointed here! Like what you see here on Hammer to Nail? Why not pay just $1.00 per month via Patreon to help keep us going?)
Director Cory Finley (Thoroughbreds) graduates from students to faculty with his latest takedown of academic privilege, Bad Education. This true story of public school administration embezzlement is told with aplomb — and without assigning a letter grade, it's safe to say the film hits its marks. Finley's well-paced, taut drama may not carry the same significance of Spotlight or All The President's Men, but from the characters' points of view the world is on fire and so the tension is palpable in almost every scene. The notable cast does a swell job with Finley's script, especially Hugh Jackman (The Greatest Showman) in the lead role of Frank Tassone, the Superintendent, and Allison Janney (I, Tonya), as Pam Gluckin the budget director. The story's hero is a green high school newspaper writer named Rachel, played by Geraldine Viswanathan (Blockers), and although journalism is a key plot point, the main takeaway here is ignorance. Ignorance of the staff to let such a scandal go unchecked, ignorance of the nephew (a clueless Jimmy Tatro) who blew the cover, and ignorance of everyone to see behind the perfectly manicured veneer of the man in charge.
Frank Tissone is the type of Superintendent who makes an effort to learn every student's name. He's wonderful with kids, parents, teachers, and even the real estate agents whose house values depend on the scores of the school district. We discover he's still in the closet when he, by chance, reunites with an old student (Rafael Casal) in Las Vegas and they hookup. Turns out he has many secrets. Finley knows how to show instead of tell, and a scene where Jackman covers up his plastic surgery incisions with foundation is a savvy metaphor for his entire career. Rachel is hot on his trail, and after Frank initially encourages her to turn her puff-piece into something more substantial, he comes to regret that advice when her investigation turns up some 'dubious expenses.' He threatens her in a restrained showdown seething with desperation.
Finley's story has a great sense of place. The Long Island-ness of the whole thing gives the film flavor. The cinematography is adequate, for a film shot mainly in the doldrums of a high school, though recent projects like HBO's Euphoria prove that an academic setting can indeed be made to look interesting. What the film lacks in stylistic panache, it makes up for with terrific dialogue. A scene where Frank delivers a sermon to a 6th grader and his neurotic mother about how to spell the word 'accelerate' is a highlight.
Bad Education boils down to a detective story of who knew what, when. Stealing millions of dollars from public schools is an immoral thing to do, even if nobody dies from it, and so perhaps the story should be given the same weight as Watergate. But it's unclear who the victim is in all of this. The school is one of the best in the nation, the students seem happy and everyone in the film is extremely likable. Frank is a fascinating anti-hero, and Jackman's performance may be one of this year's best.
– Matthew Delman (@ItsTheRealDel)
Like what you see here on Hammer to Nail? Why not pay just $1.00 per month via Patreon to help keep us going?