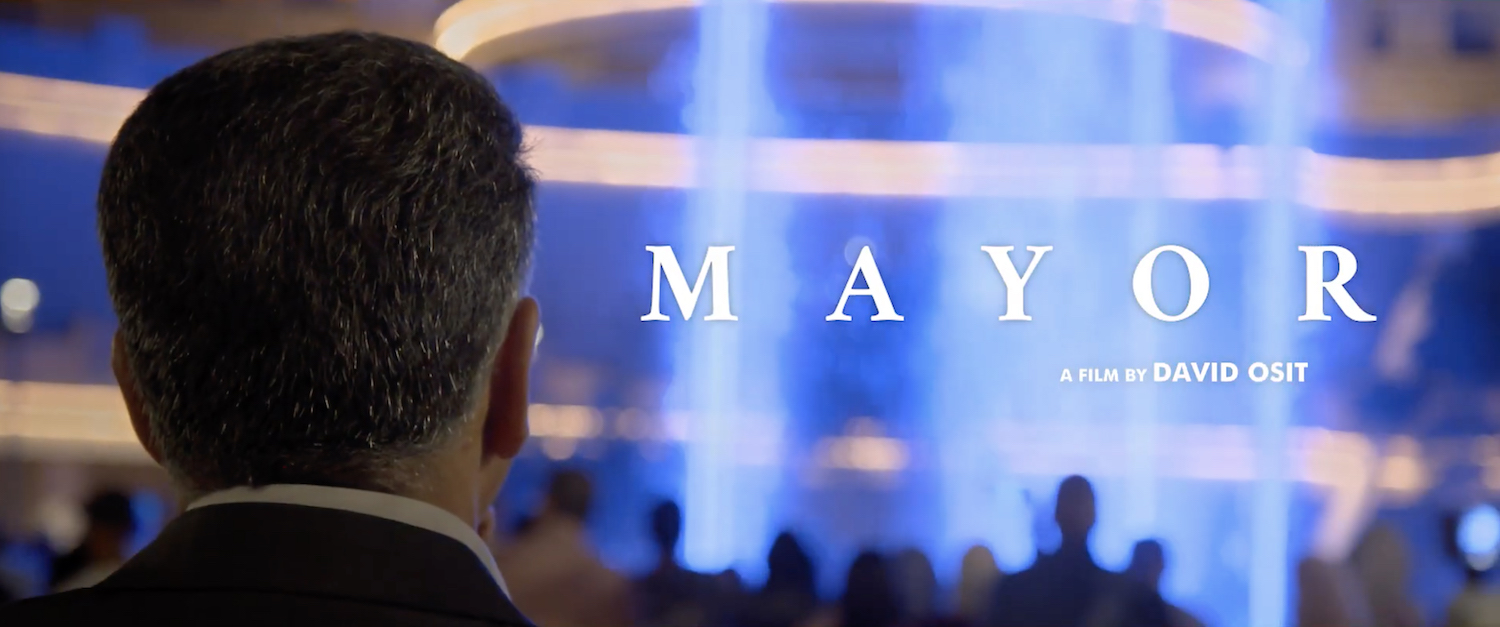 (David Osit's darkly comic documentary Mayor is in virtual cinemas starting December 2, 2020. Like what you see here on Hammer to Nail? Why not give just $1.00 per month via Patreon to help keep us going?)
The modern world is full of hot zones, simmering with seemingly never-ending conflict, most of them riven by ethnic and religious strife. None appear to affect the geopolitical climate as much as the Israeli-Palestinian mess, a result of the British love of drawing inconvenient lines on maps and years of intractable behavior on both sides of the fraught equation. Nevertheless, where power sits so lies the greater responsibility, and the current Israeli government has embraced ever-more-restrictive policies towards their disenfranchised Palestinian neighbors in Gaza and the West Bank that hardly engender cooperation. They have their legitimate fears of terrorism, but do unto others as you would have done to you, and here we are: the morass of despair grows larger, even as the habitable territory reserved for Palestinians grows smaller, encircled by increasing numbers of Jewish settlements.
Not all is bleak, and there are certainly politicians who resist the urge to incite violence. In Mayor, the new documentary from David Osit (Thank You for Playing), we meet Musa Hadid, the popular mayor of Ramallah, a city in the West Bank located about 10 kilometers from Jerusalem. He is like many successful municipal leaders: affable, organized, and more than willing to get his hands dirty when needed. Unfortunately, unlike many in similar positions around the globe, those hands of his hands are quite often tied, with all decisions, even the most basic ones, requiring Israeli approval. Most mayors do not also have roving armies in the surrounding hillsides, setting off explosions and shooting at protesters (to be fair, they do so when rocks and other projectiles are thrown). He and the city council do what they can to keep things running, but the obstacles loom large. And with the Trump administration's recent decision to officially recognize Jerusalem as Israel's capital and move the American embassy there, Mayor Hadid's shackled, smudged hands (metaphorically speaking, as he is meticulous in his presentation of self) can only do so much to keep the peace.
We follow Hadid, intimately embedded via Osit's camera (the director doubling as cinematographer), as he goes about such ordinary tasks as planning seasonal Christmas celebrations (he, like some of his constituents, is Christian) while also managing the rising discontent of the locals and attendant military pushback. At one point, a beautiful new central square, complete with a fountain that has occupied much of Hadid's attention, becomes the focus of a standoff between the army and activists, with journalists on the side. When the soldiers finally retreat, the heavy items thrown at their retreating backs damage the fountain. Such is life in Ramallah: never dull, but also never safe. And also full of vibrant joie de vivre and good humor, as we so frequently see.
Given the nature of the profile, we only ever perceive the one perspective. Still, Musa Hadid, though a proud Palestinian, and more than willing to speak up against what he sees as unjust treatment by the occupiers, is no rabble-rouser. He wants what is best for his city and for his people, whether that entails planning for a fleet of Santa Clauses rappelling down the sides of buildings (one of the funnier moments in the film), fixing an overflowing sewage system, meeting with England's Prince William during an official visit or helping a man overcome by tear gas. All the while, he is also a devoted husband and father, somehow finding time for his family, as well. In a universe where he and his people lack the agency to resolve problems both mundane and existential, he is a symbol of compassion and technocratic efficiency. No wonder he is so admired.
Osit is not out to tear down the Israeli state; he is here to make an observational documentary that humanizes a population all too often dehumanized. In Musa Hadid, he has found the ideal protagonist, and hangs his cinematic ambitions on his very capable shoulders. This is how a leader should behave. Watch and learn.
– Christopher Llewellyn Reed (@ChrisReedFilm)