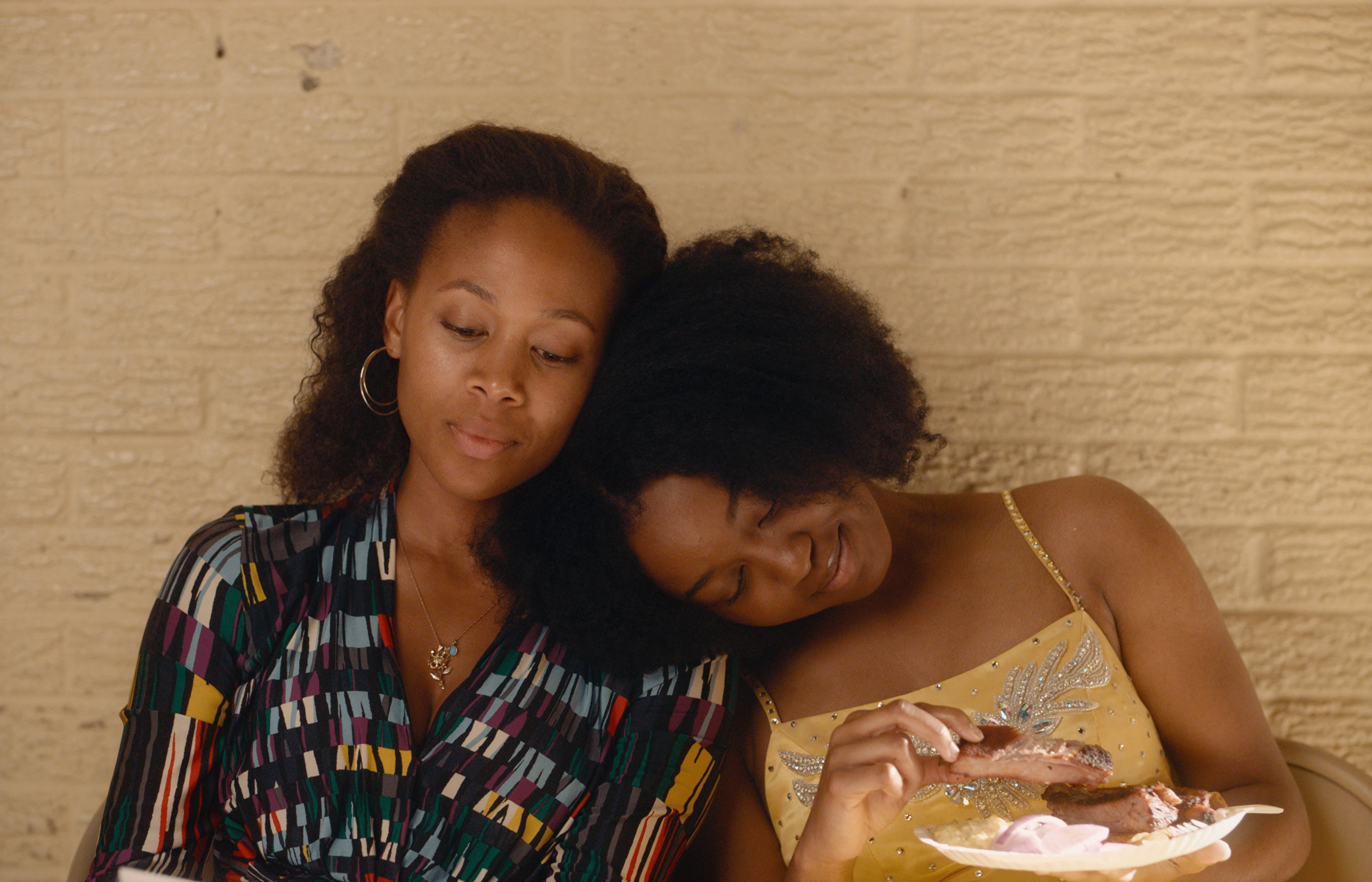 (Channing Godfrey Peoples' feature debut Miss Juneteenth, arrives on VOD on Juneteenth, Friday June 19. Like what you see here on Hammer to Nail? Why not give just $1.00 per month via Patreon to help keep us going?)
Turquoise Jones once seemed bound for glory, her ticket out of working-class obscurity guaranteed by a win at the annual "Miss Juneteenth" beauty pageant in Fort Worth, Texas. As we learn in the course of Channing Godfrey Peoples' marvelous, eponymous film, the young women who receive the crown usually go on to great things, either through their own hard work or at least through advantageous marriage. Not so for poor Turquoise, who is a bit of a fallen icon, now in her thirties and nothing more than the manager (and cleaner and Jill of all trades) at a local watering hole. Such is the beauty of the nuanced script (blissfully devoid of excess exposition) that we're never told exactly what happened, but it's clear she came from a dysfunctional home, fell in love with the wrong guy (though not an overly bad fellow) and had a child while still young, none of which helps one break free from poverty. Now here she is, still proud but a little broken, pouring her hopes into her own teenage daughter, Kai. Perhaps she, too, can become Miss Juneteenth, and this time reap the benefits.
For those who do not already know or who have not been paying attention in recent weeks, Juneteenth – a conflation of June 19th) – marks the day in 1865 when federal troops finally freed the slaves in Texas, over two years after President Lincoln had done so via his Emancipation Proclamation. As such, it has come to represent an important milestone in African American history, so much so that there are now calls to make the day a national holiday, given the turmoil over the killing of George Floyd and other black Americans. Even the current occupant of the White House, hardly sensitive to racial issues, finally agreed to move a scheduled rally this month from June 19 to June 20, especially since the location of that rally – Tulsa, Oklahoma – was once the site of a horrific massacre of black residents. All of that background is by way of emphasizing the significance of the date, which informs the subtext of Peoples' movie, even if never overtly addressed.
Nicole Beharie (Monsters and Men) plays Turquoise as a woman who bears the burden of what everyone around her sees as failure but holds her head up as best she can, fierce in her determination to do right by her girl. When she brings Kai to sign up for the pageant, she must endure the passive-aggressive slights of the organizers, some of whom are past contestants who can barely withhold their contempt. Kai, herself, played by first-timer Alexis Chikaeze, wants nothing to do with it all, much more interested in dancing and boys, the latter obsession making Turquoise very nervous, no doubt worried that Kai might follow in her own footsteps. Kai's father, Ronnie (Kendrick Sampson, Ghosting: The Spirit of Christmas), stops by upon occasion, still married to Turquoise even if they don't live together, clearly seeing what his wife cannot, that winning Miss Juneteenth is the last thing Kai needs. Still, Turquoise soldiers on, blinders firmly attached, focused on the vicarious victory.
The wonder of the film is in the richness of its detail and characters, presenting a vision of black Texas life not usually shown on screen. Though Peoples here makes her feature directorial debut (following previous shorts), she maintains a sure hand at the helm, gently exploring the fear and rage that undergirds so much of Turquoise's near manic obsession, and by extension draws parallels to the larger black experience in this country. As Turquoise's boss laments, regarding the decision of another black entrepreneur to take out a bank loan, there is no American dream for black folks, and they should never accept money from white folks. Own your own business, and you're good. Otherwise, you run the risk of losing it all. Embedded in that nugget of wisdom is a potential way out for Turquoise, if she can but see it.
Skillfully moving her narrative forward with expert mise-en-scène, Peoples delivers both a moving story of mother-daughter reconciliation (doubled by the inclusion of Turquoise's own mother, as well) and a scathing rebuke to the notion that there is only one way to make a life (especially if you're black). Taking her time, she leads us forward to a surprising conclusion, not what we thought we wanted but what we, along with Turquoise and Kai, truly need. This Juneteenth 2020, be sure to watch Miss Juneteenth, both because black lives matter and it's a superb cinematic exploration of that irrefutable fact.
– Christopher Llewellyn Reed (@ChrisReedFilm)