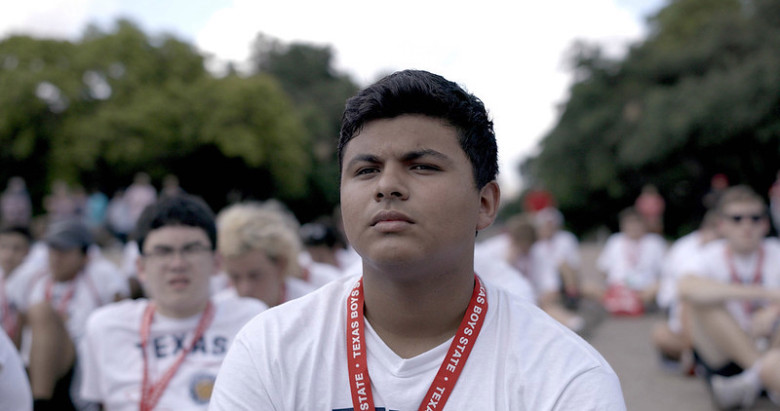 Update: BOYS STATE is now available to stream on AppleTV.
(The 2020 Sundance Film Festival runs January 23-February 2 in and around Park City Utah. Hammer to Nail has boots on the ground at the fest and guarantee more coverage thank any other site out there. Like what you see here on Hammer to Nail? Why not give just $1.00 per month via Patreon to help keep us going?)
Imagine if teenagers ran the government. At first the notion seems laughable, but maybe it wouldn't be so different. Some of the characters, like soft-spoken Steven Garza, are out to prove that politics could and should be better than it is now. His idealism will be put to the test in Boys State, a high school competition doc that also serves as a clarion call for youth political engagement. Warring factions — the Federalists and the Nationalists — make their case for who will win the Governorship. Everyone from Bill Clinton to Samuel Alito to Cory Booker has gone through this rite of passage, a sort of model nations approach to participatory political learning. The film opens with a lesson from Orwell's 1984, and it's unlikely the filmmakers could have foreseen how relevant that scene would end up being in the final film. There is good and bad, but ultimately you're left with a feeling of ruthlessness and of the fundamental conflict between compassion and victory.
Beginning in 1935 the American Legion sponsored a week-long program, separated by gender, for high schoolers with aspirations of political office. (Some participants focus on broadcasting, social media, podcasting and other gears of the political machine). Director/Producers Amanda McBaine and Jesse Moss get incredibly lucky with the kids they choose to follow. They are all incredible in their own way. A promising young star is Rene Otero, one of the few African American participants, who quickly wins over his caucus with a tremendous speech about selflessness and self-motivation. After getting elected Chair, he must contend against a small faction of racists who continually try to impeach him. At one point he holds a vote for his own impeachment, and when it is overwhelmingly dismissed, he hilariously suggests the 12 'Yay' votes start their own intramural basketball team.
There's Robert Macdougall who has shades of George W. Bush, but he's much more clever. He hides his liberal leanings in order to get an edge with his conservative voters. Then there's Ben Feinstein, a double amputee, who as Rene puts it, is a 'very good politician, and that's not a compliment.' His disability makes him stronger, with a cynical eye to the political process, he orchestrates a 'shock and awe' campaign that would be applauded by most political consultants on the hill. While Steven runs on a platform of unity, Ben works to get his candidate Eddy elected by any means. In other words, he's savage AF.
Shot by Jesse Moss (The Overnighters) with unparalleled access—literally right next to the kids as they are giving their speeches, the Boys State cinematography is more than a fly on the wall. The camera becomes a megaphone for these young kids. They've probably seen Netflix's AOC doc Knock Down the House. They watch CNN and/or Fox News. They've grown up with cameras their whole lives. They watch clips of political performers on social media and listen to political podcasts. What's most surprising about Boys State is how advanced and media literate some of these young men are, and they haven't even entered college yet.
Boys across the country will watch this documentary and want to get more involved with politics. Some may gravitate towards Rene and Steven, while others will identify with Ben and Eddy. What's promising is that there was compromise and pieces of bi-partisan legislation passed, such as universal background checks, which as a generation affected by gun violence was a common sense issue. Steven's rousing speeches will continue, and on bigger and bigger platforms. He and many of his associates are headed to the next level, and we'll be hearing from them again very soon.
– Matthew Delman (@ItsTheRealDel)
Like what you see here on Hammer to Nail? Why not pay just $1.00 per month via Patreon to help keep us going?)