JIMMY CARTER: ROCK & ROLL PRESIDENT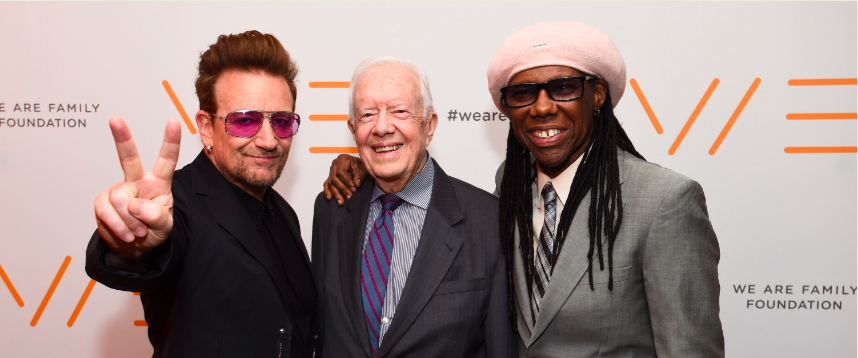 (Mary Wharton's doc Jimmy Carter: Rock & Roll President is available now on VOD via greenwich Entertainment. Like what you see here on Hammer to Nail? Why not give just $1.00 per month via Patreon to help keep us going?)
Pity our nation's 39th President: a one-term leader, Jimmy Carter faced significant challenges while in office, among them crises in Iran and the energy sector, along with high inflation, none of which was ultimately helped by his earnest demeanor and calls for collective sacrifice. On the other hand, feel good for the man, as though he left office deeply unpopular, our estimation of him has steadily grown since the 1980 election, and he now stands high in our regard. Much of this is no doubt due to his many good works as a vibrant humanitarian, both with The Carter Center and Habitat for Humanity (which he did not found, but has been closely involved with for quite some time), motivated by his strongly held Christian beliefs. When he departs this globe, he will be mourned by many, one of the blessings of a life well lived. But did you know that he was also a diehard music fan? Thanks to director Mary Wharton (Joan Baez: How Sweet the Sound), who now gives us the wildly entertaining and moving Jimmy Carter: Rock & Roll President, we can all appreciate not only what makes the man special, but also his close association with the great rock, pop and country legends of his time.
Wharton presents these facts in the middle of an otherwise fairly traditional, if solidly made, biopic, taking us from the early years of Carter's career to his political beginnings and rise to the governorship of the state. Unlike the current occupant of the White House, he was born of relatively modest means, in rural Georgia where, in opposition to many of his fellow white residents, he cultivated a strongly antiracist view of the world, based on his family's interpretation of the biblical message of love for all. It turns out he was always an aficionado of all kinds of music, and cultivated friendships with folks like Willie Nelson, June Carter and Johnny Cash, Bob Dylan, Greg Allman and more, those still alive willingly interviewed for this film. Some of them, including Nile Rogers, Bono and Rosanne Cash, read from Carter's poetry, songwriters paying tribute to the words of a man they very much admire. Their interviews accompany those of Carter's current and former staff members, as well of his son Chip. His wife Rosalynn Carter is not, herself, a talking head (but Jimmy, himself, is), but we hear and see her in the copious archival material.
It all comes together in an enjoyable amalgam of history and homage, not quite a hagiography but certainly a celebration. We learn how much these musical helpmates benefited Carter as he ran for national office, their profile raising that of the then little-known southern governor and assisting him in a decisive trouncing of the Democratic establishment's preferred candidate, California governor Jerry Brown. When the Allman Brothers played a concert as a campaign fundraiser, young people showed up, and suddenly Carter, otherwise the epitome of square, became cool by association. That kind of relationship was not just one of political convenience, however, as Carter maintained his friendships while in power (with Rosalynn organizing many White House concerts), and ever since, as witnessed by everyone's generosity towards him now.
Though lively and fun, the film is not a perfect primer on all that happened back then. For every detailed discussion of something like the historic Camp David Accords, there is a comparatively light treatment of a major event like the Iran Hostage Crisis (you'll have to watch Barbara Kopple's recent Desert One for more information on that). Then again, given the documentary's title, we can hardly expect a cinematic encyclopedia of every action taken by its subject. What we get, instead, is a lovely, loving portrait of a fully realized human being who is about as genuine as they come, a true rarity in a politician. So, snap your fingers, tap your feet, and sing along as we all serenade our one true rock & roll president.
– Christopher Llewellyn Reed (@ChrisReedFilm)