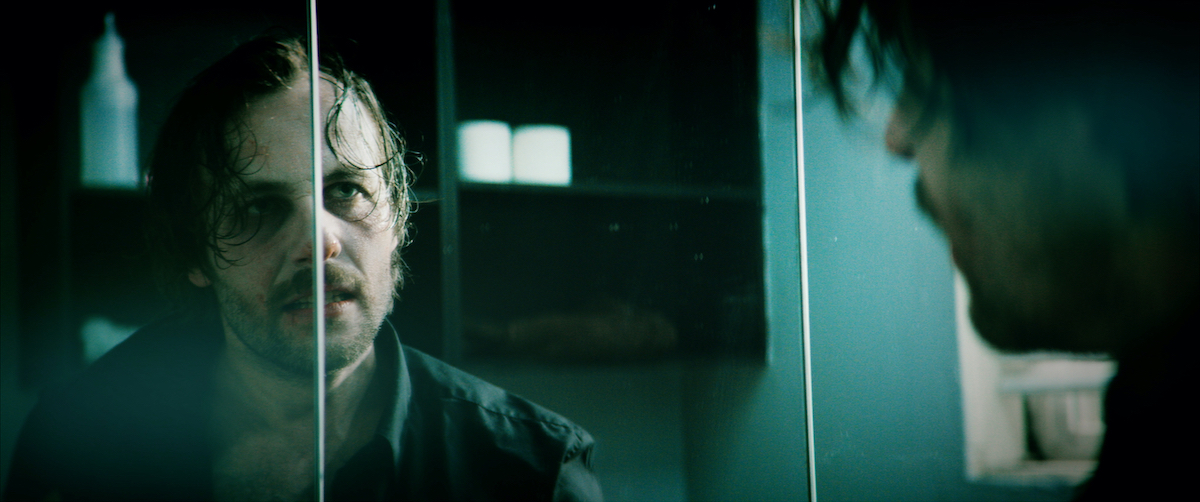 (Tony Dean Smith's low-fi sci-fi film Volition is available on all digital platforms via Giant Pictures. Like what you see here on Hammer to Nail? Why not give just $1.00 per month via Patreon to help keep us going?)
I have a documented record, here at Hammer to Nail, of enjoying "lo-fi sci-fi," that wonderful genre of mind-bending science fiction made on a limited budget that in no way impedes the creativity at hand. Examples include Curvature, Lapsis, Prospect and Time Trap, all of which you should watch. So, too, should you consider the brand new Volition, from Tony Dean Smith (Love Under the Rainbow), which joins them in its inventive maximization of very few resources. Good cinema requires little more than a sharp eye and a good script, and this film has both, plus fine performances. It may falter in its final moments, but until then it proves a wild ride.
Adrian Glynn McMorran stars as James (aka Jimmy), a seeming ne'er-do-well with hidden depths, one of which includes recurring visions of the near future. He lives above a garage in a tough part of town, where right at the start of our narrative he plunges head first into trouble, first by saving a woman from assault (which leaves him bloodied) and then by taking on a gig from Ray (John Cassini), a local mobster. That woman, Angela (Magda Apanowicz), will prove important to the story, as will the diamonds Jimmy agrees to hold until his clairvoyance kicks in, thereafter allowing Ray to know what best to do with them.
As, apparently, things have gone his whole life, events quickly spiral out of control, Jimmy finding himself increasingly beat up, scared and on the run with Angela, his own death a persistent image in his feverish mind. Worse, given his extrasensory condition, he is increasingly possessed of the notion that "our choices don't matter; life happens beyond our control." So why bother attempting to outsmart fate? There's no chance for a different outcome, after all. Or is there?
One of the great aspects of this tight, taut thriller is how we think we're watching one kind of fantastical tale when, almost halfway through, it switches gears and becomes odd in an entirely different way. When Jimmy and Angela arrive at the home of the former's foster father, Elliot (Bill Marchant), the movie changes into a whole other kind of science fiction, where the psychic powers we have so far seen are but the half of it. And, for the most part, director Smith pulls it off, managing the increasingly manic plot loops with skill. There's only so much pulling at the threads a story can take, however, before the underlying tapestry becomes a bit too frayed for its own good, but that doesn't take away from the pleasure of the weaving.
McMorran is a strong central presence, making of Jimmy far more than the initial loser we take him to be. He and Apanowicz have solid chemistry, and she, on her own, brings complexity to her own character, thinly sketched as it is. The supporting cast does excellent work in their small parts, and the occasional visual effects deliver just enough flair at just the right moments. As the title suggests, where there's a will there's a way, and Volition delivers on much of its initial premise. Enjoy the madness.
– Christopher Llewellyn Reed (@ChrisReedFilm)