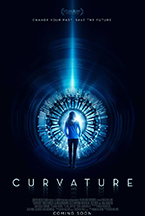 (Diego Hallivis' low-budget, high-concept, sci-fi film Curvature is available now on-demand)
The challenges of low-budget science fiction – or lo-fi sci-fi, as I like to call it – are many. In a genre that so often requires special effects, the danger is that the filmmaker might resort to excessive narrative exposition as a substitute for pricey gadgets: I can't show it to you, so I'll have my characters talk about it, instead. The trick, then, is to write a story where the lack of money is either not an issue or an actual asset (a post-apocalyptic future set in a decrepit warehouse, for example). I teach college students, and we always try to focus on having them write scripts that are "shootable." It's wonderful to dream big – and dream you should – but while you're dreaming, you still have to find a way to make your current movie with the resources you have. Some recent small-scale indie films that have succeeded in their fantastical cinematic ambitions include Safety Not Guaranteed, Diverge and Prospect, to name but a few. Now, we can add Diego Hallivis' Curvature to that list. It's not perfect, but it gets the job done.
Actress Lyndsy Fonseca (Kick-Ass) stars as Helen, a grieving young widow whose husband (also her scientific partner) had just built a short-term time machine before, suffering from depression, committing suicide. In an understandable deep funk herself, as a result, she barely has time to process the tragedy before she is caught up in a wild intrigue involving her husband's colleagues and what appears to be a double of herself. With days missing from her memory, Helen begins to suspect that she may have traveled forward in time, then back again, in an effort to expose the mysteries of what – or who – actually caused her husband's death. Assisted in adventure by good friend Alex (Zach Avery) and mentor Florence (Linda Hamilton, of Terminator fame, lending, by her presence, the imprimatur of time-travel legitimacy), Helen slowly gets her bearings, despite the dizzying possibilities of past, present and future colliding. Fonseca ably portrays her character's combination of panic, strength and resilience, and we are right there with her, along for the ride.
Not all story elements work, as movies about time travel are invariably messy. Even the best of the genre run against up the inevitable problems of plotting that result when the past is altered, or when that altered past turns out to have always been a part of the future, or . . . you get the idea. One's head reels in the attempts to process data. Curvature is not immune from the aforementioned pitfalls of exegesis, either: we have a few too many scenes where people explain the plot and science of the film. Still, director Hallivis (Game Time) and writer Brian DeLeeuw (Some Kind of Hate) are to be commended for doing so much with so comparatively little. Thanks to the mostly sharp script and a commanding central performance from Fonseca, Curvature delivers, if not a home run, at least a fast-paced triple of a thriller.
– Christopher Llewellyn Reed (@ChrisReedFilm)