HtN Staff's Top 5 Picks for the 2022 SXSW Film Festival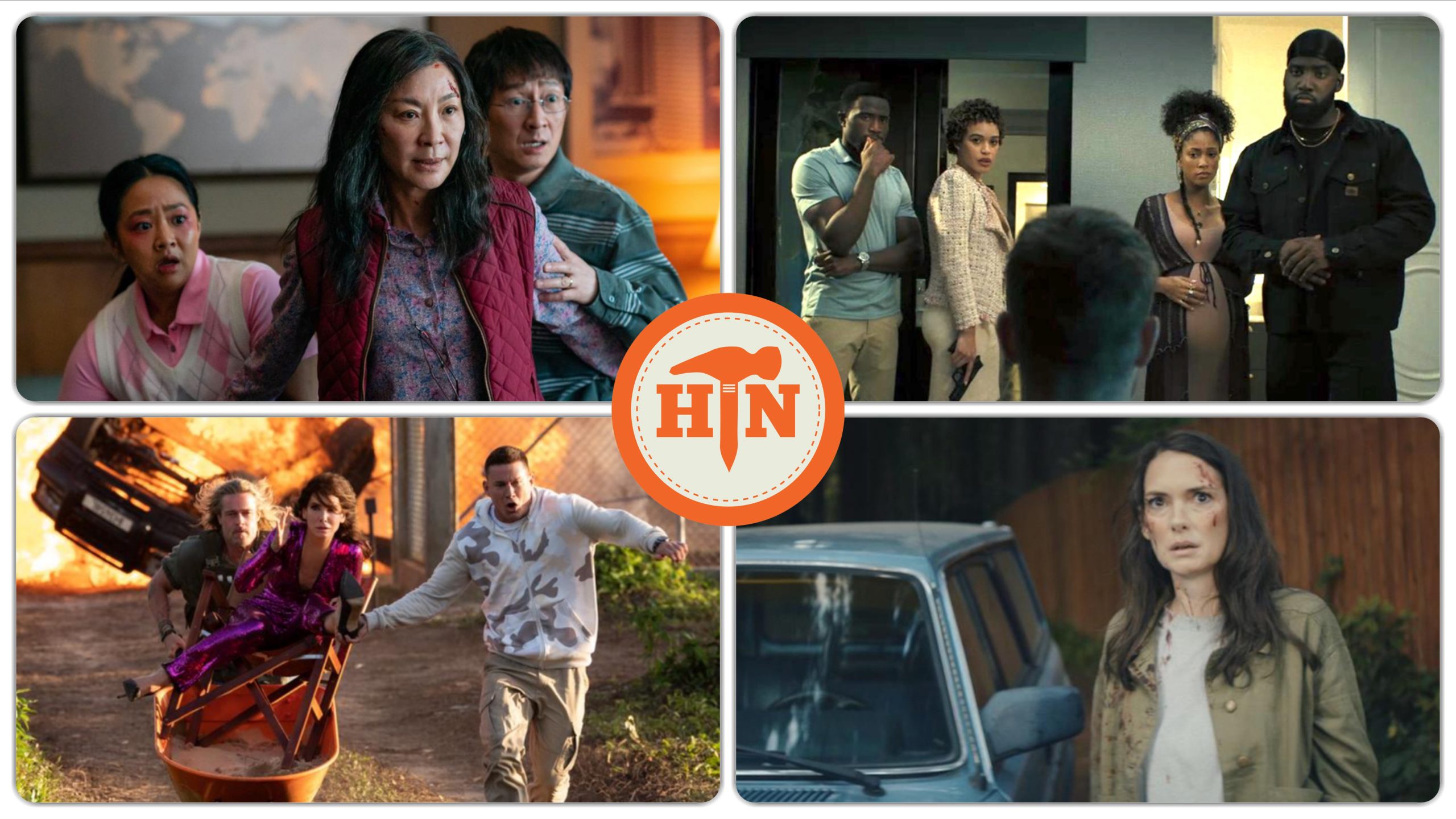 With several boots on the ground this year, Hammer to Nail had each of our "attending" writers create a top 5 with everyone excited about so many selections for the first in person South by Southwest (SXSW) since 2019. After the fateful pandemic shut down the festival only a few days out in 2020, the first major event to fall changed the landscape for many festivals around the globe. With 2021 being virtual only, organizers are taking every precaution with either vaccination status or clear COVID tests to attend and strongly encouraging masks indoors or out, wherever the crowds go. For many, after Sundance canceled in person in January 2022, this is the first major film festival in the United States to draw the crowds into one space. Our team split up in person and virtual duties to bring you the full report from wherever you tune in to Austin this year.
Melanie Addington's Top 5 Picks
The Unbearable Weight of Massive Talent
The Unbearable Weight of Massive Talent feels strange to have to explain anything more than two words: Nic Cage. But, I'll try if for some reason you have missed the buzz on this film. Nic Cage stars as Nic Cage. Still not enough? Well, then let me introduce you to two more exciting words: Pedro Pascal. But the general premise is fun. A cash-strapped Nicolas Cage agrees to make $1 million for a super fan's birthday but gets asked by the CIA to turn informant. What happens next is a wild ride. The movie premieres March 12 and is being released theatrically April 22.
To Leslie
To Leslie, directed by Michael Morris (Brothers and Sisters), is world premiering in the Narrative Spotlight category. The film stars Andrea Riseborough, Allison Janney, Marc Maron, Stephen Root and more. Leslie, a West Texas single mom, is struggling to provide for her son when she wins the lottery. But then she spends it. So to make it, she has to return home and rebuild good will with bridges she burned. The film is world premiering in the Narrative Feature competition and has a run time of 119 minutes.
Everything Everywhere All At Once
When The Daniels make a movie, you show up. Everything Everywhere All At Once stars Michelle Yeoh in a sci-fi action adventure of an exhausted Chinese American woman who can't seem to finish her taxes. Now, if you've seen Swiss Army Man, you know, that is not the entire plot. But what will unfold is an inventive, bizarre, out there, fun plot. Directors Daniel Kwan, Daniel Scheinert
The film is distributed by A24 and will release theatrically after the world premiere at SXSW. T
The Unknown Country
While I may have already seen an earlier cut of The Unknown Country, I am looking forward to seeing the final cut on a big screen in Austin. Producer Laura Heberton is a favorite of mine (See Freeland from SXSW 2020 that never was!) and the newest film stars Lily Gladstone (Freeland, Certain Women) and is written and directed by Morrisa Maltz (Ingrid). A woman returns from a Midwest road trip to reunite with her estranged Oglala Lakota family near the Texas-Mexico border. Exploring the landscape in a post-2016 election social climate, the film is as surreal as it is stunning. With a run time of 85 minutes and stunning cinematography, this will be one not to miss. The film world premieres in the Visions category.
Your Friend, Memphis
The film follows Memphis DiAngelis, a young man who is wild at heart and has cerebral palsy. Without government support, which I hope the film explores just how challenging getting any disability support in this country is, Memphis is feeling stuck between his need for independence and his struggle to face harsh realities. The film brought on numerous people such as Reid Davenport (I Didn't See You There) to make sure real representation happens and I for one am extremely excited to see this disability documentary. The film world premieres in the documentary feature category and is 93 minutes long. 
Chris Reed's Top 5 Picks
Filmmaker David Siev marks his feature debut with Bad Axe, a documentary that covers his family's travails during the coronavirus pandemic. From a mixed Cambodian-Mexican background, he was born and raised in Michigan, mostly in the titular town of Bad Axe, where our action takes place. Long established in the area as the owners of Rachel's (named after mom), a popular restaurant, the clan faces the same challenges of all business owners once the shutdown starts, coupled with both rising anti-Asian sentiment and pushback from the region's large numbers of Trump supporters. The film is a rousing salute to strong folks more than able to give as good as they get.
From Eli Horowitz (director of the Homecoming podcast series) comes an intriguing mystery wrapped inside a quirky romantic comedy that quickly evolves into something decidedly unexpected. Winona Ryder (Destination Wedding) stars as Cath, a fortysomething woman whose somewhat-younger boyfriend, Max (John Gallagher Jr., Underwater), is a jerk, at least to her and her friends. When he goes missing after what was supposed to be a lovely weekend retreat for two, Cath refuses to let the matter go, even though he hardly seems worth it. Her investigations lead her into the company of the far more charming, if older, Nick (Dermot Mulroney, Christmas Is Canceled). And then shit gets wild. If it doesn't quite all hold together, it's still a mostly enjoyable (if disturbing) ride.
To anyone who saw Jason Kohn's last documentary, Love Means Zero, the jaunty style of his latest, Nothing Lasts Forever, will come as no surprise. What does startle, though, is the way Kohn takes a subject in which I, for one, had no previous interest—the diamond trade—and elevates it to the level of profound discussions layered with multiple metaphysical meanings. Featuring an entertaining mix of talking heads, including author and jewelry expert Aja Raden (author of Stoned: Jewelry, Obsession, and How Desire Shapes the World), the movie takes us on a fascinating journey into the ins and outs of how we have all been hoodwinked into believing that diamonds are valuable and that their much cheaper variants, lab-produced synthetics, are simply no substitute. Nothing may last forever, but knowledge is priceless.
Are you a fan of the great Rita Moreno? Did you enjoy her turn last year in Steven Spielberg's remake of West Side Story? Well, get ready, then, to see her make a 180º-degree turn and play a villain. In director Maureen Bharoocha's The Prank, she's Mrs. Wheeler, a veteran high-school physics teacher whose authoritarian ways finally catch up to her when she exacts one punishment too many. When besties Ben (Connor Kalopsis, Fox's Outmatched) and Tanner (Ramona Young, Netflix's Never Have I Ever) decide to take revenge, events spiral out of control in a manner totally unforeseen. Everyone has a lot of fun with the mayhem, and no one more so than Moreno. Who knew she could be so vile?
A beautifully photographed tribute to the director's nonagenarian grandfather, Ilana Sosa's What We Leave Behind showcases a life well lived, or at least fully so. We open on Julian visiting Ilana in the States, then follow him back to his home in Mexico, where he lives with one of his sons, the nearly blind Jorge. A widower since 45, Julian is blessed to have all 7 of his children still alive, even if they are scattered between San Juan Del Rio, other Mexican locales, and the U.S. Though this documentary may be but 70 minutes long, it manages to feel comprehensive in its portrait of a man determined to leave this world on his own terms. Death may be just around the corner, but for now there are things to get done. Rest will come later. It's a lovely paean to a human force of nature.
Bears Rebecca Fonté's Top 5 picks
The Lost City
Aaron and Adam Nee's last film was the charming and criminally underappreciated Band of Robbers, a modern day reimagining of Huck Finn and Tom Sawyer all grown up in a pink panther level heist. This time out they've scored some marquee level talent (Brad Pitt, Sandra Bullock, Channing Tatu, Patti Harrison, and Daniel Radcliffe) to add a bit of shine to a romantic comedy that cannot help but conjure one of the greatest ever in the genre, Romancing the Stone. If you've watched TV in the last three months you've seen an ad for this film so it hardly seems necessary for it to play SXSW but it is a great success story. The Brothers Nee's first film The Last Romantic played SXSW in 2006 was shot on digital video for less than $20,000.
Slash/Back
Alien Invasion can be done on a grand scale like Independence Day, or something much more small town, like the masterful The Vast of Night.  Slash/Back, the first narrative feature from writer/director Nyla Innuksuk, puts the aliens somewhere never expected on Baffin Island in Nunavut. With a particular vision that has caught the attention of TIFF and Marvel (for whom she created the origin story of Teenage Champion Snowguard), Innuksuk brought a crew of 50 to a community of 1500 to make the first ever feature filmed in Pangnirtung, Nunavut. As SciFi always allows pointed commentary on politics and history, the alien invasion of Slash/Back gives the indigenous director the opportunity to discuss colonization and the incursion of the other. And we always need new voices in a genre still shedding its old white guy history.
It's Quieter in the Twlight
I am a child of V-ger. I was 4 years old when I first hung images of Jupiter from National Geographic on my wall. By the time I was 10, I had it on my calendar when images would arrive from Uranus next year. The Voyager program grew and aged with me.  I might even argue (on my darker days), like me it has faced the threat of obsolesce for years but has found new ways to continue to be relevant. It's Quieter in the Twilight follows a select group of maturing engineers who steer the grandest feat of human exploration in a drab office space for the sake of profound knowledge of the vastness beyond our world. The director Billy Miossi voices a sentiment I've know since I first paged through the Sunday insert in the Chicago Tribune, "Voyager is a once in a lifetime, and perhaps many lifetimes, mission."
X
Ti West does not make enough films. The House of the Devil was one of the best horror films of the aughts, The Innkeepers redefined 'the slow burn' horror genre before Mike Flanagan perfected it, and The Sacrament is, in my opinion, the best film ever made at ground level of a cult. In a Valley of Violence, West's last film, is basically John Wick in the wild west. What does X promise? Seventies era exploitation, youth vs. the elderly, and the brilliant Jenna Ortega (Jane the Virgin).
In the Court of the Crimson King
On July 5, 1969 Robert Fripp, Greg Lake, Ian McDonald, and Michael Giles appeared in front of 250,000 people in Hyde Park and changed rock and roll forever. King Crimson is a band you either love or you don't know. Their intricate mix of rock, jazz, medieval balladry, avant garde noise music, minimalism, and improvisation makes the band solely indefinable and disparate. Director Toby Amies has his work cut out for him – many members of the band have died, others been very publicly pushed aside (looking at you Adrian Belew).
M.J. O'Toole's Top 5 Picks
Linoleum 

Writer-director Colin West has the ordinary meet the bizarre in this sci-fi dramedy that centers on a dysfunctional family that finds a satellite crashing into their suburban home. This unexpected incident inspires the family patriarch (Jim Gaffigan), a host of a failing children's science show, to fulfill his lifelong dream of building his own rocket and going into space. Do we have the next Safety Not Guaranteed on our hands here? The cast also includes Tony Shalhoub (The Marvelous Mrs. Maisel), Rhea Seahorn (Better Call Saul), and Michael Ian Black (Wet Hot American Summer).
Crows are White

Who doesn't want or need enlightenment of some sort in this day and age? This documentary from first-time filmmaker Ahsen Nadeem explores his own journey of faith as he searches for a secret Buddhist monastery in Japan that performs acts of extreme physical endurance in their pursuit of wisdom. His plans don't go as expected when he isn't welcome, and his only point of connection to this secret sect is an outcast monk who prefers music and good food to meditation. Hopefully we're in for an offbeat, feel-good document on both enlightenment and an unlikely friendship.
Women Do Cry

In this Bulgarian drama from directors Vesela Kazakova and Mina Mileva, Oscar-nominee Maria Bakalova (Borat Subsequent Moviefilm) is given another moment to shine as a young woman dealing with the fallout of her testing positive for HIV. She turns to the women in her family for support as they all face their own share of life problems, mainly caused by men. This account of modern Bugarian society also premiered at Cannes last year, and is likely to give a somewhat power punch of a statement on the ongoing battle against misogyny.
The Thief Collector

Allison Otto's documentary debut centers on the mystery behind the disappearance of a valuable Willem de Kooning painting from an Arizona art museum in the 1980s. More than 30 years after the baffling heist, the painting was found in the home of a mild-mannered couple in rural New Mexico. What follows is how and why this unassuming duo pulled off this long-unsolved heist. Seems like an exciting cross between The Painter and the Thief and The Lost Leonardo.
Split at the Root

Linda Goldstein Knowlton's newest documentary puts focus on the Zero Tolerance Policy in America, and how it has truly affected immigrant families seeking asylum. The subject at the center is a Guatemalan mother who was tragically separated from her kids under the policy. This resulted in a Facebook post that started a rallying cry, resulting in the foundation Immigrant Families Together which reunites and supports immigrant families that have been separated at the US/Mexico border. Better have my tissue box handy for this one.
The 2022 SXSW Film Festival runs March 11-20 in glorious Austin, Texas