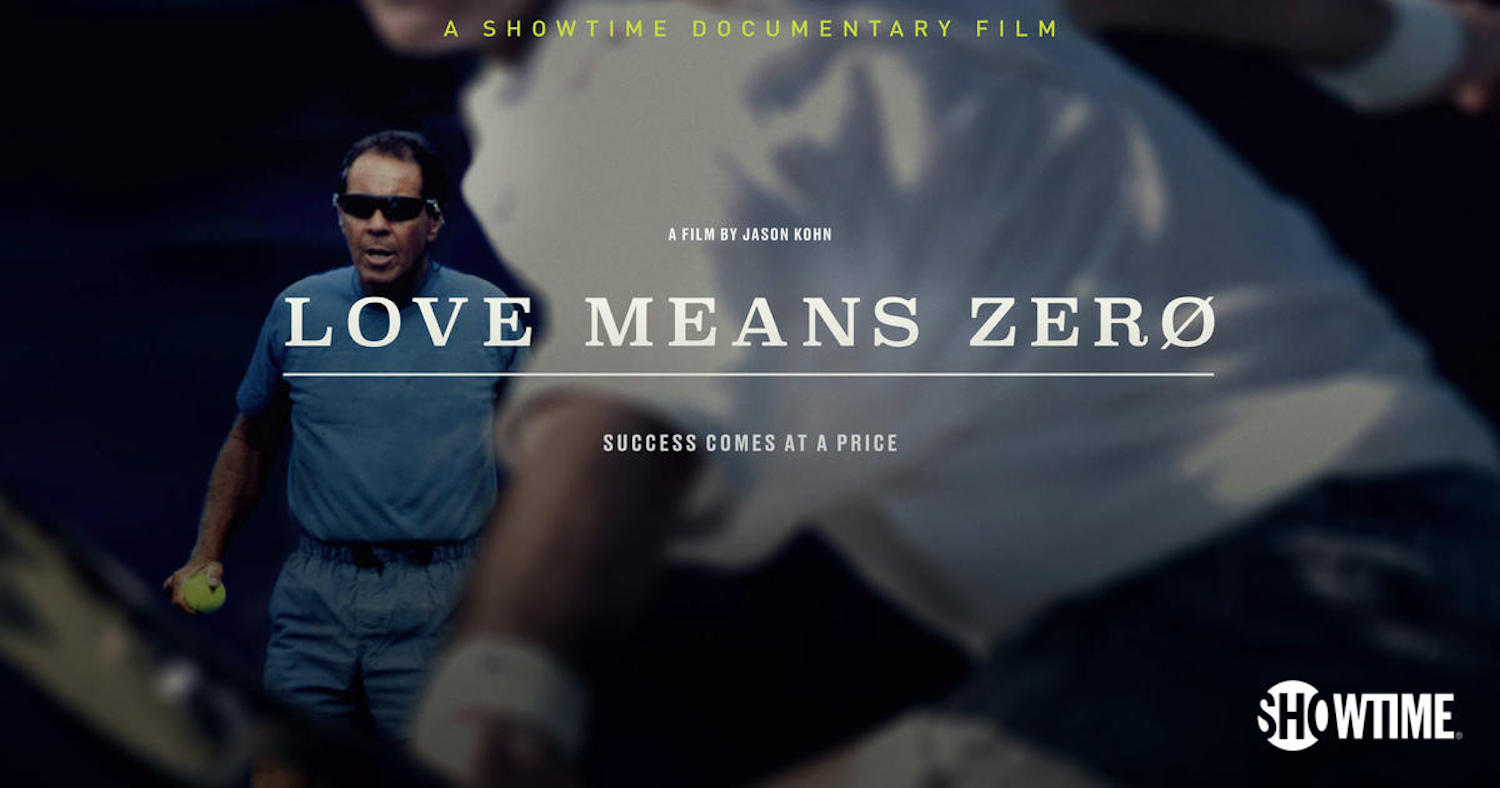 (DOC NYC started November 9 and ran through November 16. HtN has you covered with reviews so keep checking back!)
In Love Means Zero, director Jason Kohn (Manda Bala) profiles renowned tennis coach Nick Bolletieri, former trainer to the likes of Andre Agassi, Jim Courier, Boris Becker, Venus and Serena Williams, and many more. Blustery and evasive, Bolletieri gives an initially superficial interview that is all tales of ancient glory. By the end, however, Kohn cracks the façade of surface bonhomie, and is able to probe the depths of Bolletieri's regret. It's a remarkable achievement, and a damn fine movie (if, like its subject, imperfect).
If one were, like me, a tennis fan in the mid- to late 1980s and early 1990s, whatever imperfections of the narrative pale in comparison to the wonders of seeing Courier and Becker, both now approaching or already 50 (Becker was born on November 22, 1967), meditate on their lives and careers. They are articulate and self-deprecating, unlike their ex-coach, and their commentary almost compensates for the lack of any participation from Agassi, who refused to be in the movie. His break with Bolletieri takes up much of the narrative.
We open with a 1980s broadcast likening Bolletieri's academy to a "capitalist version of the Soviet system" with children training in a sports complex, away from their families. As the title of the movie suggests (beyond the tennis pun), Bolletieri, committed to winning, was as manipulative to his pupils as he was inspirational. Most of them did better under his tutelage, but he had no room in his heart for failure. Interviews with former female players Kathleen Horvath and Carling Bassett reveal how quick Bolletieri was to jettison those who disappointed, an act which hurt all the more since each person so thrown away believed they were special. Love means zero, indeed. It's too bad the movie stops cold with the Agassi fallout (the major imperfection), never exploring Bolletieri's relationship with the Williams sisters. I'd watch that sequel, for sure.
Still, as problematic as his behavior was – and the reasons for why he abandoned Agassi remain murky – Bolletieri is an extremely engaging screen presence. It's fun to watch a man with very little shame talk about the past. It's also very poignant to see him display sudden self-awareness, as Kohn persists in his questioning, about the sins of that past. Affecting and entertaining in equal measure, Love Means Zero only tells half the story, but what a story it is.
– Christopher Llewellyn Reed (@ChrisReedFilm)