BOOM! BOOM! THE WORLD VS. BORIS BECKER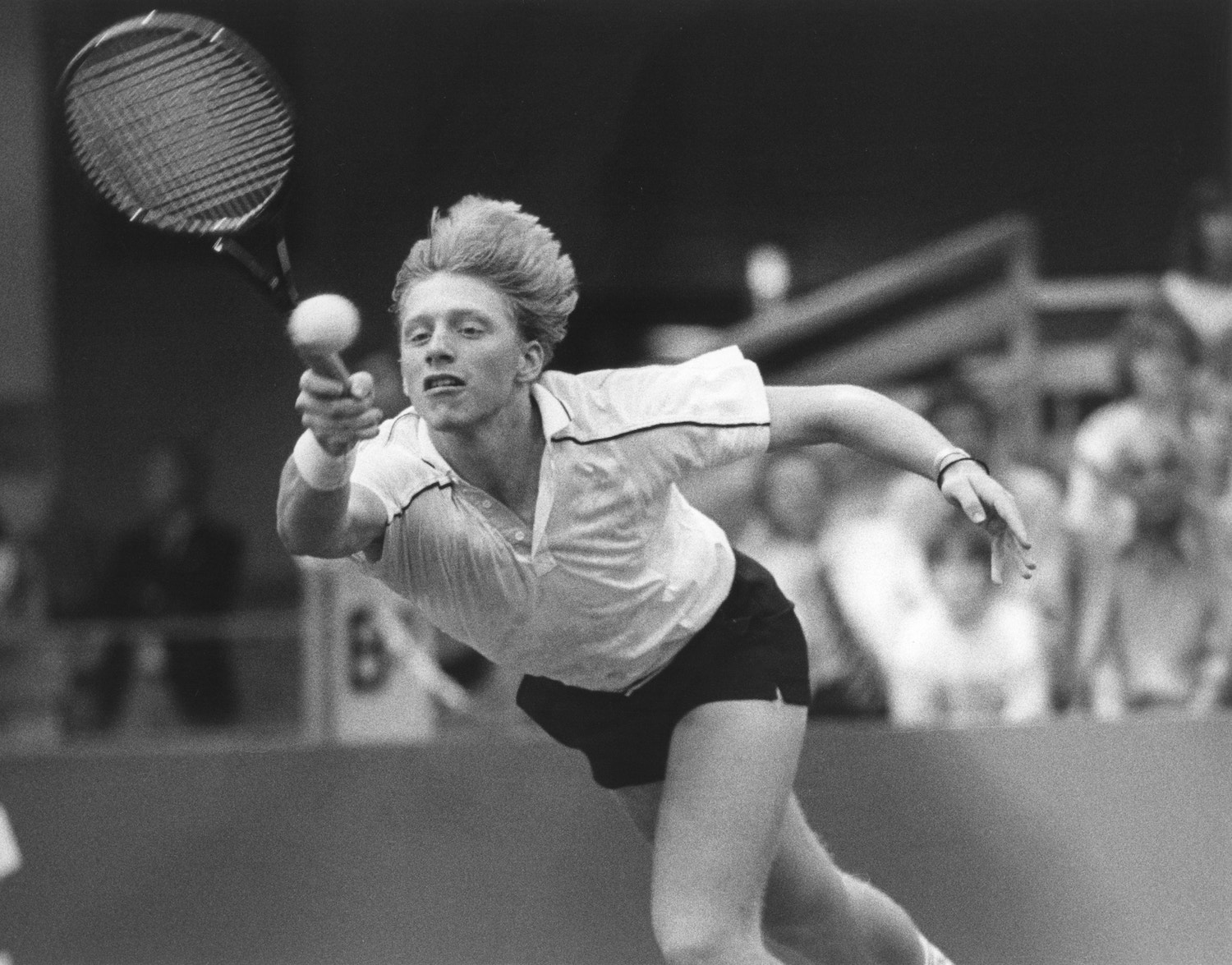 (Check out Chris Reed's movie review of Boom! Boom! The World vs. Boris Becker, the latest film from prolific documentarian Alex Gibney. Seen it? Join the conversation with HtN on our Letterboxd Page.)
He can't stop, won't stop, doesn't stop. That's right: busy filmmaker Alex Gibney is at it again, this time with a two-part, almost-four-hour Apple TV+ documentary on tennis great Boris Becker, nicknamed "Boom Boom" when he first came on the scene because of his killer serve. The youngest man to ever win Wimbledon (in 1985, at age 17), Becker had a meteoric rise in the 1980s and then a later plateau in the 1990s, rising to #1 in 1991, but only for first 3 weeks and then 9 weeks, never quite living up to the potential that many saw in him when he arrived. Still, he won 6 Grand Slams (3 Wimbledons, 2 Australian Opens, and 1 US Open), and for a while was a magnetic presence on the court.
In Boom! Boom! The World vs. Boris Becker, Gibney (Zero Days) follows Becker from "Triumph" to "Disaster" (as each part of the movie is labeled), covering his glory days and fall from grace. For those not aware, Becker was sentenced, in England, to 30 months in prison in April 2022 for financial fraud related to an earlier bankruptcy. He was released in December, after 8 months, and deported back to his native Germany, where ne how resides. That's quite the journey, and using copious archival material plus two interviews with Becker himself (one from 2019 and from right before his sentencing in 2022), along with other talking heads for additional support, Gibney regales us with the joy and pain, virtues and misdeeds, and yes, aces and faults (and double-faults) of his protagonist. It's a great ride for tennis fans, and most likely gripping stuff for everyone else, too.
I always enjoyed Becker in his heyday, despite my very human tendency to root for Americans when paired against him (though not always). If not as volatile as John McEnroe, he was never above letting loose with anger and disappointment during matches; he therefore came across as distinctly human. Little did I realize what the future would hold for him. Before watching Gibney's movie, I had not really paid attention to Becker's downfall. It's all here, though, so no advance knowledge is required.
The roots of Becker's eventual disgrace lie, perhaps, in how unprepared he was for stardom. There's a price to be paid for sudden success, and as older Becker muses, throwing lots of money at players who only know tennis and eschew education to keep playing is a recipe for potential fiasco. Nevertheless, Becker had plenty of time to learn the financial ropes, and even a 2003 tax-evasion conviction to teach him a lesson (one that apparently didn't take). As former manager Ion Țiriac unequivocally states in the film, the problem is that Becker surrounded himself with the wrong people. And while that may be a self-serving declaration from Țiriac, given that he positions himself as the "right people," there's clearly a lot of truth to that.
Others interviewed include Becker's first wife, Barbara; tennis rivals Brad Gilbert, John McEnroe, Michael Stitch, Mats Wilander, many introduced on screen via funny Sergio Leone-style title cards; current tennis #1 Novak Djokovic, whom Becker coached in the last decade; famed tennis coach Nick Bolletieri; and many more. The film is nothing if not robust in its approach to the subject. We get Becker young, Becker middle-aged, and Becker red-eyed and looking a little the worse for wear. It's a tragedy in slow motion.
Gibney, the master specialist in chronicling how hubris destroys those who ignore its warning signs, does not disappoint, even if he perhaps shows Becker significant sympathy in his questions (something he has not always done in previous films with other subjects). Maybe he also just likes the guy. It's hard not to, despite the bad stuff we learn, so blessed is he with charisma. But charm will only take you so far. You can't serve your way out of legal trouble, and in the excellent Boom! Boom! The World vs. Boris Becker, that is abundantly clear.
– Christopher Llewellyn Reed (@ChrisReedFilm)
Apple TV+; Alex Gibney; Boom! Boom! The World vs. Boris Becker documentary movie review