Chris Reed's AFI DOCS Wrap-Up
The American Film Institute (AFI) was founded in 1967 "as a national arts organization to train filmmakers and preserve America's vanishing film heritage." As such, it has been a wonderful archivist of, and proselytizer for, great American contributions to global cinema (and, thereby, to global culture). Among its many preservationist activities, it sponsors a comprehensive book series – AFI Film Readers – with volumes on any and all film-related subjects, even those from other countries (despite the name, this is no parochial organization). The AFI is also responsible for a wonderful 10-part documentary series on the first 100 years of the movies, entitled AFI's 100 Years, 100 Movies (if you have limited time, you can browse the attendant website, instead, and enjoy seeing where your favorite stars and movies rank in terms of overall historical impact).
Speaking of documentaries, one of the two festivals that AFI sponsors, AFI DOCS, is devoted entirely to the nonfiction form (the other is AFI Fest.) Founded in 2003 as Silverdocs (after the AFI Silver Theatre and Cultural Center, in Silver Springs, Maryland, where the festival was headquartered), it was rebranded as AFI DOCS in 2013. This year's festival, which ran from June 22-26, included over 50 features and 30 shorts, both American and international. From internationally acclaimed filmmakers like Alex Gibney, Werner Herzog and Barbara Kopple to lesser known – but equally as talented – directors, some of whose films I will mention, below, the program was noteworthy for diversity of both content and cultural perspectives. If many of the films I saw were not as aesthetically experimental as other recent documentaries, in terms of challenging the expectations of the form (like All These Sleepless Nights, Hotel Dallas or The Other Side, all of which I reviewed, earlier, for Hammer to Nail), this doesn't mean that they didn't tackle important subjects with verve, commitment and strong storytelling skills.
What follows is a list of my top 10, from among the films I saw, with 2 honorable mentions, afterwards (note: I saw no bad films). Sadly, I did not get a chance to see the winner of the Audience Award, Maya Angelou: And Still I Rise, despite my best intentions: too many movies, too little time. I also watched none of the short films, much to my shame. Those caveats aside, here are my takeaways, with short capsule reviews of each film (for some of which I will have full reviews, later, or have already published):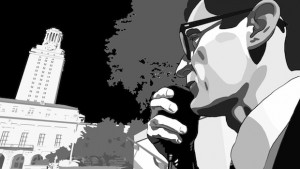 Tower (Keith Maitland, 2016)
By far the standout of the festival, for me, Tower recounts the tragedy that took place on August 1, 1966, at the University of Texas, Austin, when a lone sniper shot 46 people from the observation tower, over the course of a little over 90 minutes, killing 14 of them, before he was eventually shot and killed by local law enforcement. This was the one film I saw that took real aesthetic risks, as director Keith Maitland (The Eyes of Me) combines (limited) archival footage with rotoscoped animation of talking-head interviews and reenactments. He has actors play the parts of the victims, heroes and bystanders – both in the reenactments and interviews – using transcriptions from video-taped interviews of the real people, all of it combined in one overall consistent look, thanks to the animation. The result is a film that plunges us directly into the action, making us feel the terror and adrenaline of the moment. Winner of both the Documentary Feature Audience Award and the Grand Jury Award for Documentary Feature at the 2016 SXSW Festival, it's a brilliantly immersive documentary that tells a gripping story without ever losing sight of the horror at its core, and I highly recommend.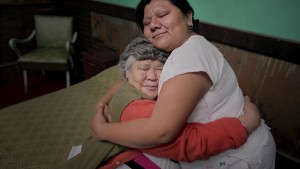 Plaza de la Soledad (Maya Goded, 2016)
Mexican photographer Maya Goded has long explored, in her work (according to her official bio) "female sexuality, prostitution and gender violence in a society in which the role of women is narrowly defined and femininity is shrouded in myths of chastity, fragility and motherhood." Over the years spent in the streets of her native Mexico City, still camera in hand, she has built up enough trust with the prostitutes she has profiled to now be able to showcase their stories in her bracingly raw documentary feature debut, Plaza de la Soledad. We don't at first know that that's who we're watching, however: the film opens with a group of fortyish and older women, singing together in a van as they drive towards an unknown destination. Soon, we meet each one, and slowly learn about their lives. All seem to share some serious sexual and/or familial trauma in their pasts, yet somehow they have persevered, building friendships and romantic relationships even as they continue to ply their trade. Goded films without judgement – though her movie indirectly accuses the abusers who scarred her protagonists – and what emerges is a moving and deeply intimate portrait of women too often ignored by mainstream society. It's a profoundly human story, lovingly photographed by Goded, herself,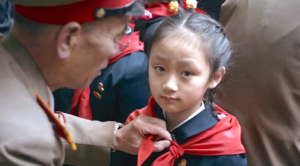 Under the Sun (Vitaly Mansky, 2016)
Though an imperfect film, in some ways, Russian director Vitaly Mansky's behind-the-curtain look at North Korea, Under the Sun, deserves to be seen by as many people as possible, if only as a showcase of the Orwellian surreality of life in Kim Jong Un's "Hermit Kingdom." Somehow, according to the opening title card, Mansky (Pipeline) and his crew were granted permission to film a "documentary" about the life of an ordinary girl and her parents. The only caveat was that everything that would appear in front of the camera would be scripted and directed by an official representative of the government. What the North Koreans did not seem to understand was the concept of a second unit, which Mansky tasked with filming a sort of "making of" film of what was supposed to be his movie. It is that footage that we see, here, occasionally explained through additional title cards. Alternatingly hilarious and chilling, the resulting (real) documentary reveals a horrifying world in which all free will is subjugated to the will of the state. Unfortunately, Mansky all too often leaves his shots unedited, as if he were in thrall to their strangeness, and that device doesn't always work; the film could definitely use a little more editorial shaping. It could also use a score that doesn't sound so derivative of John Williams' Schindler's List theme. These are small quibbles, though, as the pros far outweigh the cons in this mindf*** of a movie.
Chicken People (Nicole Lucas Haimes, 2016)
Director Nicole Lucas Haimes (Cracking the Code) trains her lens on the highly competitive world of show chickens in Chicken People. Excuse me? Show chickens? Surely, I jest. Verily, I do not. This is all real, and a perfect movie for fans of such mockumentary delights as Christopher Guest's marvelous Best in Show. Except that here, there's no mockery (well, maybe a little, but it's all in good fun). Haimes follows her three protagonists as they breed, raise and groom their gorgeous, not-so-foul-tempered, fowl, revealing far more truths (about the humans) than simply how to make a chicken conform to the American Standard of Perfection (yes, there is such a thing). Who will get to be "Super Grand Champion," and will this mean to the folks who invest so much time, energy and hope into the process? Our heroes strive and struggle, each with their own burdens (beyond the chickens), and before we know it we are not only deeply invested in their lives, but in the intricacies of this or that breed (154 of them!) or competition (over 230 in the United States, alone!). It's a hilarious and touching look at what our obsessions reveal about the people we are.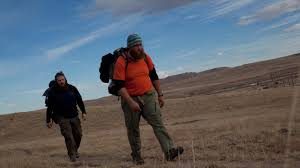 Almost Sunrise (Michael Collins, 2016)
Michael Collins' quietly affecting profile of two veterans struggling with Posttraumatic Stress Disorder (PTSD) in Almost Sunrise is a much-needed reevaluation of the cost of war. Even more, it's a film that examines societal expectations – and treatment – of our vets once they come home. Anthony Anderson and Tom Voss both served in the Iraq War in the 2000s, and now find themselves undone by emotional paralysis, even years later. Taking as his starting point the alarming fact that "22 U.S. veterans take their own lives every day," Collins (Give Up Tomorrow) takes us on a literal and metaphoric journey as we follow Anderson and Voss on a cross-country trek that they undertake to clear their minds and draw attention to the veteran-suicide epidemic. They hope, thereby, to find some form of relief from their own depression and suicidal tendencies. And while we may not be able to feel their pain as they feel it, as we walk by their side, we at least get a sense of their commitment to the cure and their desire to return home to their loved ones better able to love them. It's a deeply intimate and moving story, and a must-see in an age where war (in Iraq and Afghanistan, anyway) seems perpetual.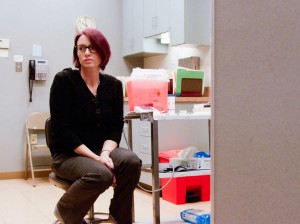 Abortion: Stories Women Tell (Tracy Droz Tragos, 2016)
Director Tracy Droz Tragos (Rich Hill) has gathered material from a wide variety of women: some pro-choice, some not; some who have had abortions, some who have not; some who work in embattled clinics, some who protest those who do. The net result is a richly textured film where we hear the voices of those most affected by this never-ending battle for reproductive rights. As with Dawn Porter's equally timely documentary Trapped, released earlier this year, Tragos' movie trains its focus squarely on the ever-multiplying restrictions on access to health clinics. Roe v. Wade may still be the law of the land, but if individual states are allowed to pass laws that prevent abortions except in increasingly specific cases, what does it matter? As a title card explains at the start of the film, as of 2011, half of US States restrict abortions in some way. Tragos shows us many different women before, during and after their pregnancies and/or abortions, all located in Missouri (a very restrictive state) and nearby Illinois (a far less restrictive one). If the film has one weakness, it's that there are too many characters on screen, making it hard to remember who is who. But it's still a powerfully effective movie, with mostly compelling characters who help us understand the full range of perspectives out there.
Audrie & Daisy (Bonni Cohen/Jon Shenk, 2016)
Filmmakers Bonni Cohen (The Rape of Europa) and Jon Shenk (The Island President) bring us Audrie & Daisy, a movie that should provoke equal parts anger and righteousness. It's a profile two teenage girls – one who committed suicide and one who ultimately pulled through – who were each assaulted by male high-school classmates. Rather than offering support, their communities chose to pillory and bully them, instead, with dire consequences. Cohen and Shenk begin with Audrie Pott, the girl who didn't make it, before turning to Daisy Coleman, the girl who survived. Her story takes up the bulk of the movie, since she is still alive and active in the fight for justice, and because what happened to her and her family is truly shameful. Fortunately, the movie ends on a higher note, as we see what has since become of Daisy, who finds a supportive community for young women like her. Sadly, it's too late for Audrie, but Daisy lives on, sprung from the crucible of shame and stronger than ever.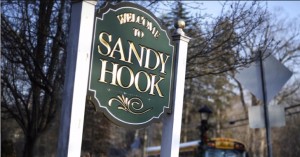 Newtown (Kim A. Snyder, 2015)
Prepare yourself for emotional devastation. Newtown, from director Kim A. Snyder (Welcome to Shelbyville) is a chronicle of the mass shooting at Sandy Hook Elementary School in Newtown, Connecticut, on December 14, 2012, that left 20 students (mostly first-graders) and 6 adults dead, and its aftermath. It's a story that needed to be told, especially since these kinds of mass shootings continue today, but it is a hard film to watch. Seeing the parents, surviving teachers and students, as well as the first-responder police officers, emergency-room doctors and EMTs all try to put into words the horror they experienced that day is almost overwhelming. Even more so is the subsequent lack of congressional support for even a bare-minimum assault-weapons ban, background-check legislation, or mental-health support for potential killers. Unfortunately, the filmmaking in the second half of the film is not up to the powerful opening, and so the movie gets lost in its own metaphysical weeds for a while (though it ends on a profound note), but no matter. This is still an essential movie for our time.
Do Not Resist (Craig Atkinson, 2016)
Craig Atkinson makes his directorial debut – which won Best Documentary Feature at this year's Tribeca Film Festival – with this disturbing look at the militarization of our nation's police forces. He moves across the country, from protest against police brutality to further protest, with the events in Ferguson, Missouri serving as his beginning and end, meeting police officers and other law-enforcement personnel along the way, doing his best to get their perspective, as well. Perhaps the most disturbing character we encounter in our journeys with Atkinson is one Dave Grossman, whose lectures on combat procedure to the military, the FBI and others reveals a deep-seated propensity towards aggressive tactics. To a layperson like me, he comes across as a mix of bully and policy wonk, which is a dangerous combination, especially since his ideas have spread throughout the police community. We also discover how small-town police forces, in the wake of our nation's war on terror, have been offered – for free or at a discount – such way-out-of-proportion vehicles as Bearcats and MRAPs, a fact which leads one Concord, NH, resident to lament that his town, with only 2 murders since 2004, needs "more Mayberry, less Fallujah." All in all, despite an occasional roughness in its storytelling, this is a film that serves as a clarion call to action for all to heed, before it's too late.
Life, Animated (Roger Ross Williams, 2016)
In 1993, Ron Suskind and his wife Cornelia felt blessed with all the joys of his burgeoning career as a journalist and their two lovely boys. And then, their youngest – three-year-old Owen – suddenly stopped talking, retreating into the far recesses of his inner mind. Doctors diagnosed severe autism. Suskind likens it to a kidnapping, as if someone had stolen away their lively child. Still, devoted parents that they were, they were determined to find a way for Owen to live a full life, with, hopefully, them in it. Salvation eventually came in the form of Disney, as Owen responded to the exaggerated features of the animated characters and the broad three-act-structure plots that always remained the same throughout repeated viewing. And so the family – including Owen's saint of an older brother, Walt – began to use the full pantheon that Disney has to offer as a way to communicate with Owen, and today, while not truly independent, he is able to live in his own apartment in an assisted-living facility, and is even a fairly gregarious young man. Based on Ron Suskind's book of the same title, Life, Animated, from Roger Ross Williams (Music by Prudence) tells a sweet story that, even if it ends up feeling a little too much like an advertisement for the delights of the Magic Kingdom, is still a moving testament to the power of love and persistence.
HONORABLE MENTIONS: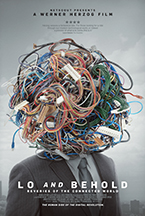 Lo and Behold, Reveries of the Connected World (Werner Herzog, 2016)
I am generally a fan of the work of German filmmaker Werner Herzog, a prolific director of both fiction and documentary films, alike. In his latest – a documentary – Herzog explores the internet, social media and artificial intelligence, among a grab bag of topics loosely grouped under the heading of "connected" technologies. It's not as focused as the best of his nonfiction work, among which I count Little Dieter Needs to Fly and Grizzly Man, but since it's always a pleasure to spend time in the company of Herzog and his subjects, like attending a dinner party with very smart people, we still come away with a sense of illumination. Only Herzog could combine the internet, mars and bluegrass and have it all somehow work (mostly). Since Herzog was the guest at this year's Guggenheim Symposium, which took place at AFI DOCS the evening of his newest movie's screening, and he appeared live at the event in a two-person conversation with noted director Ramin Bahrani, it's almost moot as to whether or not Lo and Behold is the best it could be, since the real attraction of the night was Herzog, himself.
Zero Days (Alex Gibney, 2016)
In the best films by the incredibly prolific documentary filmmaker Alex Gibney (The Armstrong Lie), out of a laser-sharp focus on one particular topic – achieved through the director's meticulous attention to researched detail – come universal truths about our age. Now, rather than tackling a public figure fallen from grace or a corrupt organization – frequent targets of his – Gibney here tells the story of the Stuxnet virus. What is that? It's a virus that was first discovered in 2010 as it spread across the globe, a "zero day exploit" that launches its attack as soon as it enters a system, without announcing itself. It may have been designed by the United States government, with cooperation from Israel, to attack Iran. Unfortunately, someone, somewhere, seems to have set it in motion beyond its original parameters, resulting in compromised operating systems – including our own – all over the world. What this means to our homeland security has yet to be determined, but it could be grave. At the same time, the attack on Iran may have led directly to the recent nuclear accords. In other words, as in most Gibney films, the facts are complicated. The film, itself, is a little too dense to be counted among Gibney's absolute best (though it's certainly among his most interesting), and could be shorter, but still, overall, makes for compelling viewing.
I very much enjoyed AFI DOCS, and hope to go again next year. I want to offer special thanks to the great folks at PR Collaborative who made it so easy and painless for press to attend.
– Christopher Llewellyn Reed (@ChrisReedFilm)