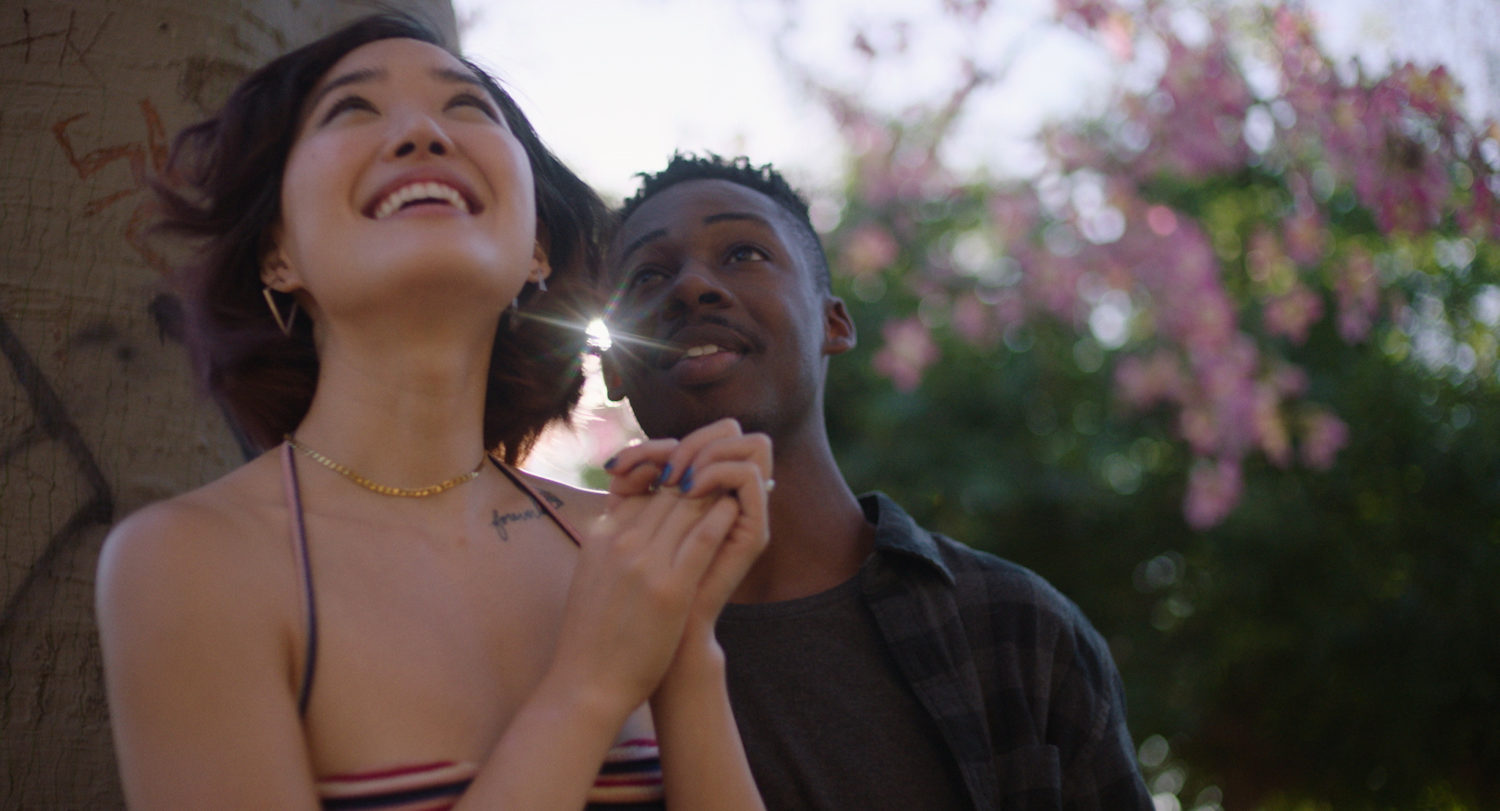 (Derrick Perry's debut feature film Pink Opaque is available now to buy or rent on all digital platforms. Like what you see here on Hammer to Nail? Why not give just $1.00 per month via Patreon to help keep us going?)
The struggle is real in up-and-coming filmmaker Derrick Perry's debut feature film Pink Opaque, which shows plenty of promise for his young career. To find inspiration within a Los Angeles landscape full of the most talented young filmmakers is both an intriguing narrative concept as well as a real-life story. Pink Opaque showcases the beauty of Los Angeles, while also depicting the more concerning underbelly of the famous city. Throw newfound love, estranged family members, and a strict deadline into the mix, and the narrative trajectory becomes increasingly unstable. These themes play a major role in the life of most debut feature films created with tight budgets. There is quite a bit to appreciate from both the visual and thematic side of Perry's filmmaking, which leads one to wonder what the director could do with more resources.
Focusing on a story centered around young love, responsibilities, and familial history, Pink Opaque stars Elijah Boothe as Travis, a young, homeless film student who struggles to balance his love life, passion for filmmaking, and current living situation within the dog-eat-dog world of Los Angeles. When his back is ultimately against the wall, and his world continues to fall apart, Travis comes across his estranged uncle Robin, played by Chaim Dunbar. The contrast between a young, homeless film student and the lifestyle of a former television producer in the twilight of his career sparks dramatic tension, especially when it involves the mysterious history of Robin and Travis' parents.
The most triumphant takeaway from Pink Opaque are the performances from its lead actors Elijah Boothe and Chaim Dunbar, both delivering emotionally potent turns as distant uncle and newfound nephew. The film's strongest scenes involve the relationship between these two men, bonding over their passion for creating film and slowly reconnecting after losing many years between one another. While the film might have rather insisted on the relationship between Travis and his lover Kristen, played by newcomer Ruby Park, to be the emotional core of the film, it instead goes to the likes of Boothe and Dunbar. The drama of the story is intensified by the ever-growing displeasure of Kristen's older brother Bobby, played by Daniel C., who succumbs to dealing narcotics just to keep his family legacy afloat.
With its setting and tone, Perry certainly takes inspiration from other modern humanist filmmakers. The director effectively paints an ethereal landscape of Los Angeles that juxtaposes opportunity with a bit of hopelessness. This is certainly a character-driven story, so making it as humanist as possible – especially when considering the underlying themes of homelessness and alcoholism – will naturally lead to many contemporary comparisons. Pink Opaque can be compared to Barry Jenkins' Medicine for Melancholy and Trey Edward Schultz's Waves, with its emphasis on a young Black protagonist struggling to survive within a historically-hateful country. Each day in the film draws closer toward the inevitable doom of Travis' final documentary project, but each day also presents new opportunities and a chance to learn and grow as a filmmaker.
Perry's greatest strength comes from his visual storytelling and his ability to establish tone for a given scene. Ryan Van Ert's cinematography is crisp and full of brightness and life when focused on its subjects. The editing is a bit jumpy throughout, there are instances that lack flow between scenes and sequences that impedes its naturalistic approach. The montage sequences deliver some of the film's punchiest moments, using different settings, lighting, and a diverse score and soundtrack from Jacob Piotek and Adam Brock. While the dialogue can come off a bit amateurish at times, both Perry and Van Ert have plenty of promise, and Pink Opaque does a good job of resonating with the modern state of the independent drama.
The landscape and window of opportunity for many aspiring filmmakers closes quickly in today's cinema, and with Pink Opaque, Derrick Perry creates a narrative that stays true to his journey. Though the film falls flat with its love story, it is instead carried by the more potent themes of a young Black man finding his father-figure and his attempts to address the ever-growing societal problem of homelessness, particularly in Los Angeles. Elijah Boothe continues to develop more as an actor with each role he is given, and Chaim Dunbar showcases what he is capable of in this tale of opportunity and responsibility. The film's meta themes of the modern American filmmaker will surely resonate with other aspiring filmmakers, particularly young Black filmmakers. Pink Opaque may come as an inspiration to keep going, for anyone who is close to giving up on their lifelong dreams.
– Connor Menz