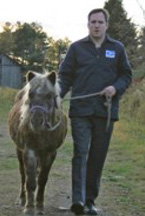 (***Winner of the Hammer To Nail Short Film Contest: May 2012!*** Little Horses first screened at NYU's First Run Film Festival in April of 2011 before moving on to the 2011 IFFBoston and beyond. Visit the film's Facebook page to learn more.)
Little Horses is one of those pleasant shorts made by a filmmaker who understands the power of restraint. By keeping his characters grounded, his humor naturalistic, and his epiphanies minor, director/co-writer/co-editor Levi Abrino displays a wise-beyond-his-years knack for directing that bodes well for his eventual graduation to features. Though it was made as a college assignment at NYU's Tisch School of the Arts, Little Horses would no doubt fit seamlessly into a non-student short film package at the most prestigious of festivals.
Written by Abrino and Luke Matheny, Little Horses opens at a kids' soccer game, where Dave (Patch Darragh) and Judy (Rebecca Henderson) share a bag of chips and joke about their son Ollie's (Ryker Bullis) less than effective style of play—i.e., he's sitting on the ground in the middle of the field, smiling and waving at them. But when the game ends, the less than idyllic reality of the situation takes hold: Judy is now dating Ollie's coach, Mark (William Peden), while Dave clearly wants his family back. As this is the real world Dave is living in, awkward politeness will have to stand in for his perhaps deeper desire to express his frustration in more damaging ways.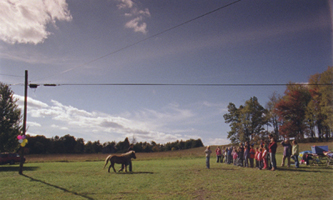 Making matters worse is the news that Mark has moved into Dave's old house, further distancing him from his role as primary father figure in his son's life. When Judy tells Dave that Ollie asked for a pony for his upcoming birthday but both she and Mark laughed off the idea—ponies are for girls, right?—he takes this as his cue to be a hero and give his son what he asked for. In the days leading up to the party, he discovers that Mark has taken Ollie to work for "Take Your Child To Work Day," which makes his desire to buy his son a pony even stronger. But is buying a blind, deaf, and nearly dead pony going to actually help his cause?
In only 17 minutes, Abrino and his collaborators manage to bring these characters to heartfelt life, and it is in Abrino's refusal to paint any character as outright good or evil that makes the film all the more satisfying. Typically, tales about divorce or separation wallow in the distaste of their complicated dynamics, yet here, Abrino is clearly trying to make the best of his characters' predicament. To this end, he employs a winning sense of humor—his casting of a hilariously real farmer who sells Dave the beleaguered pony is worth the price of admission alone—which helps his cause immensely.
These days, I find it incredibly refreshing when a filmmaker chooses difficult subject matter to explore but does so with an optimistic heart. But when that filmmaker happens to still be in film school? Well, then it feels downright revelatory. Without resorting to schmaltz or raising the stakes to outlandish proportions, Little Horses manages to teach viewers a sweet little life-affirming lesson.
***WATCH A SNIPPET OF THE FILM RIGHT HERE***
— Michael Tully