SHORT FILM CONTEST WINNER/RUNNER-UP: MAY 2012
Another month has gone by, which means the time has come to announce a new winner and runner-up in our ongoing Short Film Contest. Yippee! Based on our most recent three winners, an interesting pattern has begun to emerge: each of these films was produced under the auspices of a prominent NYC institution—i.e., Columbia and NYU. In fact, this month's runner-up was as well. Hmm. To that end, we have decided to do something different with our June contest. Far be it from us to throw down any sort of gauntlet, but we know for a fact there are excellent film schools all over the world. So to all you student filmmakers who have produced short work that you are proud of, submit to our June "STUDENT FILMMAKER CHALLENGE" in order to show these NYC-based upstarts that they aren't the only game in town!
Thanks to May's judges—Alex Ross Perry (see his The Color Wheel, which opens theatrically in NYC on May 18th), Chris Horton (Sundance's #ArtistServices), and Christina Choe (winner of March's contest with I Am John Wayne)—who watched and ranked the finalists, which has resulted in this month's highly accomplished one-two punch.
RUNNER-UP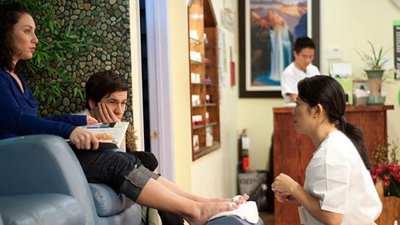 Priceless Things (Sarah-Violet Bliss, 11:43)
In its own insidious way, subtle racism can be even more disturbing than a blatant act of bigotry. With Priceless Things, Sarah-Violet Bliss nails this concept. Pun sort of intended there, as this extremely effective drama is set in a Chinese nail salon, where a young, white engaged couple stop off so that he can wait impatiently while she gets a manicure. But when they leave and the wife-to-be realizes that she left her engagement ring in the store, they must return to find it. Only it isn't where she *thinks* she left it. Bliss' special trick here is that she tells her story in a way that perfectly supports her film's thesis: as open-minded as we like to think we are, racism is often always simmering just beneath the surface. By the end of Priceless Things, the characters' discomfort has become our very own.
WINNER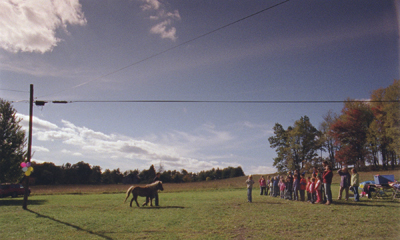 Little Horses (Levi Abrino, 17:36)
Little Horses is one of those pleasant shorts made by a filmmaker who understands the power of restraint. By keeping his characters grounded, his humor naturalistic, and his epiphanies minor, director/co-writer/co-editor Levi Abrino displays a wise-beyond-his-years knack for directing that bodes well for his eventual graduation to features. Though it was made as a college assignment at NYU's Tisch School of the Arts, Little Horses would no doubt fit seamlessly into a non-student short film package at the most prestigious of festivals. Read the full HTN review.
***WATCH A SNIPPET OF THE FILM RIGHT HERE***