SHORT FILM CONTEST WINNER/RUNNER-UP: MARCH 2012
It's the 15th of the month, which could only mean one thing: yes, that's right, it's time to announce the winner and runner-up in our ongoing monthly Short Film Contest! A hearty thank you goes out to our March judges Craig Zobel, Alison Willmore, and Mike S. Ryan. Though this month's runner-up is a 9-minute documentary and the winner is a 17-minute narrative, they make for quite a complementary—and emotionally affecting—double-bill. Before explaining why, I should first remind you that *submissions are currently open for next month's contest*, which will be judged by: sometimes HTN contributor Lena Dunham, whose HBO series Girls premieres on April 15th and is already getting crazy great reviews; Jeff Deutchman, Director of Acquisitions for IFC Entertainment; and Kelly Sears, who won our first ever contest with her haunting descent into high school past, Once It Started It Could Not End Otherwise. If you've made a short film, please submit it! But enough about that, it's now time to celebrate this month's worthy winners.
RUNNER-UP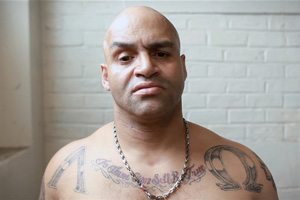 Figure Father (Andrew Ellis, 9 minutes)
Filmmaker Andrew Ellis spent one year documenting the life of 49-year-old Pedro Sodo, and though the resulting film runs only 9 minutes long, it nonetheless has the gravity and impact of a feature (when's the last time a short film made you cry? this one might very well do it). Released from prison in 2004, Sodo now volunteers as a motivational speaker at inner city high schools, where his life story brings these typically take no frills kids to tears. Ellis also introduces us to Sodo's 22-year-old son Tony, who sees his dad now but is still grappling with the impact of having grown up with an absent, emotionally unhinged father. While there is nothing formally groundbreaking about Figure Father, that only makes its climax all the more powerful. Piercing emotional truth like this KOs style any day of the week.
WINNER
I Am John Wayne (Christina Choe, 17 minutes)
From the first paragraph of my review:
The street where I live in Brooklyn has a rather unfortunate nickname: "the OK Corral." Not long ago, a teenager was shot and killed here (intense police presence, as well as recently installed surveillance cameras, have calmed things down). As portrayed by the media, these incidents happen so often that inner city residents don't even mourn this consistent loss of life—or, at the very least, nobody puts forth much of an effort or desire to understand the emotional fallout that impacts these communities. Having recently experienced one of these tragedies first-hand, Christina Choe's I Am John Wayne resonated much more personally for me. But more than that, watching it reminded me just how infrequently any of us are challenged—through the media, through the arts, through anything—to consider these types of situations from the inside-out. Rarely are we asked to relate to this endemic pain.
Read the full HTN review.
***Watch The Film Now Through April 15th Only!!!***
SEE YOU NEXT MONTH, EVERYBODY!!!
— Michael Tully