ONCE IT STARTED IT COULD NOT END OTHERWISE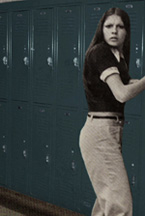 (***Winner of the Hammer To Nail Short Film Contest: February 2012!*** This film was sponsored by the Rooftop Filmmakers' Fund. Visit the official website of Kelly Sears to learn more and to find out about upcoming festival screenings.)
Who here liked high school? Okay, could those of you with your hands raised please leave the room and never come back? Great, thanks. In all seriousness, high school was awful. Even as a well-adjusted, reasonably popular kid, I nonetheless carried a leaden invisible weight around with me throughout those four woken-up-way-too-early-by-a-grating-alarm-clock years. On its best day, I just did not want to be there. Instead of focusing in class and trying to actually learn something, I instead daydreamed that time would tick faster so I could get on with my life (this, of course, only made the days drag more slowly). With Once It Started It Could Not End Otherwise, Kelly Sears uses her creativity as an animator and filmmaker to reawaken those long-suppressed feelings and cast the pall of a horror film in resuscitating the forgotten dreams, nightmares, and memories of high school hallways past.
Like an investigative report from a true crime show that has been soaked in LSD, Sears twists, distorts, and dements old yearbook photos to tell her haunting tale of a high school in 1974 (the year I was born, which only makes this film more eerily personal somehow) when something went insidiously wrong. Being that I am not even somewhat well versed in the art and craft of animation, I have absolutely no idea what techniques Sears uses here. But she uses them to truly unsettling effect. Several things stand out: the visuals pulsate in a manner that physically conjures the stale, soul-sucking airlessness of all those fluorescently lit classrooms and hallways; these yearbook figures, originally frozen in time by their class photographer, are now moved ever so slightly by Sears, giving them a ghostly quality; not as noticeably but perhaps most importantly, Sears uses text instead of a voice-over—there are no voices in this film whatsoever—which only adds to the atmosphere of desolation and loss.
In lieu of spoken words, Sears takes a much more abstract, and, dare I say terrifying, approach to her film's sound design. For the textual segments of exposition, the soundtrack is like a white noise distortion blend of thunder, rain, wind, and skateboard wheels scraping playground pavement. For the imagery of students at work and at play on the school grounds, it sounds like the muffled throbbing of an industrial-sized fan mixed with the metallic grind of school machinery. These parallel sounds build in menace until Sears takes things to a more outright aggressive level, which made me flash to an image that isn't in the film and which I'd never previously considered: a bound, gagged, and duct-taped student locked inside a janitor's closet, screaming into an unplugged microphone for help.
We never find out what actually happened at this particular school, though whatever it was, it caused a ripple that resulted in a collective sense of defeat: the school mascot disappeared, the student government disbanded, all after-school clubs were canceled. By the end of the film, as Sears unleashes a freaked-out bloodbath of a climax, that mysterious inciting incident comes into much sharper metaphorical focus. So what was it? What drained these kids of their hope and spirit and honor? F**king high school, that's what.
— Michael Tully
[LET THIS LOAD ALL THE WAY, WATCH IT FULL SCREEN, AND TURN IT UP LOUD]