SHORT FILM CONTEST WINNER/RUNNER-UP: FEBRUARY 2012
Well, that was fun! First off, we would like to thank everyone who submitted to our first monthly Short Film Contest here at Hammer to Nail. With 70 entries, the competition became ridiculously stiff ridiculously quickly. Whether comedy or drama or documentary or experimental freak-out, each and every submission had merit, to the point where it was difficult enough to settle on six finalists, let alone pick a winner and runner-up. Thankfully, this month's judges were up to the task, even though they too admitted to being very impressed with the films that they watched (I should know, I was one of them). So let's get right to it. Remember, both films get multiple festival submission waiver fees, but only the winner gets a review and the ability to share their film with our readers, which this month's winner has graciously agreed to let us do. (A reminder: if you have made a short film that you haven't yet submitted, we are currently accepting submissions through March 1st for next month's contest. Please submit, as we'd love to consider your work!)
RUNNER-UP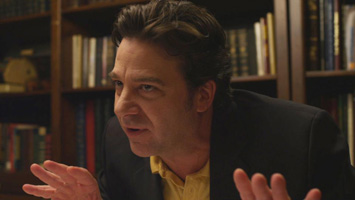 Cork's Cattlebaron (Eric Steele, 15 minutes)
This sneakily powerful drama concerns the downfall of Brady, a cocky, won't-shut-up-for-two-seconds salesman (Robert Longstreet) who sits down for dinner in an Omaha restaurant with his protégé Jon (Frank Mosley) and learns a painfully valuable lesson in the process. It's no secret that we're big fans of Longstreet here at HTN—he's our 2011 Silver Nail winner, by golly—yet his performance here only makes us love him more. Though he begins the film by playing an almost two-dimensional smart-ass, the final scene packs a three-dimensional wallop of humanity, adding unexpected depth to the proceedings. Initially, Mosley's role seems like an easy one, though it gradually reveals itself to be the trickiest, for he has to sit there for the majority of this film's 15 minutes in silence and absorb the obnoxiousness. Mosley underplays things perfectly, to the point where we know that when he finally speaks, it's going to bode very unwell for Brady. The death of a salesman, indeed.
WINNER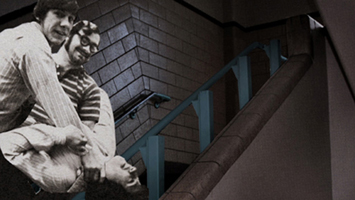 Once It Started It Could Not End Otherwise (Kelly Sears, 7 minutes)
"A mesmerizing mutation of yearbook nostalgia that's more terrifying than high school itself." — Aaron Hillis, GreenCine Daily
That's judge Aaron Hillis succinctly summing up Kelly Sears' 7-minute nightmare of a film (its production was supported by the Rooftop Filmmakers' Fund), which blew away pretty much everyone who saw it on its way to the tippy-top spot. We couldn't have launched our ongoing monthly festival with a better example of a film that blends personal creativity and technical ingenuity with genuine emotional force. In my review, I had this to say about it (read the full HTN review):
Like an investigative report from a true crime show that has been soaked in LSD, Sears twists, distorts, and dements old yearbook photos to tell her haunting tale of a high school in 1974 (the year I was born, which only makes this film more eerily personal somehow) when something went insidiously wrong. Being that I am not even somewhat well versed in the art and craft of animation, I have absolutely no idea what techniques Sears uses here. But she uses them to truly unsettling effect. Several things stand out: the visuals pulsate in a manner that physically conjures the stale, soul-sucking airlessness of all those fluorescently lit classrooms and hallways; these yearbook figures, originally frozen in time by their class photographer, are now moved ever so slightly by Sears, giving them a ghostly quality; not as noticeably but perhaps most importantly, Sears uses text instead of a voice-over—there are no voices in this film whatsoever—which only adds to the atmosphere of desolation and loss.
***Watch The Film Right Now. Be Sure To Make It Full-Screen, Let It Load, And Turn It Up LOUD***