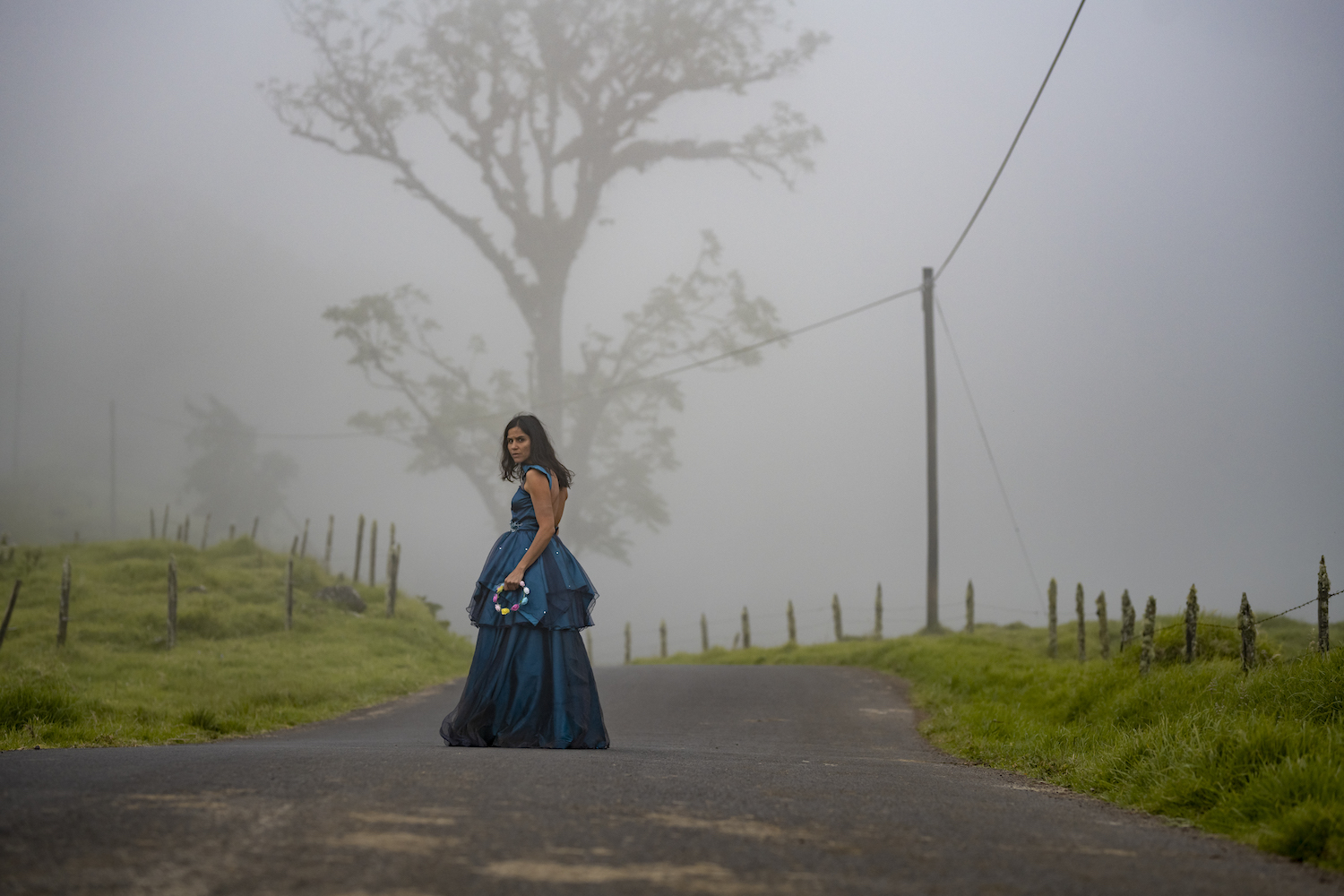 (Check out Chris Reed's movie review of Clara Sola, in select theaters now via Oscilloscope Labs. Seen it? Join the conversation with HtN on our Letterboxd Page.)
Mixing social and magical realisms with a feminist critique of religious and patriarchal dogma, Swedish/Costa-Rican director Nathalie Álvarez Mesén's debut feature, Clara Sola, is never short of cinematically dazzling. Cinematographer Sophie Winqvist Loggins (Pleasure) supports the narrative with sublime images—of both physical landscapes and faces (animal and human)–to help create a movie as stunning to behold as it is engaging to watch. Main character Clara may feel alone, as the title indicates, but we are right there with her, every step of the way.
And who is she? One of the daughters of Doña Fresia (Flor María Vargas Chavez), a tough older matriarch who wields authority over her children not to liberate, but to enslave, her own social position thereby ensured in a world not designed for women to thrive. Clara (Wendy Chinchilla Araya), who has scoliosis, is something of a holy fool, infantilized by her mother yet vital to Doña Fresia's standing, since she is a healer who speaks through the Virgin Mary. Folks come from afar to touch her and be touched by her. But, now forty-something, Clara is tiring of her role.
When first we meet her, Clara is communing with the family horse, a white mare named Yuca who would rather stay in the lush fields of the surrounding mountainous pastureland than be bridled and give tours to visiting tourists. The place is Vara Blanca, almost 50km to the north of the capital of San Jose, Costa Rica, and almost 2000m above sea level. It's gorgeous scenery, though quite rustic. Many there believe in the superstitious rituals pushed by Doña Fresia, even if Clara, at their center, no longer does.
Beyond Yuca, Clara spends her days with her niece María (Ana Julia Porras Espinoza), just turning 15 and about to celebrate her quinceañera. They act like sisters (María occupying the elder role, despite their age difference), given Clara's seemingly awkward mannerisms and limited ability to express herself. But unlike Clara, María is able to explore her own blossoming sexual urges with hired hand Santiago (Daniel Castañeda Rincón). Every time Clara lets her own hands wander south, Doña Fresia rubs them with chilis to make her burn. The cure does not take.
Slowly, Clara gathers strength in her rebellion against a lifetime of repression, drawing on the steel within and what appears to be more than just imagined supernatural gifts. Her growing lust for Santiago (a nice man who befriends her but not in that way), and fears that Doña Fresia might sell Yuca are the main catalysts, but the seeds of this fight were sown long ago. We find ourselves evermore drawn into her struggle, captivated by Chinchilla Araya's performance and the way Winqvist Loggins photographs her. Despair has never felt so empowering.
– Christopher Llewellyn Reed (@ChrisReedFilm)
Oscilloscope Labs; Nathalie Álvarez Mesén; Clara Sola movie review