10 DOCS TO CATCH AT DOC NYC 2020
DOC NYC 2020 runs from November 11-19, in a purely virtual format. There are over 200 films, 23 world premieres, 12 North American premieres, and 7 U.S. premieres. Lead film critic Christopher Llewellyn Reed and Editor-at-Large Matt Delman preview some of the best docs to see at this year's DOC NYC. For tickets, visit the festival's website.
Acasă, My Home (Radu Ciorniciuc): On the immediate periphery of Romania's capital city of Bucharest lies an accidental nature preserve, the result of the country's leaders neglecting a water reservoir after the late-1980s fall of communism. There lives the Enache family – mother, father and nine children – in a ramshackle structure alongside a horde of animals domestic and wild. Their situation is about to change, however, as the current government declares the area – Văcărești, as it is called – an urban nature park. In Acasă, My Home ("acasă" means "home" in Romanian), first-time director Radu Ciorniciuc follows the clan as they leave their makeshift paradise for a metropolitan hell, or at the very least, limbo. (CLR)
Finding Yingying (Jenny Shi): The disappearance of a Chinese student at the University of Illinois blends "Serial"-esque true crime intrigue with a nuanced portrait of the victim, her boyfriend and her parents. The fierce determination and strength of the Chinese family in crisis is on display, as it was in Abacus: Small Enough to Jail, which earned a surprise Oscar nomination in 2016. Reading from Yingying's diary, the narration makes the film feel more like last year's Shirkers. The director, Jenny Shi, was a close friend of Yingying when she lived in China, which adds a personal touch. (MD)
The Dilemma of Desire (Maria Finitzo): Given society's full-blown knowledge and visual familiarity with male sex organs, it seems odd that the female equivalent be so shrouded in mystery. I was surprised to discover its size and spread, from the part that emerges above the vagina (which most folks assume is the entirety of it) to the four downward extensions, two on either side of the pelvic area. If interested, check out artist Sophia Wallace's line of collectible art objects (Wallace is one of the film's main subjects). You, too, can own and wear your very own model of the clitoris. (CLR)
Dope is Death (Mia Donovan): As someone who can personally attest to the benefits of acupuncture, I was heartened to see this story of its practice in Harlem to help heroin addicts detox. The Black Panthers helped bring it to bear in the 1970s, working with a group called the "Young Lords," they peacefully take over Lincoln hospital and offer free quality healthcare for all–something that continues to be a radical idea. Turns out the NYC Mayor, the government and the FBI were not too happy about it. Donovan unearths a stunning archive of footage that couldn't feel more timely. (MD)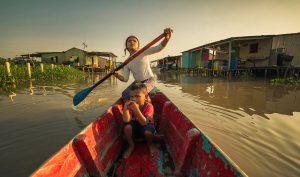 Once Upon a Time in Venezuela (Anabel Rodríguez Ríos): Political documentaries most often seem to focus on the obvious center of the story, which is those in power. That's all well and good, but there are other ways to explore the turmoil of Machiavellian machinations, corruption and more. Take, for example, Once Upon a Time in Venezuela, which trains its observational lens on Congo Mirador, a small village on the southwest side of Lake Maracaibo, located in the northwest area of Venezuela. Director Anabel Rodríguez Ríos (1, 2 y 3 mujeres) embeds herself with the locals, capturing their struggles and squabbles as Nicolás Maduro, the country's increasingly vulnerable, and subsequently increasingly authoritarian, ruler, fights to hold on to his presidency, far away in Caracas. The year is 2015, and the landscape is ripe for change. (CLR)
The Mole Agent (Maite Alberdi):  Programmed in the "Winner's Circle" section, this Sundance favorite has an amusingly simple premise: a detective agency puts a classified ad in the newspaper looking for an elderly man they can train to become a spy and implant him in an assisted-living home. Director Maite Alberdi (The Grown-Ups) is there to document this social experiment from the very beginning— the camera crew arrives a few weeks before our spy so as not to blow his cover. The film is full of humor, loneliness and grief, but what makes it so special is the close bonds formed between Sergio and his new friends. The Mole Agent is ultimately a heartening testament to new friendship at any age. (MD)
76 Days (Hao Wu/Weixi Chen/Anonymous): A remarkable moving-image document that takes us into the heart of our current global COVID-19 crisis, 76 Days is cinéma vérité at its observational best, following healthcare workers and their patients in Wuhan, China (where the first known outbreak occurred), from January 23 to April 8, 2020 – the 76 days of the title – as they confront the medical unknown. Whatever one's feelings about the origins of the disease and what could/should have been done differently from the start, the on-camera subjects have nothing to do with any of that. They are just human beings, struggling to understand what is happening, how to protect themselves, and how to save those in their charge. (CLR)
Time (Garrett Bradley): A stunningly assembled masterpiece in black-and-white, Time is a small but powerful film about one African American woman and her sons as their patience is tested and broken, waiting for their father/husband to be released from prison. An artful look at the criminal justice system that plays like poetry. It's closer in form to Hale County This Morning, This Evening than 13th. If you somehow missed this one at Sundance and the New York Film Festival, it's now streaming on Amazon. Its highlighting on the Doc NYC Shortlist makes it an awards season favorite. (MD)
Two Gods (Zeshawn Ali): In a brisk 82 minutes, we follow the story of Hanif, a Muslim man living in Newark, New Jersey, who, when we meet him, is hard at work building caskets and washing bodies for his local mosque. A kind, if occasionally gruff, fellow, he also mentors kids in the neighborhood, making sure they make it through the tough years of adolescence in one piece. He should know how hard it can be, for he has a troubled past, as we soon learn. Though we don't actually discover that many details, as it turns out, merely that Hanif is an addict in recovery, with an arrest record. That history drives his insistent tutelage of Furquan, 12, and Naz, 17. Firmly embedded with his subjects, director Zeshawn Ali plunges the viewer into the raw intimacy of the three lives he profiles, photographing body parts, alive and dead, at a simultaneous proximity and remove. (CLR)
Then Comes The Evening (Maja Novakovic): I felt compelled to include one short on this list, and this gorgeously observed pastoral portrait of two old ladies living a simple life in Bosnia clocks in at 28 minutes of pure meditation. If you liked Biggest Little Farm, you'll probably warm up to this littlest of little farms, where the two subjects tend to their crops and their animals in mostly quiet. If you're looking for drama, look elsewhere, but as a soothing balm in hectic times, it's just what the farmer ordered. (MD)
Once more, for tickets, visit the festival's website.