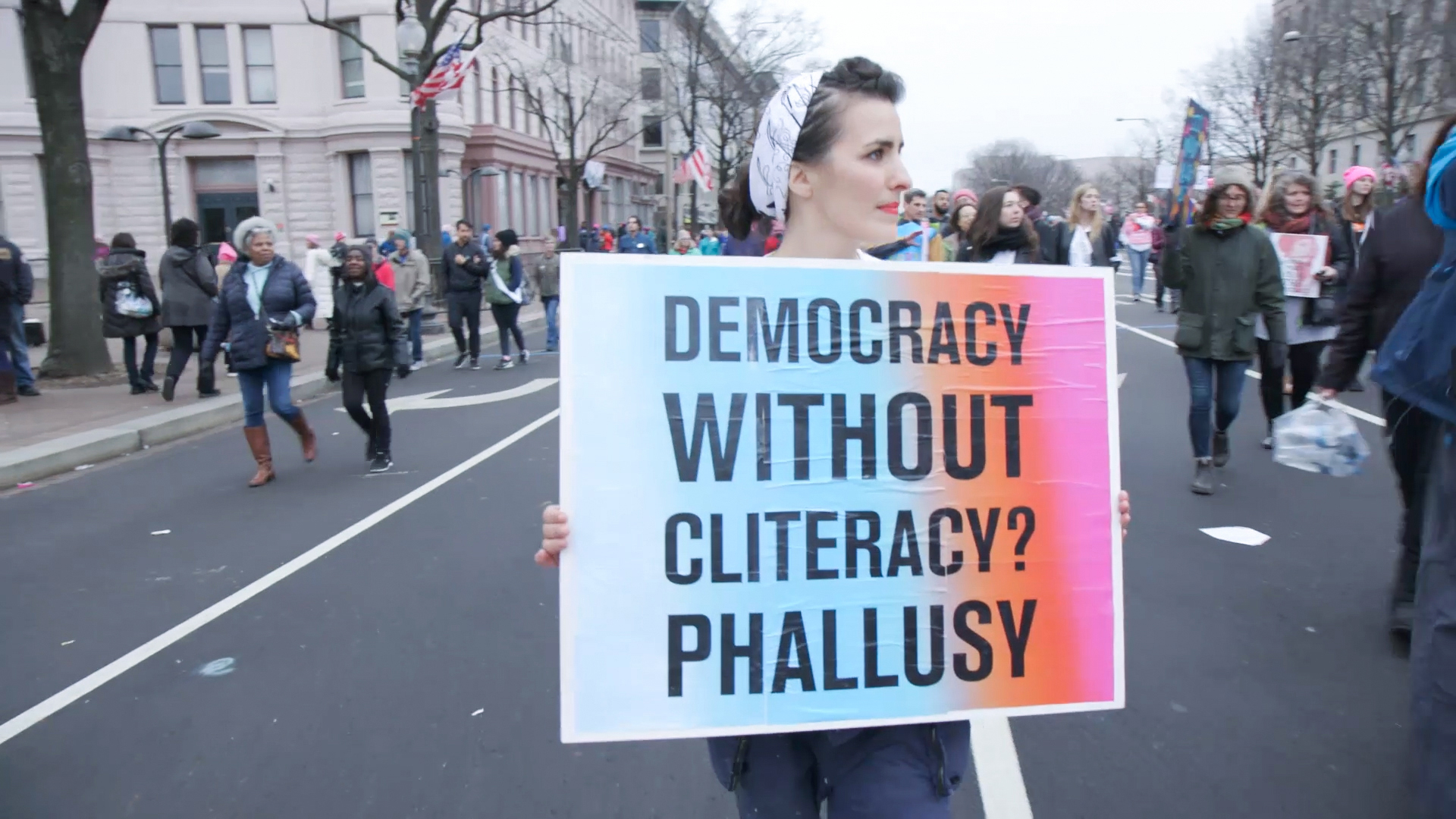 (The 2020 SXSW Film Festival was sadly cancelled. Yet Hammer to Nail is still reviewing films that were slated to premiere at the fest! We present, #LostFilmsofSXSW. Like what you see here on Hammer to Nail? Why not give just $1.00 per month via Patreon to help keep us going?)
Behold the 100 Laws of Cliteracy! Beware the click (if not the clit), however, as your delicate mind, if delicate it is, might find the frankness of artist Sophia Wallace's terminology alarming. I find it disarming and refreshing, for it celebrates a bold female sexuality that has forever been minimized and suppressed in service to the patriarchy's own wanton lust. Wallace is just one of many powerful women leading the charge for a robust revisiting of thousands of years of misogyny and misinformation in the deeply engrossing new documentary The Dilemma of Desire, in which director Maria Finitzo (Those Left Behind) examines how little we know – and how much we need to know – about the clitoris and beyond. With a captivating cast of talking-head interview subjects, Finitzo creates a comprehensive overview of the erotic world of women that dispels all preconceptions and false notions. Desire is not the dilemma; male dominance and supremacy are.
Few people know what a clitoris looks like. After watching this film, however, many more will. I admit to going in as the former, and am proud to come out as the latter. Given society's full-blown knowledge and visual familiarity with male sex organs, it seems odd that the female equivalent be so shrouded in mystery. I was surprised to discover its size and spread, from the part that emerges above the vagina (which most folks assume is the entirety of it) to the four downward extensions, two on either side of the pelvic area. If interested, check out Wallace's line of collectible art objects. You, too, can own and wear your very own model of the clitoris.
Beyond Wallace, Finitzo brings in academics and scientists (and academic scientists), feminist sex-toy makers, and young women finding their way as they navigate their sexuality and the restrictions put upon it. From Drs. Stacey Dutton and Lisa Diamond to designer Ti Chang, Co-Founder and Vice President of Crave, to twentysomethings Becca, Coriama, Jasmine, Sunny and Umnia, we are treated to a wide variety of experience, opinion and cutting-edge research that forms a wonderful supporting network for Wallace's art, the history and development of which forms the backbone of the narrative. It's a rousing, inspiring tale, and playful, too, as these women are as much about enjoying themselves as about changing the world. If one can have a laugh or an orgasm while marching towards progress, all the better.
As wonderful as it is to watch this celebration of the inclusive female gaze, in opposition to its all-consuming male counterpart, I would have enjoyed at least some (mild) participation – even just as man-on-the-street interviews, if nothing else – of actual men in reaction to the flow of information discussed here. The movie should clearly be about the women, and it is, but we are told what men think, rather than shown. Granted, there are a few enlightened souls, friends and partners of the movie's subjects, who make appearances, and the male perspective permeates our world at every turn, but all stories, however powerful, are even stronger when they confront the adversary directly. That gentle grumble (perhaps a mere cavil) aside, The Dilemma of Desire is a marvel, fierce in its focus to rewrite the rules of behavior for all to follow. Begone, O Phallusy! The age of Cliteracy is upon us.
– Christopher Llewellyn Reed (@ChrisReedFilm)