Day One of the Julien Dubuque International Film Fest
(The Julien Dubuque International Film Festival is in it's 4th year and features over 90 shorts and features of various styles from over 50 countries. It runs April 23-26)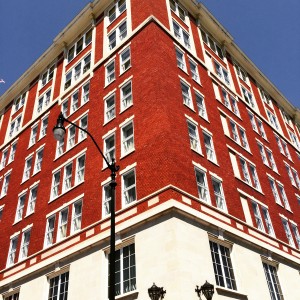 So I'm still here in Dubuque Iowa and you know what? It's pretty awesome! My day and the festival started off Thursday with sunny skies and some gusty wind. It wouldn't be the Midwest without that so I considered it a real genuine taste of the area. I wandered out of my hotel and down to the festival headquarters that is less than a block away which in my opinion is a key ingredient to a film festival; keep everything close by. Every screening venue at the festival is within a 3 block radius except one. That's really nice for out-of-towners and there's a lot of us here for the fest.
Downtown Dubuque is truly a beautiful slice of charming Americana and I'm surprised more films aren't made here. It's got that downhome vibe, everything is inexpensive and the people couldn't be nicer. It's truly Anytown U.S.A. I even counted 4 strangers who said "hello" to me as I walked around!
After grabbing my badge and checking out the festival HQ, (the filmmakers lounge is well stocked with treats, sandwiches, sodas, water and coffee, another huge plus!) I headed on a shuttle to that one screening venue that isn't nearby to catch Academy-Award winner and Dubuque native Louie Psihoyos' (The Cove) latest film Racing Extinction. The screening was sold out with nearly 300 people in attendance. Not too shabby for 3:00 pm on a Thursday.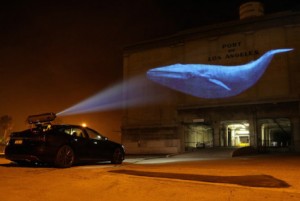 Racing Extinction is shot gorgeously (Psihoyos is a highly regarded photographer) and features myriad ways in which we, as humans, are destroying our planet. But rather than run down the road of preachyness and guilt, Psihoyos weaves in tales of beautiful animals who are close to being gone forever and also has some exciting sequences where he and his team infiltrate illegal food rings who cater in endangered species food trafficking. It's an important and inspiring film but I felt it just covered way too much territory.
From blue whales nearing extinction to sharks and manta rays being decimated by illegal hunting back to CO2 emissions and all the way back to frogs and plankton which are disappearing at an alarming rate, it's just a lot to digest. One of the ways The Cove was so well regarded and impactful is that it focused strictly on dolphin slaughter. While every single topic covered in Racing Extinction is important, alarming and terrifying, it's just so much you feel powerless to stop what's happening. This is odd as well because the film really is a message of hope. It's a good and important film, I just wish it were a bit more focused.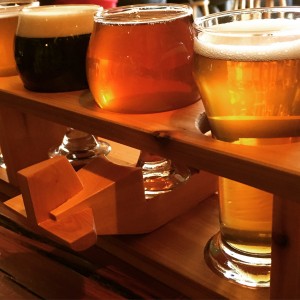 From that screening I found myself with some time to kill before the opening night festivities so, as I'm prone to do on any trip to a new town, I located a local craft brewery. In Dubuque it's newly formed Jubek New World Brewing Company and it's a very cool pub. Small but cozy with a nice vibe pulled together by a cool vinyl collection spinning on a turntable. Plus, beers were not only delicious, they were cheap! $4 a pint! Crazy. But enough about that. If you ever find yourself in Dubuque and you like beer, check them out.
As I walked back to the opening night party I was almost disturbed by how quiet the downtown was. It was by no means a ghost town, it just had a calm yet eerie silence that was admittedly a little creepy. But when I arrived at the Five Flags Center for the Opening Night kickoff, I found a packed house excited to see what the festival had to offer. Festival director Susan Gorrell offered up some nice opening remarks before bringing out comedian Andy Sipes as emcee. The fest then did something cool I'd never seen- they showed some trailers from films in competition. It's a smart move to get an audience excited about what's being offered. The opening night also had some cute musical performances and the whole shebang was no more than 45 minutes long, another good move as people were ready to see movies and party.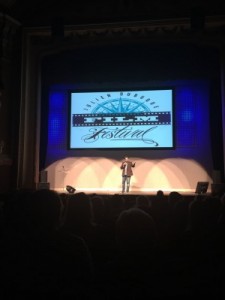 I lollygagged around town for a bit as I heard there were some cool local dive bars and those rumors were correct. I noted the location of Paul's Tavern which is legendary according to locals and I made my way back to the opening night party. However in my dilly-dallying, I missed all the free food so rather than buy beers and listen to a cover band, I made my way back to Paul's and hung out with Dallas filmmaker Courtney Ware who's film Sunny in the Dark is high on my list of wanna-see-it's. I had a great time with her and one of her producer/actresses Shanda Lee Munson and Paul's Tavern was everything it was cracked up to be. Cheap drinks, amazing charbroiled burgers and local flavor. In fact about an hour into our stay, the entire opening night party ended up there. A nice way to end the night.
Alas today was kind of a wash for me as I woke up in the full throes of a sinus infection/cold I've been fighting off all week. It finally won me over. I felt (and feel) like crap and have only managed to catch up on some writing and a screener today. I'm currently trying to rally so I can see the 7:00 pm event which is at the Five Flags Theater which is screening Harold Lloyd's The Kid Brother with a live score by the Dubuque Symphony Orchestra. Sounds cool! Hope I can make it…
– Don R. Lewis (@ThatDonLewis)