Trying to explain CPH:DOX isn't as easy as it might seem. Though its full name is the Copenhagen International Documentary Film Festival, a quick scan of the DOX:AWARD nominees makes you wonder if they're kidding or not. In what universe is Trash Humpers a documentary? Or is it? One thing's for sure. The Danish program's description of Trash Humpers as "Harmony Korine's nobudget-fuckfinger" deserves a Pulitzer Prize. As curated by Festival Director Tine Fischer and Head Programmer Niklas Engstrom, the CPH:DOX program is more experimentally driven, filled with work that boldly blurs the line between fiction and nonfiction. Ask me to compare CPH:DOX to another festival and I would choose Rotterdam over any of the other distinctly nonfiction fests out there (IDFA, Hot Docs, Sheffield, Silverdocs, True/False, etc.). Everyone loves arguing about the tenuous thread between "documentary" and "fiction," but CPH:DOX does its part to torch that irrelevant distinction once and for all. To quote documentary master Frederick Wiseman, whose phenomenal La Danse: The Paris Opera Ballet screened in this year's program: "I make movies. That term is good enough for me."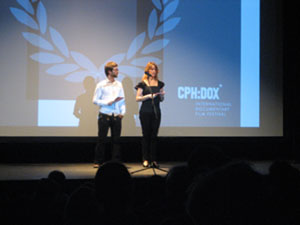 Every time I go to a festival like CPH:DOX, my knee-jerk reaction is to think, "Oh, they're just more cultured in Europe. People watch experimental cinema like game shows over here." But in her introduction at the closing awards ceremony last Saturday night, Fischer dispelled that attitude. While it cannot be disputed that there is a level of governmental support for the arts in Denmark—as well as throughout Europe—which puts our own government's lack of interest to shame, Fischer admitted that this year's festival was more difficult to pull off than ever before. But more tellingly, she expressed a heartfelt thanks to so many people for taking a risk on challenging cinema and being so engaged and supportive of the CPH:DOX mission. That's when I reminded myself that my fantasy was just that: fantasy. When it comes to socially conscious, artistically challenging, politically engaged cinema of any variety, it's never easy. Even in Copenhagen.
The festival's epicenter, the Danish Film Institute, is so gorgeous it hurts. With a video store, a café/restaurant, state-of-the-art screens, and much, much more, the DFI stands proud as a model of what film institutes should be. In typical traveling fashion, most of my time was spent with the festival's more NYC-centric attendees—including Matt Dentler (blogger, Cinetic Digital Rights Management), Alison Willmore (IFC.com), Debra Zimmerman (Women Make Movies), Adella Ladjevardi (Cinereach), Thom Powers (Stranger Than Fiction, TIFF), Ryan Harrington (producer), Richard Lorber (Lorber Films), and filmmakers AJ Schnack, Nate Truesdell, Ian Olds, and Alexander Olch. Everyone expressed a similar awe at the building's beauty, and though I didn't make it elsewhere, several people—including a gobsmacked Olch, who returned from introducing one of his screenings at the Posthust Teatret—confirmed that the festival's other venues were as lushly appealing as the DFI.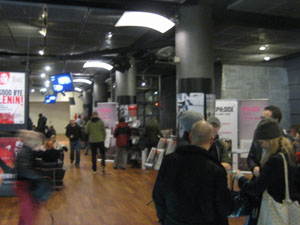 Perhaps the most revelatory perk of CPH:DOX was the screening library, which was hands down the finest I've ever encountered. It worked with a futuristic smoothness: 1) Place a small sticker on your badge; 2) Set your badge on a card reader. 3) Quickly register. 4) Peruse the main database. 5) Pick a film. 6) Watch it. I'm not sure if problems would have arisen if everyone in the room had wanted to watch the same movie, but I never encountered a technical issue, and I also relished not having to check out actual DVDs. One hopes that other festivals are in the process of making a similarly modern upgrade.
As for the films themselves, I didn't check out nearly as many as I would have liked to, but here are some standouts (discounting those that I've previously seen, including La Danse, The Family Jams, Lunch Break, O'er the Land, Objectified, Sweetgrass, Trash Humpers, Videocracy, We Live in Public, and The Windmill Movie):
Petropolis: Aerial Perspectives on the Alberta Tar Sands (Peter Mettler, Canada, 2009) — Mettler's poetic essay about the immense—and immensely destructive—industrial energy project in Northern Canada makes its point through a sumptuous blend of striking photography and a quietly menacing sound design that simmers underneath the surface. Mettler shot his film from a helicopter, but at times you might forget that. Much of the haunting landscape looks like it could be a satellite view of Earth from outer space, until you catch a glimpse of a highway or a house and it hits you how close to the ground his camera actually is. Though he opens the film with title cards that state facts about the massively scoped and environmentally problematic endeavor and concludes with a voice-over that offers a similar warning, those well crafted words are no match for Mettler's statement in between.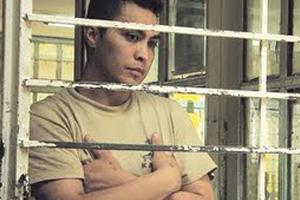 Presumed Guilty (Roberto Hernandez and Geoffrey Smith, Mexico, 2009) — Winner of the festival's AMNESTY AWARD, Hernandez and Smith's powerful, stirring film follows the shocking true story of a young Mexican man, 'Tonio' Zuniga Rodriguez, who is convicted of a murder he clearly did not commit. At first, I worried that there was too much of a "true crime" aesthetic to keep me from giving all the way in, but as the story heats up, it's impossible not to become fully immersed in it. Presumed Guilty combines the witty wordplay of Police, Adjective with the emotional force of The Trials of Darryl Hunt, resulting in a movie that unfolds like a sharply written Hollywood drama and a powerful social justice documentary at the same time.
Fixer: The Taking of Ajmal Naqshbandi (Ian Olds, USA, 2009) — I finally got a chance to play catch-up with Olds' much-lauded tribute to slain journalist Naqshbandi, a 24-year-old "fixer" whose job was to help foreign journalists navigate their way through the dangerous Afghanistan terrain while investigating on new stories. Olds mercifully lets us know right away that Naqshbandi lost his life at the hands of Taliban warriors; he's not out to tug at those cloying heartstrings. Instead, he journeys from the past to present to paint an honest, absorbing portrait of a man who proved to be less important to his own government than a journalist from another country altogether. Late in the film, we hear Naqshbandi speaking in his native tongue to a companion as Olds and reporter Christian Parenti ride in the backseat. What he says will be troubling for some, yet it's at this moment that Fixer elevates itself from good to very, very good. Olds honors Naqshbandi with this film not by turning him into a martyr, but by preserving him as a man.
The Invention of Dr. Nakamats (Kaspar Astrup Schroder, Denmark, 2009) — Yoshiro Nakamats is a figure so gleefully compelling that the worst filmmaker in the world could produce a watchable portrait of him. Fortunately, Schroder knows what he's doing behind the camera, which makes The Invention of Dr. Nakamats a surefire crowd-pleaser. Super inventor Nakamats holds the world record for patents with over 3,300 (putting Edison's 1,000 to shame), which run the gamut from the floppy disc, to an aphrodisiac called Love Jet, to fuel cell karaoke. He has photographed and dissected every meal he's eaten for the past thirty-four years, he chooses cameras by the way they smell, and he does his best thinking while swimming underwater and on the verge of unconsciousness (taking notes with an underwater notepad that he also invented). Charming and quirky, Nakamats clearly relishes having the camera follow him around. If reality television profiled characters like this, I might actually get cable.
Though it ran for only nine days, the lineup included enough films and special events to sustain a month-long festival. In addition to the DOX:FORUM and DOX:LAB, there were masterclasses with Philippe Grandrieux and Anders Ostergaard, artist talks with Vincent Moon and DJ Spooky, and much, much more. I have to confess, at of all the options, I was perhaps most psyched for the "YouTube Battle 2009," which was held at a club called Pumpehuset (if that doesn't translate to "Pump House" then it should). Arriving in a packed warehouse with thumping music, the night started fine. But gradually, it became clear that we were going to be spending more time watching the contestants surf through their desktop folders to find appropriate clips rather than watching clips themselves. And when it was off and running, a more disturbing revelation emerged: a few dudes having a YouTube session in their apartment is bad enough, but a few hundred dudes doing it in a live venue is really depressing. That said, before you think I've written off the idea completely, let it be known that those of us there were inspired enough to consider staging our own YouTube battle in NYC in the future.
In matters of a slightly more politically charged nature, I was looking very forward to the seminar "The Revolution Will Be Twittered: Iran & The Internet," but, whaddya know, Mojtaba Mirtahmasb, head of the Iranian Documentary Filmmakers Association, had his passport revoked and was not allowed to leave the country (read the full press release here). That said it all, yet I attended the panel anyway, in which two Iranian bloggers, who live outside the country's walls, did their best to provide some insight. Unfortunately, I was hoping for some internal insight, so their information, however interesting, left me underwhelmed.
Everyone agreed, after having spent a few days at CPH:DOX, that there really was no other way for this year's edition to end than with Trash Humpers taking home the DOX:AWARD (the rest of the winners can be found here). And, by golly-gobsmacked, it did. After watching days of invigorating work that pummeled the fiction/nonfiction wall into submission, Trash Humpers seemed like the most appropriate choice of all. Jury member Frederic Boyer, the new head of Director's Fortnight, described Korine's film as, "The craziest happening to have happened!" Which, come to think of it, belongs on the poster just below "nobudget-fuckinger." Korine didn't attend the festival, but he submitted this video clip of acceptance:
That victory speech is actually quite telling. For all its silliness—and it is silly—if you pay close attention, you'll notice that Korine manages to slip in a sincere, rousing call to arms: "If you're making movies now, it's a very exciting time. You need to be bold and invent your own kind of movie." With Trash Humpers, Korine took that lesson to heart. The brave, open-minded programmers and jurors at this year's CPH:DOX recognized that and rewarded him justly. For all of you filmmakers out there who love to frolic in the narrative-meets-documentary margins, who are making work that shuns easy categorization, CPH:DOX is the place to be.
— Michael Tully