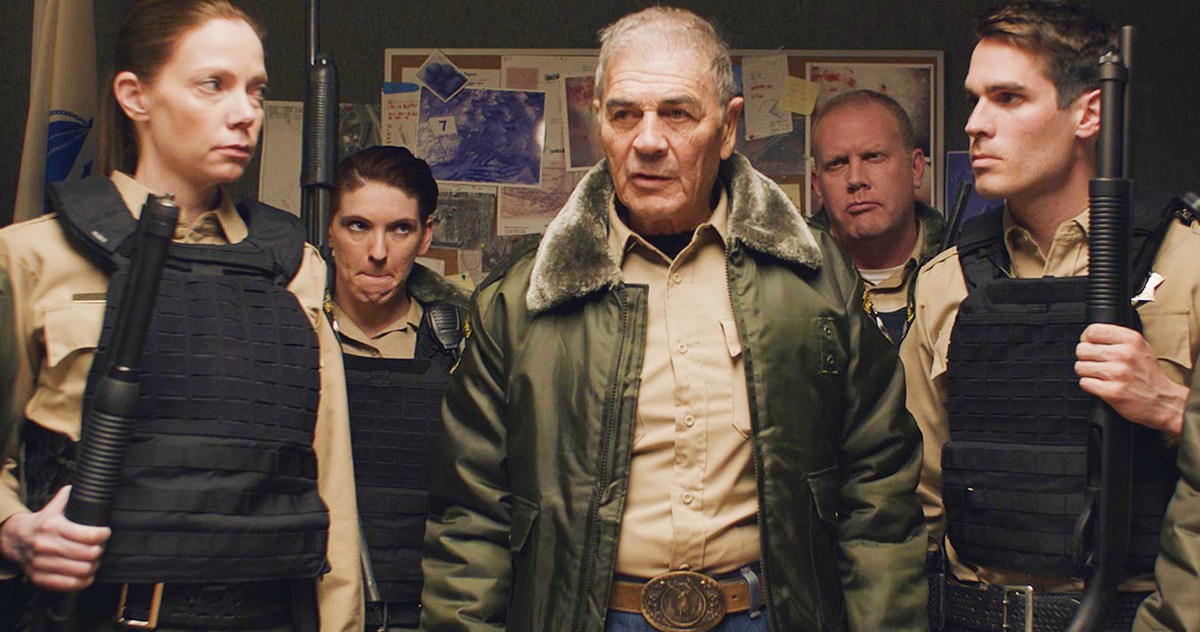 (The Wolf of Snow Hollow, writer-director Jim Cummings' follow-up to his well received first feature Thunder Road is available no won VOD. Like what you see here on Hammer to Nail? Why not pay just $1.00 per month via Patreon to help keep us going?)
Writer-director Jim Cummings is back, fresh off the heels of the critically acclaimed, award-winning dramedy Thunder Road, with another film about a down-on-his-luck small town police officer. Cummings' newest film, The Wolf of Snow Hollow, follows John Marshall (Cummings), the local hothead sheriff of Snow Hollow, a snowy town in the mountains. The film also features the late Robert Forster, an academy award nominee, in his final feature role as Marshall's father, Sheriff Hadley.
The Wolf of Snow Hollow tells the story of Snow Hollow's local police department, and specifically Marshall, struggling to make sense of a series of brutal murders taking place during the full moon. While this takes place, Marshall is already dealing with a myriad of problems of his own. He's dealing with a recent divorce, a rebellious teenage daughter, addiction, anger issues, aiding his ill father, and a lackluster police department that doesn't seem to want to do their job. On top of all this, he now must deal with chasing down an apparent serial killer in town. However, the wounds of the deceased seem to suggest that an animal is responsible for the attacks, and the townspeople begin to report sightings of a large creature. Is it really a serial killer that is wreaking havoc in this town, or something more?
As he did with Thunder Road, Cummings succeeds in placing compelling characters in intriguing situations. Marshall is a flawed main character who has anger issues and is impatient with his coworkers, his daughter, and the citizens of his town. His town crumbling, he loses his patience and his temper  at many moments throughout the film, lashing out at all who are incompetent all played to much humor. Yet, Marshall is humanized by his relentless drive to capture the killer who is terrorizing the town and his ultimate goal, to prove that his police department can actually do their job. The film provides timely commentary on the police's reputation amongst citizens as well as a thought-provoking look at how citizens can panic and turn on one another in times of crises.
The Wolf of Snow Hollow is further enhanced by its technical merits, specifically its unique use of montage. These sequences in the film go back and forth between moments in time, showing events of the past, present and future in a rapid-fire collection of visuals. For example, one of them shows a citizen being attacked, Sheriff Marshall talking with a coroner over said citizen's dead body, and Marshall attending the citizen's funeral, all spliced together and intertwined. It is a bit of a jarring experience the first time it occurs but, after a few times, the viewer comes to appreciate the different style of montage being used, ultimately becoming another of the film's strengths. Also, the cinematography is top-notch, especially the awe-inspiring wide shots of the mountain town.
Overall, The Wolf of Snow Hollow is an engaging, character-driven story. The tone of the film is inconsistent at time  (the thriller/comedy mix doesn't always work) and the ending leaves a bit to be desired. However, with Cummings at the helm and a diverse array of supporting characters, along with its unique technical elements, The Wolf of Snow Hollow presents an engaging, humorous, and wholeheartedly unique tale. While not as heartfelt or memorable as Cummings' Thunder Road, The Wolf of Snow Hollow is a commendable follow-up feature in its own right.