A Conversation with Josh Ruben (WEREWOLVES WITHIN)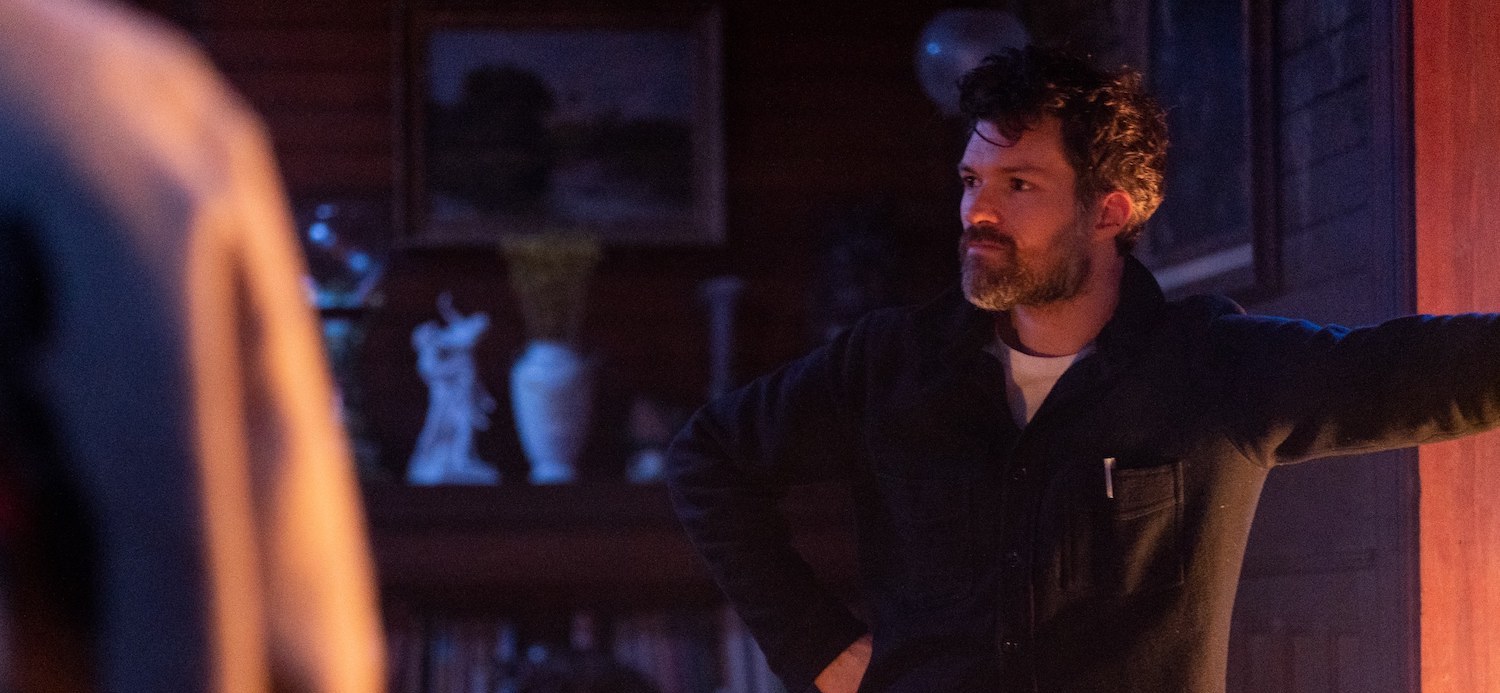 In his sophomore feature, Werewolves Within (which I reviewed out of the 2021 Tribeca Film Festival), actor-turned-director Josh Ruben (Scare Me) creates a dizzy whodunit loosely based on the Ubisoft video game of the same name. Working off a script by Mishna Wolff, Ruben throws us into a wintry, supernatural murder mystery set in New York's Catskills region. Just where — and who — are the werewolves? That is very much the question. The film offers juicy roles to a delightful cast that includes Sam Richardson, Milana Vayntrub, Michael Chernus, Harvey Guillén, Cheyenne Jackson and Michaela Watkins, among others. For the movie's December 7 disc release, I spoke with Ruben by Zoom, and here is a condensed digest of our conversation, edited for length and clarity
Hammer to Nail: I know you didn't write the script — Mishna Wolff did — but can you explain its relationship to the video game? Because even though I've never played that game, after reading its synopsis, it seems like your movie and the game share a basic premise but then a lot is wildly different. So what really is the relationship between the two, other than the title?
Josh Ruben: I'm going to try not to butcher Mishna's words here, but she puts it really well in that the carryover from the game is the manipulation — and I would say manipulation and manipulative game-playing tactics — the sneaky skills you need to have to play the Ubisoft game, to be able to lie and figuratively stab folks in the back. It was that tone that was important that Mishna had to carry over. And, also, the wonderful thing that Ubisoft was comfortable granting me, insofar as a level of freedom, is if it had anything remotely to do with the game, go for it, make it a whodunit like the game, but otherwise you have oodles of freedom. 
HtN: And it is a great whodunit, in the spirit of things like Murder by Death from the '70s or more recently Knives Out. How did the script come to you?
JR: It came through Ubisoft's production partner, Vanishing Angle. I've known Matt Miller and Natalie Metzger for some time. They had just finished producing another werewolf movie called The Wolf of Snow Hollow, and they watched the test screening of my first feature film, Scare Me. They gave me some notes and they enjoyed Scare Me and I guess, when Werewolves Within came across their desk as something to partner with Ubisoft on, they thought, "Hey, Josh directed a movie. It feels like it's in this tone. Maybe he should throw his hat in the ring." And I'm so glad they asked me to because it changed my life.
HtN: So I haven't seen Scare Me, but I understand that it shares, with this new film, themes of isolation and being snowed in. Would you say that that's an important recurring topic for you, like being wrongfully accused was for Hitchcock? Is this something you're obsessed with?
JR: Well, my obsession with it on the first one was that to be isolated meant we could afford it. (laughs) That only meant we could fit four actors in one cabin to pull off my Duplassian effort in feature number one. No, but I just think it's interesting that I'm a theater guy. I came up in the Woodstock Youth Theater. Woodstock, New York, is where we shot Scare Me and close to where we shot Werewolves Within. And I love performance-driven work and comedic performances, comedic actors, and just working with actors. And it's such a performance-heavy, dialogue-driven, comedically driven film. And so that's, I think, the major link between the two, but the funny thing is that with the pandemic hitting it, we found this kind of inadvertent relevance in both of them: p people isolated with this kind of greater threat, unsure what to do, and with simmering resentments. It's sort of very, very pointedly about the zeitgeist, and whether that's a blessing or a curse, I don't know.
HtN: You just mentioned the filming locations, which I was going to ask you about next, which are in the Catskills region of New York, between Phoenicia and Woodstock…which is apparently near where you grew up, as you were discussing. Since the area was so familiar to you, how did you scout locations? Did you already have places in mind that you knew from earlier on?
JR: That's such a great question. I mean, this whole film, so much of it felt like me showing off where I grew up and opening up a part of my brain and showing it to just incredible actors that I admire and that I'd been watching and loving for some time. To be able to invite Michael Chernus and Harvey and Milana and everyone to my childhood home, where my mother grew up, to shoot on Main Street, in Phoenicia, where I would run around with a cap gun and pretend that I was Chief Brody and eat pancakes at Sweet Sue's. It was a beautiful thing to be able to go, "Oh, when I was a kid, I used to play in these woods. It would be great for a moment where X happens," or to be able to suggest a local actor buddy of mine who had done a little cameo in Scare Me and now could pop up doing something completely different in this film.
It was wonderful. It was incredibly personal. Pretty much every weekend I would leave my friend's cabin, where I was staying (he so graciously offered to let me basically live there for the duration of the shoot) and drive the 40 minutes to Woodstock and stay at my parents' house on the weekend and just get a little bit of a staycation getaway from the stresses of filming. And I love going home; I'm a total homebody through and through. And it would reset me every time there. There was one weekend where I was able to go home after a long week of shooting, feeling very accomplished, and watch Chris Maxwell, who's a composer buddy of mine, and composed my first feature with his partner, Phil Hernandez, and watch him play at the local theater. It just hit all sides of my homebody palette. And I would love to keep doing that, shooting back in that region. I love the Hudson Valley.
HtN: I loved the hotel. It's a great location to film that's not necessarily foreboding but becomes so. Where was that? Was that in Phoenicia? Was that in Woodstock? How did you pick that?
JR: It was actually my fiancée, Lauren, who's also a director and has just incredible taste, and she's such an encyclopedia for great corners of the world, be it locations or actors, or really all kinds of cool things to put on camera. And we did this massive tour of the region, from Rhinebeck to Palenville, looking for the perfect place. And it wasn't quite hitting. And she suggested this bed and breakfast and event space called Spillian, which is in Fleischmanns, which is where Jim Jarmusch had just shot The Dead Don't Die. And she said, "I went to this New Year's party. We rented out this Gothic mansion with these incredible details and this kind of lodge-like feel. You should check it out." And we walked in and we all looked at each other, the producers and I, and we just knew that this was the place. It felt like a whodunit parlor.
HtN: That's interesting. So the town is Fleischmanns and that's where Jarmusch shot The Dead Don't Die. I didn't put that together.
JR: That's correct! So it just has that perfect lost-in-time sort of a look and yeah, we really made a home in that corner of the world.
HtN: I love the ensemble, from Sam Richardson to Milana Vayntrub on down. How did you choose those lead actors? Did you just work with a casting agent? Did you already have some people in mind?
JR: I knew right away that I wanted to work with Gayle Keller. She's a brilliant casting director. She does the FX show What We Do in the Shadows. She was the one who suggested Harvey Guillen for Joaquim. It was a sort of a scatter-shot casting process because first and foremost, this being the biggest job I'd done as a solo director to date, I knew I wanted to have friends, actors that I've worked with in my repertoire, who I have a shorthand with, who also are just buddies. We were going to be out in the middle of nowhere in the winter. And I knew that I could lean on George Basil or I could lean on Milana as two buddies I've known for close to a decade if shit hit the fan. We could have a hot toddy and commiserate about me feeling like a hack or like an imposter, which luckily didn't happen and I didn't have to do, but I knew I wanted buddies for that comfort-level sake.
And then I asked Harvey Guillen and George Basil, specifically, "Who do you want to play your spouse, so that you have someone to lean on? Who's a buddy or who's an actor that you've wanted to work with?" This way they had skin in the game and there was an inherent sort of chemistry there. So Harvey suggested Cheyenne Jackson, who I absolutely adore and had known since he did All Shook Up on Broadway, and I wouldn't have necessarily thought of, otherwise. And George Basil suggested Sarah Burns to play Gwen. And that worked really well. I think that a big piece of why the ensemble is so good — they just kind of leap off the screen — is because everyone knew each other or they knew of each other, or they had chosen the other person to be a part of the project. So there was just this buzziness about it, which was palpable.
HtN: I particularly like Sam Richardson. He's very dry, almost Midwestern, with a "you betcha" kind of delivery. Did you always intend for him to be the one Black face among the cast? I mean, it definitely sets him up as a double outsider, right? He's both a newbie and a person of color. Yes, you have Harvey, who is Latinx, but Sam still stands out in this largely white town. When did you decide that that was an important part of your story?
JR: Oh, I knew I didn't want to make another movie, as a 37-year-old white director, about a white hero. My argument, though I didn't need it, was: A) why not?; and B) this is a story about newcomers and about being an outsider. And I grew up in a small town. Woodstock was quite liberal, but when I was a kid, I was the majority in school. In the area I grew up in, you had the two Jewish kids, the two Black kids, the two Latinx kids. And that was it. And this is that kind of town; Beaverfield is that kind of town. So it only further drove home the themes of being an outsider. It added a little bit more subtext and texture to everything, and also the world was ready and in dire need of Sam Richardson in the lead. It's just been so incredible to watch the feedback, the comments light up. Everyone is in love with Sam, and why not?
HtN: Yeah. I mean, with good reason, because irrespective of you wanting to cast a character of color in the lead, he's pitch perfect for the part in so many ways. He gets the delivery just right. I loved him from the moment he appeared on screen. Speaking of that delivery, how did you decide on the tone? I don't know how much of that was in Mishna Wolff's script or how much of that you brought. There's a lot of deadpan, but there's also a lot of over-the-top delivery of lines. The scares, to be honest, are kind of extra, because it's really much more of a comedy. 
JR: That's a great question. I mean, at first, the biggest thing is to make sure that none of your actors play the comedy and that they play the terror for real. That is the secret to doing horror-comedy successfully. This is a more buoyant sort of script than my first feature. This is more of a Hot Fuzz or a Clue than a Fargo or a Dogtooth. But my pitch to everyone was I knew I wanted to make Fargo by way of an Amblin movie. So it had to have that kind of Amblin buoyancy and not … expansiveness … but I guess a reverence with a whimsical sort of a nature to it, something that felt nostalgic to a degree. That, in my mind, was the best version of it.
And when you read Mishna's words, they felt very Coen Brothers. So Coen Brothers was the kind of initial tone, and then honestly, you get this cast of comedic geniuses together and then the thing takes on a life of its own. And then you start to dissect it on our editor Brett Bachman's operating table and it becomes something even more potent. Brett was such a huge part of bringing out the tone that makes people probably compare it a bit more to Edgar Wright than I'd even imagine, the sound being as integral as it is, thanks to Brett's work with Owen Granich-Young, our sound designer, to create the sort of fast cuts and paste-up nature of it all. So we knew from the get-go we wanted Fargo by way of Amblin, but it became something a bit bigger and even more entertaining.
HtN: What a great summation of your film: Fargo by way of Amblin! Josh, thanks for chatting with me.
JR: Thank you so much, Chris. I appreciate it.
The critically acclaimed horror-comedy whodunit Werewolves Within is available on DVD and Blu-ray on December 7th!
– Christopher Llewellyn Reed (@ChrisReedFilm)
Josh Ruben interview; Werewolves Within film review