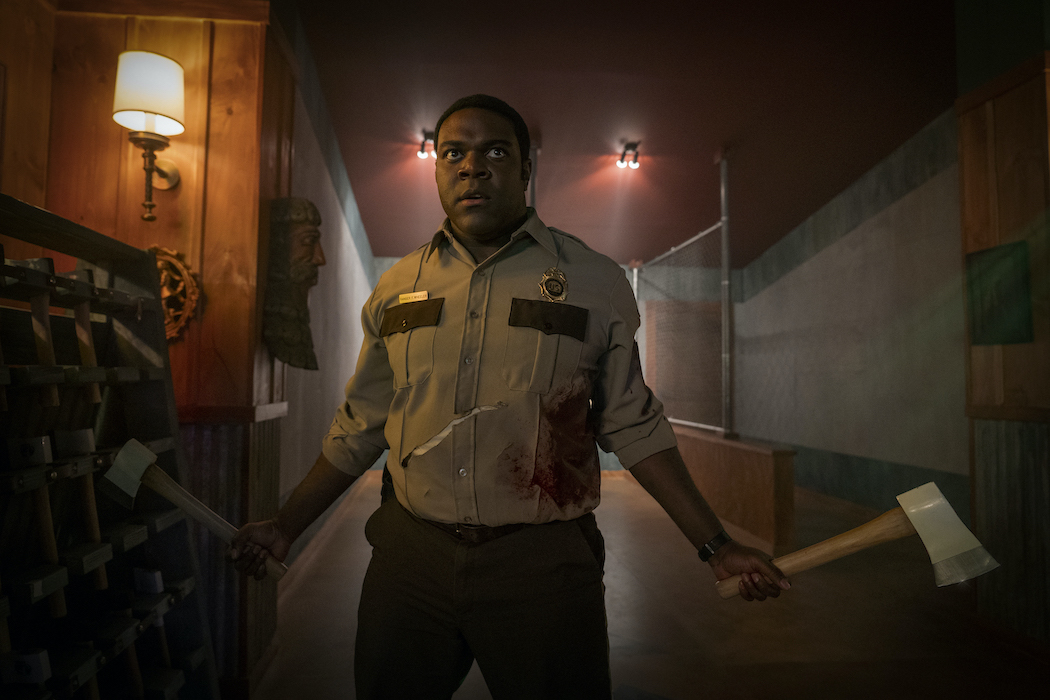 (The 2021 Tribeca Film Festival opened Wednesday, Jun 9, 2021 and ran all the way through Sunday, Jun 20. hammer to Nail has you covered with tons of coverage, coming your way! Like what you see here on Hammer to Nail? Why not pay just $1.00 per month via Patreon to help keep us going?)
Finn, the new forest ranger in town, has a problem. It's not the fact that he's an outsider in an insular place, nor that he's Black and almost everyone else is white (though that certainly reinforces his outsider status), nor that he was reassigned to the middle of nowhere because of a stupid mistake on the job, but more his heartbreak over a relationship gone stale. He and his girlfriend are "taking a break," which really means they're broken up, though he hasn't quite realized it yet. And so he listens to motivational tapes and tries to be as nice as he can, even while figuring out the rules of Beaverfield, the strange place in upstate New York where he arrives as the film begins. Good thing he makes a friend in the equally fish-out-of-water mail carrier, Cecily. If only it weren't for the werewolf lurking around the corner …
Thus, more or less, is the setup of Werewolves Within, a new whodunit from director Josh Ruben (Scare Me) and screenwriter Mishna Wolff. Very loosely based on the eponymous Ubisoft game (as in, it borrows the title, the basic idea of a werewolf hiding amidst humans, and nothing else), the movie proves delightful in most ways, even if not all aspects of the story entirely hold together. Starring Sam Richardson (Comedy Central's Detroiters series) as Finn and Milana Vayntrub (Mother's Little Helpers) as Cecily, this mix of comedy and horror keeps one guessing as to the true identity of the lycanthrope just long enough to make the final reveal wholly satisfying. A strong ensemble, that includes Michael Chernus (Inez & Doug & Kira), Harvey Guillén (FX's What We Do in the Shadows series), Cheyenne Jackson (Netflix's Julie and the Phantoms) and Michaela Watkins (Sword of Trust), among others, delivers excellent support, throughout. It's a genuinely fun romp.
After the introductions of the almost aggressively quirky characters, we find ourselves holed up in the Beaverfield Inn as a winter storm leads to a power outage. Or is it the storm? A quick search around the place by Finn reveals slash marks through all the generators. Someone…or something…has intentions to do harm to the group. The dead body under the building attests to that, as well. And then the mysterious scientist among the bunch runs a DNA test on the fur found at both generators and body, confirming what we knew would happen from the moment we saw the movie's title: there's a werewolf on the loose. Is it outside, or…within? More importantly, is it someone we know, hiding inside its human shell?
The film then proceeds to knock off the town inhabitants one by one, making moot the politics that initially created conflict and seemed to give Finn purpose: at the start, everyone is divided on whether to authorize a proposed oil pipeline. Like much in the narrative, that inciting issue proves a red herring, though an entertaining one. The real drama centers on who is prey and who is predator. There is blood to be had, and the werewolf is jonesing. Oh, and let's not forget Finn's broken heart.
As much as everyone shines, this is really Richardson's movie. Finn's nice-guy affability and insistence on fairness makes him the perfect foil for Beaverfield's inherent duplicity. Though this is an overall lighthearted affair, Richardson brings just enough sincere gravitas to his part to make us genuinely root for Finn (sweet soul that he is, even if far too nice). He really does need to "grow a pair," as Cecily tells him, though maybe his basic decency will win the day, instead. However it goes, it's his aw-shucks performance that carries us past the occasionally gigantic plot holes that make little to no sense. It's a scary world out there and kindness is definitely not overrated. Then again, does the werewolf care about any of that? Watch on…
– Christopher Llewellyn Reed (@ChrisReedFilm)