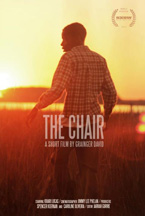 ***WINNER OF HTN's SPRING '13 SHORT FILM CONTEST***
(The Chair world premiered at the 2012 SXSW Film Festival, where it won the Short Film Jury Award. It has since gone on to screen at Cannes, the LAFilmFest, and many, many more. Visit Grainger David's official website to learn more, and download the film for yourself right here.)
Children see the world through smaller eyes. The unexpected passing of a family member at a far-too-young age tears open the universe in a disorienting, dizzying way. It's a sad, bad dream from which one never fully wakes up. Though far from hopeless, Grainger David's The Chair nonetheless recalls that feeling with piercing, poetic accuracy. It's a lovely, haunting film.
Likely, most viewers didn't grow up in a landscape as beautiful as this one—Wadmalaw Island, South Carolina—where the sunsets are stunning and nature informs everything. In this case, even though the writer/director's skin color is much lighter than the characters he's depicting, The Chair doesn't feel like the work of an outsider. That's because it isn't. David himself was raised in this stunning corner of the world.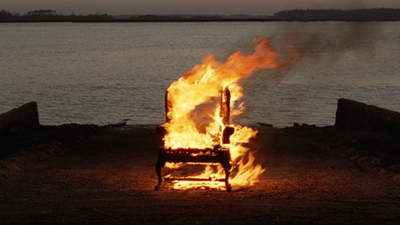 The story of The Chair is told through the eyes—and voice-over—of a young African-American boy, who lost his mother when a mysterious infestation of mold began to afflict his quiet rural Southern community. As more of the town's residents continue pass away and white-suited scientists struggle to find an explanation for the outbreak, the children all begin to wear masks and the boy's grandmother blames the trouble on an old chair that his mother—her daughter—used to sit in. The mystery triggers madness.
If this set-up—an African-American youth speaking in voice-over—sounds broadly familiar, the similarities to two recent breakout American independent films don't end there. The Chair also features striking celluloid cinematography (by Jimmy Lee Phelan) and a somberly pretty score (by Sasha Gordon). So while it's impossible to deny the many surface similarities his film shares with George Washington and Beasts of the Southern Wild, David is telling his own story here. It would be unfair, and inaccurate, to pass it off as a copycat.
In only 12 minutes, David accomplishes something extraordinary and rare with The Chair. Though it's a fictional tale set in a specific, small community, David still manages to elevate his short film to a universal, mythic realm. It gave me the space to recall being in the backseat of my parents' car when I was eight years old, watching through the back window as my childhood home disappeared for the very last time.
— Michael Tully
***WATCH THE TRAILER***