That's a Wrap on the 2023 Vashon Island Film Festival!
One of the best things about attending a small regional "getaway" fest like the Vashon Island Film Festival is getting to experience a community different from your own. Smaller fests tend to have a "homey" feel, the locals are welcoming, and the hospitality and sense of having had a unique experience can be exceptional. In its second year, I could feel the vision of the fest starting to gain cohesion and momentum. The slate of films was really exceptional for a small festival in its second year, boasting award-winning entries fresh of Sundance and SXSW; the Backlot, the open-air venue behind the theater, was in full swing, the vision talked about last year now realized; and the island took care of its guests with a welcoming embrace, organic spaces to connect, network and meet new friends, and a fabulous private welcoming party featuring sumptuous light bites and specialty cocktails.

The island itself offers no shortage of delights for visitors, from the many great places to eat, to the beach and lighthouse, to wine tastings and art galleries to enjoy. The entire fest experience on Vashon Island gives guests a great opportunity to both explore this gem of an island getaway and experience some top-notch indie films ahead of the pack. I'm excited to see this fest grow along its current trajectory; the team's vision of the festival, the theater, the Backlot and beyond is exciting and ambitious, and centered in engaging the local arts-loving community and support of independent film.

This year, VIFF was hampered somewhat by the current actor and writer strikes in Hollywood, which placed a tight set of restrictions around striking folks being allowed to promote films. The fest worked closely with the unions to understand the restrictions and what was allowed, and while there were maybe fewer filmmakers and actors in attendance this year, they still were able to garner a good turnout of (mostly) directors and had some great Q&As. The Vashon audience, as is often the case with these smaller fests, was very into the films and keen to participate in the Q&As and meet folks associated with the films, so it was great that they were able to work with the strikes and figure that out. 
After scarfing down a ham-cheese-brown mustard croissant for breakfast on Saturday, I headed "uptown" (as the locals call the main strip on Vashon which houses many of the restaurants and small businesses) to the theater to catch some films. First up was one of the films I had been most excited to see here, Boom! A Film About The Sonics. As a fan of Pacific Northwest music, I knew about The Sonics but wasn't super familiar with most of their music other than "Psycho" and "The Witch." Boom brings together all five original members of the band for the first time, to talk about how their music shaped the future of music for so many artists without them even knowing it.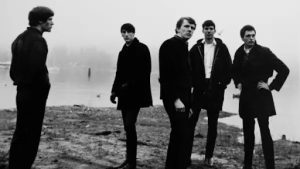 It's also peppered with interviews from many PNW hometown heroes including Kim Thayil (Soundgarden), Nancy Wilson (Heart), Mark Arm (Green River, Mudhoney),  Chris Ballew (The Presidents of the United States of America), Kurt Bloch (The Fastbacks) and Mike McCready (Pearl Jam), who played a pivotal role in this film getting made. That lineup of tributes alone should tell you a lot about the range of influence The Sonics had on the PNW music scene and beyond. 
Boom is a beautiful and resonating film, one of the best music documentaries I've seen (and I have sat through a great many over my years as a film festivals editor, critic and programmer). This is in large part because of the way in which filmmaker Jordan Albertsen chooses to tell this story, using a thread of narrative about how the music of The Sonics changed his relationship with his father and tying that to a narrative about Buck Ormsby, an early producer and deep believer of the band, who seeded The Sonics music across Europe with a suitcase full of vinyl in the '80s despite the band being on an indefinite hiatus, igniting an interest in The Sonics that ultimately led to them reuniting and finally touring the world, decades after they started. 
Albertsen narrates the film through this thread—not always a good choice in a documentary, but here it works really well due to the way in which he uses the narration to weave a cohesive arc tying all these pieces of story together. Following the film, Ballew was on hand to moderate the Q&A, where Albertsen told an emotional tale about how a chance meeting with Mike McCready in a sushi restaurant in Montana led to the film, which he had given up on being able to get done, finally made. If I had only seen Boom and nothing else, I would have left this fest feeling cinematically satisfied. 
Fortunately though, I had more films to come. 
My second film of Saturday was another one I was really looking forward to, Scrapper, directed by Charlotte Regan, which was fresh off its Grand Jury win for World Cinema at Sundance. Scrapper is an imaginatively told tale of Georgie (Lola Campbell), a 12-year-old girl living alone in a London flat following her mother's death. Georgie is a resourceful girl, finding ways to get nosy social workers off her back by pretending to live with a fake uncle and stealing bike parts with her best friend Ali (Alin Uzun) to pay the rent. In an early scene, Ali asks Georgie how she's doing coming along through grief, and she confidently answers: pretty well, I think, I should be through all the stages pretty soon. But the circles that haunt her eyes and the secret she's keeping in a locked room tell another story. 
The story takes off with the unexpected arrival of Georgie's long-absent father, Jason (Harris Dickinson), who's come from Ibiza to check in on his daughter after learning of her mother's death. What follows is a back-and-forth between father and daughter, both of whom need each other more than they are willing to admit. Scrapper evokes past indie films about loss, grief and hyper independent young girls like 2017's The Florida Project, 2012's Beasts of the Southern Wild, and 1973's Paper Moon (the latter especially in the relationship dynamic between father and daughter).  
Campbell's Georgie is worthy of note; there are some flashback scenes that really call out what she brings to the role: we see Georgie interacting with her mom, before tragedy struck, and this contrast with Georgie-now, weighted down by grief and adult responsibilities, really calls out Campbell's skill as a young actor. Charming and delightful in every way, and bolstered by terrific lead performances by Dickinson and Campbell with a solid supporting turn by Uzun, Scrapper lived up to its Sundance promise for me and was one of my favorite films of the fest. It will be available on streaming services August 25, so you can check this one out for yourself. 
Sunday I wound down the fest with two films, Escaping Ohio and The Herricanes. 
Escaping Ohio is coming-of-age rom-com written, directed by and starring Jessica Michael Davis as Sam, a high school senior contemplating a future far away from Ohio. Sam finds her escaping-Akron-for-sunny-California dreams compromised when her longtime best friend JJ (Collin Kelly-Sordelet) reveals he's in love with her and she realizes the feeling is mutual. Trouble is, JJ has his future solidly planned – in Ohio. To convince Sam to stay, JJ convinces her to allow him to show her why Ohio is so great. Escaping Ohio was a solid and likable film, and clearly came from a very personal place for Davis, who grew up and left Ohio herself. Her deep love for her hometown and what makes it special shines through in the film, and you can feel in Sam's indecision the similar path Davis went down in her own life. Davis was on-hand for the Q&A afterwards, where she talked about shooting the film in the places she loved and about capturing places now gone, and about the journey of getting the film made.
The Herricanes, which previously won the Audience Award for Documentary Spotlight at this year's SXSW, was my last film of the fest and another I had on my "must see" list. Directed by Olivia Kuan, whose mom had been a Herricane, the doc explores the brief but influential history of women's professional football in 1973-1979, focused on the scrappy underdog team from Houston, the Houston Herricanes. 
The film takes us through the history of the early days of women's football, at a time when Title IX was newly passed and college coaches like OU's Barry Switzer (seen in a clip in the film) were giving interviews declaring that women would "never" play football at their schools. Kuan weaves thoughtfully between interviews with present-day Herricanes about their experience, interviews about the data surrounding how Title IX has actually impacted women and sports, interviews with current women leading in integrating women and American football, and retelling the story of the Herricanes evolution from a small team that didn't really know what they were doing, to a team that could stand up against and challenge the mighty OKC Dolls, a rival team that went undefeated for six seasons and dominated the league. 
I grew up in OKC during the time the Dolls were playing; two of them actually worked with my dad, so I heard a lot about it back then. I also attended one of the first schools to allow a girl to play on the boy's football team. So I had an interest in this film's topic going in, and I was not disappointed by how Kuan told the story of these groundbreaking women and the camaraderie and sense of accomplishment they found on the field. The Herricanes is a solid, relatable documentary about a little-known topic that needed the light of a well-made film to shine on it. Most enjoyable, and I would definitely watch a series about this time in women's sports history if such a thing ever came about. 
Following Sunday's films, we settled in for the Red Bicycle Awards, where the jury and audience winners were announced. Scrapper and Boom both took home awards, as did Raging Grace, a horror film written and directed by UK filmmaker Paris Zarcilla, which took home two awards at VIFF 2023, after previously winning the SXSW Feature Film Grand Jury prize in March. Zarcilla delivered a beautifully heartfelt speech thanking the fest and Vashon Islanders for their hospitality and welcome, and I was sad to have missed catching that one, as well as I Like Movies, which seemed to be an audience fave and garnered awards for production design and supporting actor.
All in all, it was a lovely four days on Vashon Island, packed with some terrific films, a great sense of welcome and community, enthusiastic attendees and lots of great food. If you make a trip to Vashon Island yourself, whether for the fest or for one of the many other reasons to visit, don't miss stopping by the Vashon Theater for a screening and some of their delish popcorn (just 5 bucks for a large, with real butter!) and old-timey soda fountain beverages.

Full list of the VIFF 2023 Red Bicycle Award winners: 
Quartermaster Award (Jury – Feature) – Scrapper, dir Charlotte Regan
Burton Award (Jury – Short)  – Closing Dynasty, dir Lloyd Lee Choi
Audience Award (Feature) – Boom: A Film About The Sonics, dir Jordan Albertsen 
Audience Award (Short) – Blackfisk, dir Sarah Hanner
Best Screenplay – Paris Zarcilla, Raging Grace 
Best Director – Paris Zarcilla, Raging Grace 
Best Actor – Lola Campbell, Scrapper
Best Supporting Actor – Romina D'Ugo, I Like Movies 
Best Cinematography – Molly Manning Walker, Scrapper
Best Original Music – Paloma Peñarrubia, Tobacco Barns
Best Production Design – Claudia Dall'Orso, I Like Movies 
Learn more about the fest here
– Kim Voynar (@KVoynar)