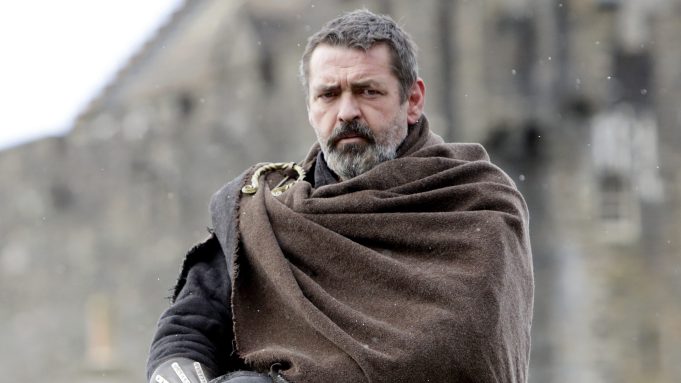 (After a successful fest run, Richard Grey's Robert the Bruce has landed on VOD via Screen Media, Like what you see here on Hammer to Nail? Why not give just $1.00 per month via Patreon to help keep us going?)
What a difference a few months make. The first time I saw the new epic drama Robert the Bruce, directed by Australian Richard Grey, was back in 2019 as the closing night film at the MINT in Billings, MT. Shot in Montana but with pitch perfect Scottish accents amongst all the actors,  it launched on VOD April 24, 2020 and all I can say is if there is any film being released without a big screen to make you miss the theater, this is the one. An expansive and gorgeous film, Robert the Bruce follows a small window of time where fiction is able to emerge in a historical figure's life. Grey takes us through a vulnerable moment where a King learns that he is nothing without his people.
As we celebrate the 700th anniversary of the country's independence this year, Robert the Bruce lets us look back at how it happened. The film stars Angus McFadyen (Braveheart, Equilibrium), Anna Hutchison (The Cabin in the Woods), Zach McGowan (Shameless, Agents of S.H.I.E.L.D), Talitha and Brandon Lessard (Broken Ghost) and Emma Kenney (The Conners). The feature film about the Scottish King was made in Montana and Scotland and featured a lot of Montana talent which led to a packed-out screening with over 750 in attendance back in the fall. Rewatching the film gave me fond memories of a time before the pandemic where we could experience a beautiful film like this together and hopes that we will again.
Other than folklore stories, little is known of the time between when Robert the Bruce disappeared until he reemerged to fight again for independence but writer Eric Belgau said back at MINT that he wanted to look at the point in which Robert the Bruce disappeared for an entire winter and take on the story often shared of that time of a mother who nursed him back to health. For Belgau, finding the strong female in the story was important as he said that women are often left out of history despite their impact.
And it is the female characters in Robert the Bruce that bring something unique to the story. Hutchison plays a mother that must make hard choices for her family for what she feels is right for Scotland while Emma Kenney chooses her boyfriend's family over her own which leads to its own consequences. Each female must weigh the choice of their own planned future against the reality of what they must give up for Scotland to go on. The noble sacrifices of the female characters throughout the film stand out in a story often only told from a male perspective.
Although Angus McFayden reprises his role from Braveheart, that is where the similarities stop. The film is very much about a fragile moment in a King's life where he must find shelter from the storm within a family's cabin and reconsider who he is and what choices he makes. This is not a typical battle film. This is not a typical king or heroes journey. This is something much more intricate and nuanced and worth a look. While Robert the Bruce may be the star, it is the common people of Scotland that remind him what he should fight for and take the lead of the film.
While the same subject as The Outlaw King on Netflix, the two films tackle a very different look at Robert The Bruce. In particular, Diarmaid Murtagh plays the most noble and human version of James the Douglas I've ever seen portrayed. The quiet but epic drama parallels a pivotal moment in Robert's history with the shift in attitude of those who fight beside him for the betterment of their country. It is a reminder that we are better when we are united as people.
Cinematographer John Garrett gets a real chance to shine with his beautiful work. Garrett works camera on a lot of bigger projects like Watchmen and Avengers but really steps up to his own skilled look at a snowy historic world. Vicki Hales, costume designer, also had her work cut out for her with proper early 1300's look but makes a simple and drab but much more accurate look for the characters than often seen for medieval times. Fans of historical drama will be pleased by the detail in the film.
In a time where our leaders could do a little more listening to their people, this film is a staunch reminder of the importance of how we all play a role in society and choosing to make it great or not.
– Melanie Addington (@MelAddington)