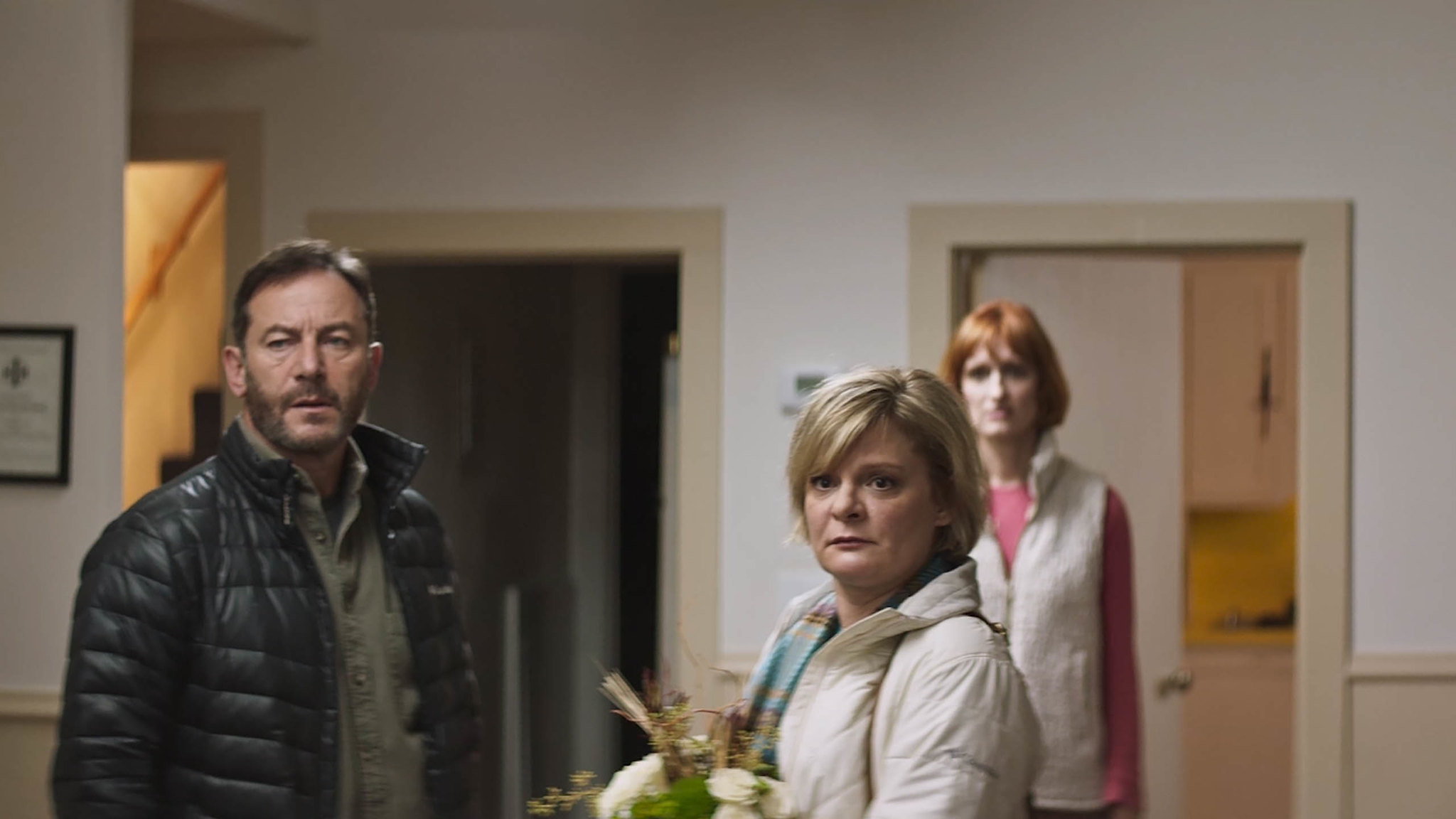 (The 2021 Sundance Film Festival ran January 28- February 3, all virtually as well as with drive-ins sprinkled around the U.S.. Hammer to Nail is bringing you a ton of coverage so, keep coming back! Like what you see here on Hammer to Nail? Why not give just $1.00 per month via Patreon to help keep us going?)
I can perhaps be forgiven not knowing what I was getting myself into with Fran Kranz's feature debut at Sundance. Written and directed by The Cabin in the Woods sidekick funny man, Mass seems to come out of nowhere as a fully formed quartet of dramatic perfection. Masterfully-scripted and paced, the simple, yet explosive drama deals with two sets of parents in the aftermath of a school shooting – the parents of the shooter have come to a neutral location for a sit-down with the parents of a child who was shot. The stakes are minimal, the damage has been done. The shooter even eliminated himself off the game board by suicide in a school library. And yet these four people, who seem to have nothing they can possibly say without opening recently-closed wounds have come together to find some sort of peace, if such a thing is possible.
Even in describing the film, emotions flood to my mind, reliving the experience of watching what was the most powerful and difficult film I saw at Sundance this year. There have been many films made about shootings, great docs and great narratives, but I have never seen one that dealt so intimately with grief and guilt. The hilariously intentionally awkward opening of the film, a quirky Church Representatives setting up the space that has been rented, is the perfect preparation – or I should say lack of preparation – for the whirlwind of raw emotion about to assault the audience. The bland interior, almost like a bureaucratic prison cell, where these four people have come to face off, can barely contain the passionate fireworks they have held in for so long. Somehow Kranz knows even this, and breaks the tension by cutting to long landscape shots of the world outside, as if we might forget that it exists by the very nature of what we are witnessing inside these four walls. 
Mass would be nothing without the amazing performances from Jason Isaacs and Martha Plimpton as the parents of the slain child and Reed Birnie and Ann Dowd as the parents of the slayer. As awkward exchanges give way to shouting, blame-seeking, and animosity, both sides eventually find humanity – if not healing, at least the ability to forgives Kranz's script understands that for the children, the tragedy is sudden and horrible, but for the parents, the tragedy continues for years, replayed over and over again. 
I am simply overwhelmed intensity and craft of this film. The actors play off each other as one might expect a Broadway cast three months into their run, finding new ways to attack, retreat, and overcome with effortless skill. And then there's the moment, after the moment, when I thought the film had ended but Kranz had one last – I want to say Showdown – what is it called when two gunslinger face off in the streets for forgiveness? A crappy producer might have said 'hey we need a flashback in here' but there are no crappy producers on the film. Instead Fran Kranz delivers what I will have to consider one of the best debut features in Sundance history through immaculate authenticity and restraint
– Bears Rebecca Fonté (@BearsFonte)