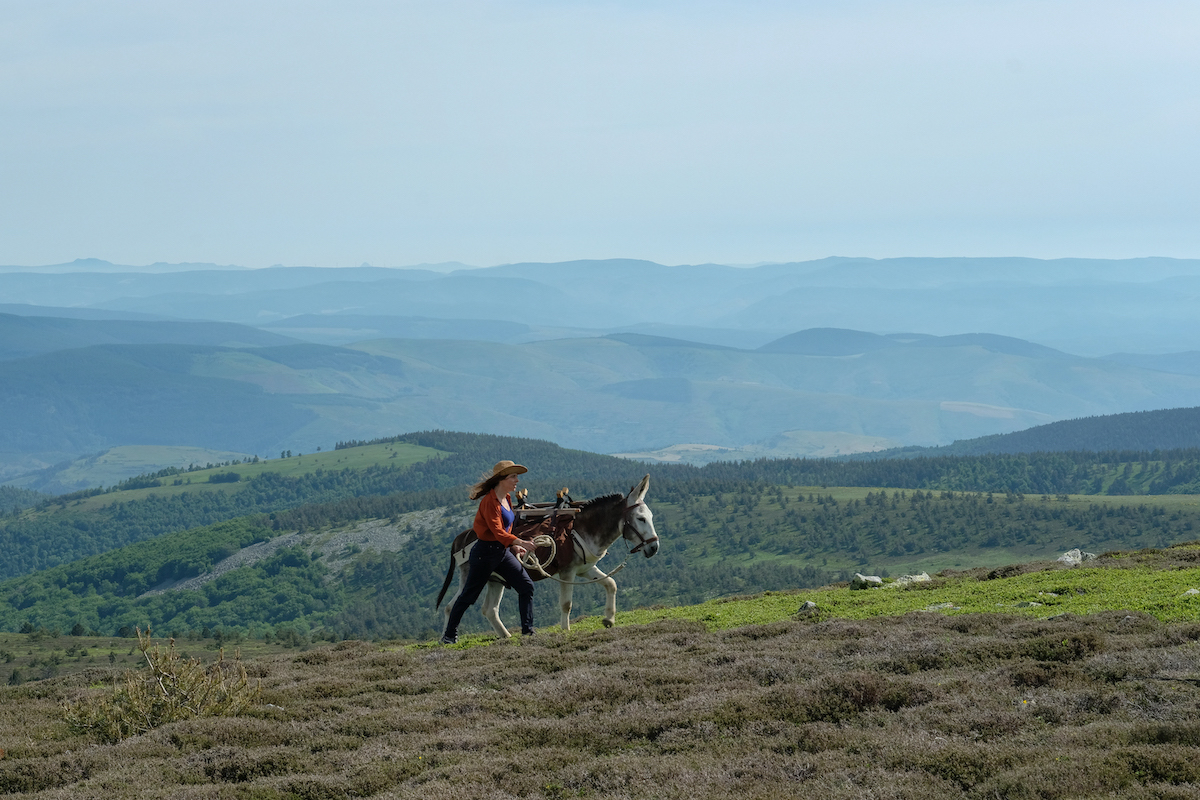 (Check out Chris Reed's movie review of My Donkey, My Lover & I, available in theaters now via Greenwich Entertainment. Seen it? Join the conversation with HtN on our Letterboxd Page.)
Howard Hawks' 1959 Western Rio Bravo offers an engaging mix of comedy, action, and song, not a triple combination one necessarily associates with its principal actor, John Wayne. But just before the big climactic shoot-out—the calm before the storm, as it were—co-stars Dean Martin and Ricky Nelson break out a nifty melody, courtesy of composer Dimitri Tiomkin and lyricist Paul Francis Webster, entitled "My Rifle, My Pony & Me." Whatever one may think of the movie or its lead performer, the ditty speaks to bonhomie between human and animal, and the peace to be found in the simple things in life. Who knew that one day it would find its way into a charmingly comic French tale of romantic misadventure?
Such is My Donkey, My Lover & I (or "Antoinette dans les Cévennes" in the original language), a film loosely inspired by Robert Louis Stevenson's 1879 travelogue Travels with a Donkey in the Cévennes (the Cévennes is a mountain range in south-central France, directly north of Montpelier). Written and directed by Caroline Vignal (Girlfriends), the movie follows protagonist Antoinette (Laure Calamy, Only the Animals) as she pursues her married lover from Paris after he waffles on what she believed were mutual vacation plans. Though she may think that her future lies with Vladimir (Benjamin Lavernhe, Delicious), she is about to learn some very different truths.
Her rushed plans put suddenly in place, Antoinette has no idea what lies in store, assuming that a 6-day hike between hostels will be easy to manage, especially since she has reserved a donkey as pack animal, according to tradition. As it turns out, she is but one of the few of the many tourists to have done so, most regarding such practice as a vestige of a time before good backpacks and shoes became commonplace. That's not the only way that Antoinette becomes unintentionally famous on the trail.
She also confesses, to some fellow travelers the first night, her affair, the fact that Vladimir doesn't know she is there, and that he is the father of one of her students (she is a grade-school students). This being France, whatever horror some feel over her actions and scandalous behavior is tempered by a love of romance. You go, girl! Hope it works out, unless it doesn't.
And then there is Patrick, the donkey. Like all others of his kind, he is not inclined to take actions he deems unreasonable, including easily walking with an unknown new person, but after a rough start, during which Antoinette listens to, and the rejects, bad advice from men, she finds her own manner of managing Patrick's seeming caprices, most of which involve telling him or her romantic woes. The sound of her voice is all the motivation he needs.
The film is not without its awkward moments, the comic bits—especially those with Patrick—overplayed beyond their welcome, but little by little this Gallic farce begins to work its magic. Thanks to many unexpected twists and turns, of plat and path, there are genuine surprises in store, including what happens when Antoinette meets Vladimir's wife, Eléonore (Olivia Côte, The Rosemaker). Calamy is a joy to watch, as is Patrick. And then there is that Tiomkin tune, popping up out of nowhere. Beyond its symmetry with the title and ultimate leitmotif of the story, it's also just a lovely refrain to accompany us on our journey from angst to tranquility. Que la vie est belle (sometimes).
– Christopher Llewellyn Reed (@ChrisReedFilm)
Greenwich Entertainment; Caroline Vignal; My Donkey, My Lover & I  movie review