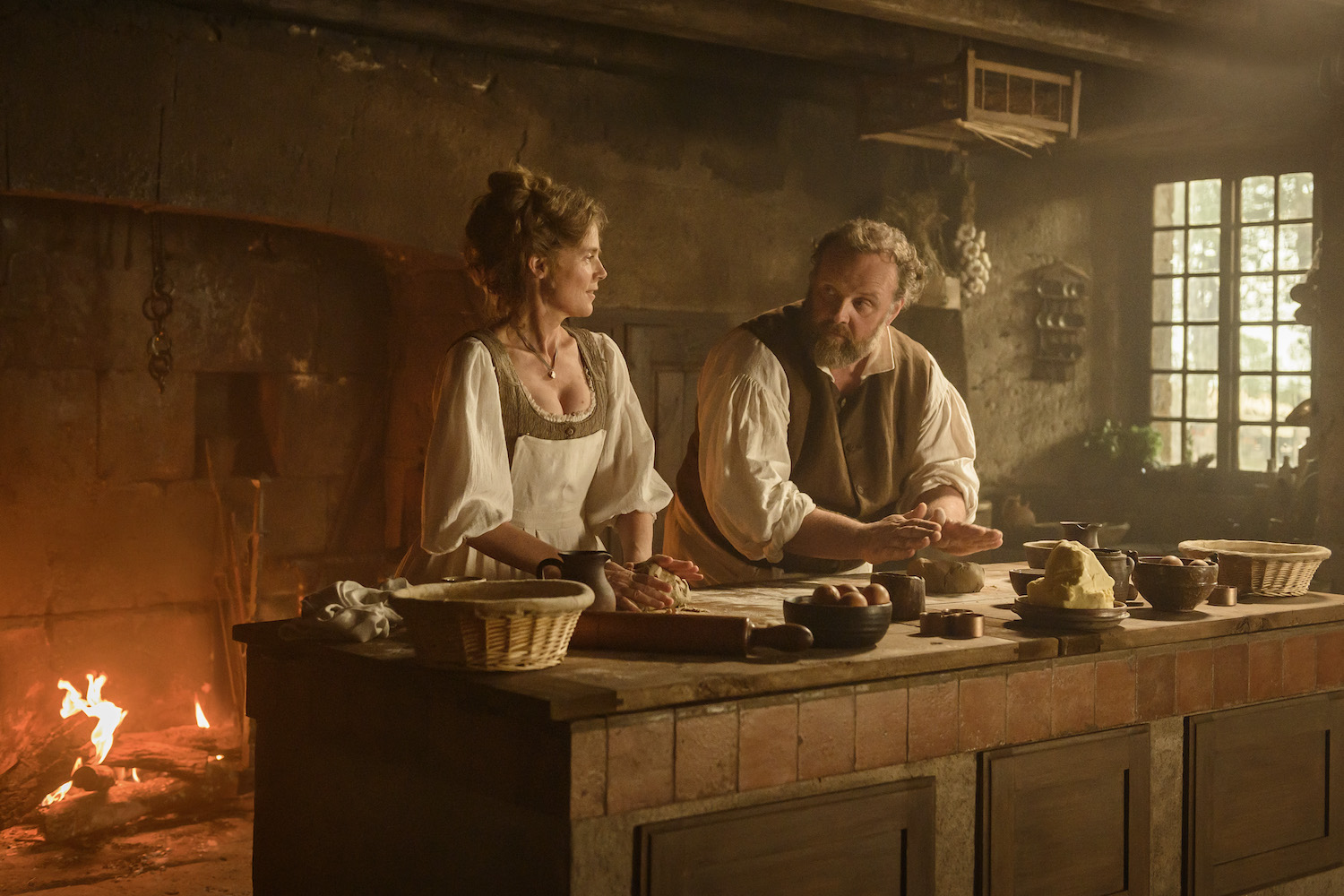 (Check out this movie review of Delicious, it hits theaters and VOD Friday, January 14. Like what you see here on Hammer to Nail? Why not pay just $1.00 per month via Patreon to help keep us going?)
The French costume drama has a glorious cinematic tradition, as do films about cooking. In Delicious, the new movie from writer/director Éric Besnard (The Sense of Wonder), both genres combine in an engaging mix, buoyed by historical lessons about class and privilege. Set in the days before the 1789 French Revolution destroyed the old order, Delicious follows the misadventures of a renowned chef after he angers his patron, a foppish duke, and must make ends meet on his own. Though some of its script choices come too easily, the net result still proves entertaining. You'll emerge moved and not a little hungry.
Grégory Gadebois (Godard Mon Amour) plays Pierre Manceron, a middle-aged culinary artist of the highest order who nevertheless must bend his most innovative instincts to the will of the nobility whom he serves. As an opening title card informs us, this is an age before the "restaurant," as we know it, was invented. Sure, people might eat food prepared by others when traveling and staying at an inn, but such sustenance is purely functional. The savory stuff is reserved for the palates of the upper classes, though within the limits of that with which they were already familiar. When Manceron dares cross the line by inventing a new dish, and then refuses to apologize for his insolence, he is fired.
So off he goes, adult son Benjamin (Lorenzo Lefèbvre, Sibyl) in tow, returning to the defunct "relai de poste" (posting house) once run by his now deceased father. There, the two men set up shop, reopening the spot and tending to those who stop by. Benjamin is hungry for any scrap of news about unrest in Paris, convinced that change is in the air. Manceron (who just goes by his last name) wants nothing more than to lick his wounds, assuming that the duke, once he realizes what a mistake he made, will come calling. Instead, someone very different shows up.
This would be Louise (Isabelle Carré, Love at First Child), a fortysomething woman of mysterious provenance who arrives one day with a plea for Manceron to take her on as apprentice. A jam maker (or so she claims), Louise has heard about his talent and his dismissal, and hopes to now learn directly from him how to take her craft to the next level. "Women can't be chefs," declares Manceron, but he eventually relents, though not very graciously. Slowly, and together, they begin to build a future, opening up what looks very much like that restaurant Besnard told us in the beginning has yet to exist.
And so goes the narrative, with genuine conflict developed in the hands of skilled performers. The cinematography is alternatingly bleak and luscious, according to situation, and when food porn is called for, that's what we get. All the while, the masses' discontent begins to surge. Though we are well aware of what is in store for the well-to-do, it's nevertheless a pleasure watching the proceedings unfold. Allons enfants de la Patrie! Bon appétit!
– Christopher Llewellyn Reed (@ChrisReedFilm)
Samuel Goldwyn Films; Éric Besnard; Delicious movie review